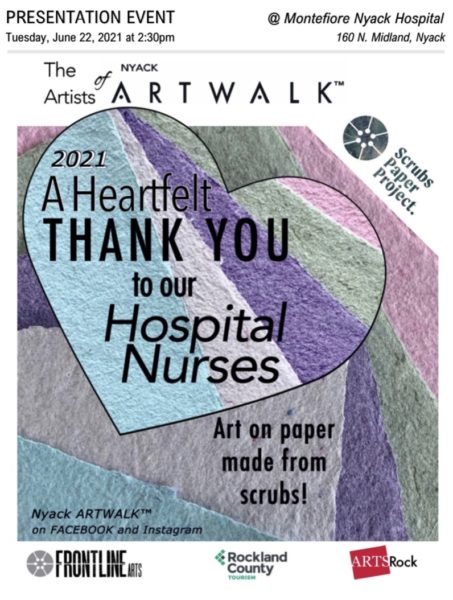 As a gesture of gratitude, Nyack ARTWALK will present a framed collage of original artworks to the nurses and Montefiore Nyack Hospital on Tuesday, June 22, 2021.
The original artworks have been created using paper made from hospital scrubs. "Nyack ARTWALK, along with many other events over the past year and a half have had to find creative ways to highlight their various missions. Why not take some of the negative of covid, repurpose these scrubs into paper art, and express our heartfelt thanks to the nurses at Montefiore Nyack Hospital," said Paulette Ross, Founder of Nyack ARTWALK.
Ross conceived of and produced Nyack ARTWALK in 2006. Her vision was to encourage tourism, give a platform to artists, welcome visitors to the many unique shops and restaurants all the while enjoying the charm and culture of the village. This juried event running for 3 days over Father's Day weekend. Nyack's village shops are turned into mini art galleries, with the talented artists, in residence, exhibiting and selling their works.
"The artists, who have all exhibited at our annual event over the years, were thrilled to express their gratitude through original art made especially for this presentation," she continued. "It is our hope that this framed art collage will be displayed in a public area of the hospital so that all may enjoy this creative expression of thanks."
The paper used by each artist was created from hospital scrubs by "Frontline Arts" who, in the past, has created art on paper from military fatigues, and exhibited in prior ARTWALK events. "Making paper from hospital scrubs was a natural follow-up to our past paper-making efforts," said Walt Nygard, founder of Frontline Arts. "The Scrubs Paper Project has given us another outlet to honor our front-line workers," he noted.
The artists participating in the collage are: Cristina Biaggi; Michael Delaney; David Derr; Pam Grafstein; Sean Jones; Jessie Taylor; Sona Viola.
Date: Tuesday, June 22, 2021
Time: 2:30p
Place: Montefiore Nyack Hospital, 160 N. Midland, Nyack — outdoors, in the front of the Hospital.