by RoCA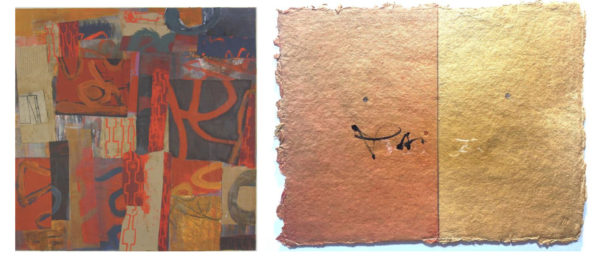 Fragments of Alliance Exhibit & Gold: Pages from a Lost Book Exhibit
May 14 – June 11, 2021, Free to the Public
On May 14th Rockland Center for the Arts opened two exhibits centering on light, color and potential in all things. The exhibits, curated by Barbara Galazzo, are meant to be a relief on the senses: awash with true joy, rinsing away the past year's psychic debris caused by isolation and worry.
Within these paintings, you may see the parts or fragments of each of us: the varieties of human life and experience—touched with the flash of the divine to render a beautiful whole. The use of and qualities in light reflecting off of gold, gives form to the belief in the incandescent in each human heart: it acts as an enhanced mirror, reflecting back the life of an invisible flame in each person. These exhibits are meant to bring a moment of pause and welcome to the new dawn that is slowly ushering in some calm.
In this past year of fraught uncertainty, Barbara Smith Gioia's work is a breath of fresh air and possibilities. In Fragments of Alliance, Gioia creates a world that is open to interpretation and invites one into an abstract space that communicates potential and possibility, humanity and joy.
Drawing the essential line and following its energy, line begets line begets line, until a tumbling forward towards the emotional center culminates in a focused, "meditation in motion"—an affirmation of humanity's endurance and seemingly endless potential.
Gioia's work is influenced by textiles and quilts, her interest in color, pattern, printmaking and collage. She uses the unconventional technique of "silkscreen unhinged" as an improvisational approach to composing and finds it very useful for abstract compositions that emphasize mark-making. ("Silkscreen unhinged" literally means the screen is not hinged to the table and there is no registration during printing.) Each screen is a reproduction of her own marks and drawings to be printed in fragments or to be reconfigured in combination with others. This approach encourages spontaneity and experimentation while providing new pathways. As an artist who works with abstraction and improvises her way through a painting, this technique was a welcome addition to her practice.
"Silkscreen unhinged" dovetailed with Gioia's interest in collaging. Mining printed papers, she discovered that fragments were powerful when liberated from the whole and found new life in her paintings when paired with or incorporating other fragments from completely different prints. As such, the combination of printing, painting, and collage came to be the method of Gioia's work for over 10 years and continues to play an important role in her work. The physical rhythm of printing begins the process of translating marks, paint, and color into a free-form dance that combines a set of mechanistic rules with plenty of natural freedom. Whatever the method, the goal is the same: To create a world that is open to interpretation and invites one into an abstract space that communicates potential and possibility, humanity and joy.
Barbara Smith Gioia is an artist living in Cornwall, NY.  She has exhibited extensively including Ann Arbor Art Center, Ann Arbor, MI; Buster Levi Gallery, Cold Spring, NY; University of Wisconsin–Parkside, WI; and Montclair University, Montclair, NJ among others.
Diane Churchill explores the pigment, reflectivity and symbolic meanings of gold. Gold: Pages from a Lost Book suggest something precious, reminiscent of ancient documents with a form of writing unknown to us. Churchill uses the interplay of languages–the artist's mark and the marks of codified writing. Writing and drawing use the same tools for different forms of communication.
Churchill originally used gold for its shimmer.  With these works, the place of gold in the referential to, along with the reverential qualities of the Divine: its transcendence, its inexpressibility, its permanence. This is seen in "Meditation," what can best be described as a post-pandemic piece: the artist needed to depict light and paint an aspirational piece during these twelve dark months. In her paintings, Gold is often accompanied by red: two pigments enhancing the vitality of each other. To achieve a durable red color in stained glass, gold metal was and still is used.
The "writing" in her pages, though non-existent and made up, are based on years of studying alphabets from various cultures. Gold, in her work, does not suggest material wealth. Rather, Churchill hopes these "writing" speak to peoples' minds and hearts. In the end, Gold reminds us of the brilliance of light in a heart of gold and the potential in all humanity.
Diane Churchill is a painter living in Nyack, with a studio at the Garnerville Arts Center in West Garnerville, NY. She is an abstract painter whose primary passion is harnessing the power of color: most recently, the color gold.
She exhibits frequently in Rockland County and New York City. Her most recent solo show was at the Ray Lagstein Gallery, Nyack.  Since the pandemic, she has participated in virtual shows at the Hammond Museum, Westchester Art Guild, New York Artists Circle, Soho 20 Gallery, PFlag, and the Arts Council of Rockland.
The exhibits are open, free to the public, Monday through Saturday, 11a–4p. Masks are still required in the exhibit spaces and building for the safety of everyone. 
Rockland Center for the Arts is the oldest and largest arts organization in Rockland County, presenting outstanding programming in the arts for over 70 years. RoCA is located at 27 S Greenbush Rd., West Nyack, NY 10994, Website: www.rocklandartcenter.org. Phone: 845-358-0877, Fax: 845-358-0971.
RoCA's programs are made possible, in part, with funds from the New York State Council on the Arts, with the support of Governor Andrew Cuomo and the New York State Legislature. Funding is also made possible by the County of Rockland.
RoCA gratefully acknowledges support for its programs from The Richard Pousette-Dart Foundation, M&T Bank, The M&T Charitable Foundation, Orange & Rockland Utilities, Kantrowitz, Goldhamer & Graifman P.C., the Rea Charitable Trust, Luxury Kitchen & Bath, Golden Artist Colors, Inc., QuietEvents, Rockland County Tourism, the Estate of Joan Konner, Lighting Services Inc., Sarah and Stephen Thomas, the Mark and Jessie Milano Foundation, Zaklin Family Charitable Fund, The County of Rockland,  The Family Fjord Foundation, Simona and Jerome Chazen, Art Services Group, RoCA members, donors and business members.