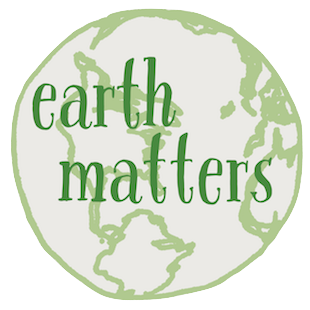 Earth Matters focuses on conservation, sustainability, recycling and healthy living. 
If Earth Matters to you, sign up for our mailing list and get the next installment delivered bright to your inbox.
by New Yorkers for Cool Refrigerant Management
When you buy a new air conditioner, refrigerator, or dehumidifier, you're likely to check the energy efficiency label. But do you know about the labels describing the refrigerants used in these appliances, or any other tips, tricks, and incentives that can help you to combat the problem of the super pollutants called HFCs?
HFCs, or hydrofluorocarbons, are refrigerants that were adopted worldwide pursuant to the Montreal Protocol in 1987 to replace the chlorofluorocarbons responsible for the depletion of ozone layer. That legislation was very successful in addressing the "ozone hole" but created a new problem of introducing gases with an enormous global warming potential into common use. 
The Problem with HFCs
Scientists assess refrigerants and other gases, like methane, for Global Warming Potential (GWP). The GWP of a gas is measured relative to carbon dioxide, which has a GWP of 1. GWPs are established for different time periods, usually 100 years. For example, the common refrigerant R410A has a GWP of 2088, which means one pound of R410 has the same global warming effect of  2088 pounds of CO2. 
A typical refrigerator holds only 5 ounces of R134A, but that tiny amount, released into the atmosphere, would  have the same carbon footprint as 23 gallons of gasoline, or enough to drive a Prius from Nyack to Florida.
Buying New Appliances
While the manufacturers of appliances up to now have not publicized it, they are switching over to low-GWP refrigerants. For example: GE makes a window air conditioner that uses R1234yf, which has a GWP of 4. Thompson makes a chest freezer that uses R600 (isobutane) as the refrigerant. LG, Samsung, Bosch, GE, and Cafe all make refrigerators that use R600. Heat pump hot water heaters that use CO2 for the refrigerant are now available too. If you are in the market for a new appliance, be sure to look at the specifications label.
This web page from the European Partnership for Energy and the Environment explains the newer climate-friendly alternatives. And for more than 25 years GreenPeace has supported open source appliances that use a mix of hydrocarbons for their refrigerants.
Avoiding Emissions by Recycling Old Appliances Right
When you're ready to replace your old refrigerator, O&R will come pick it up and give you a $25 rebate, as long as it is clean and in working condition. O&R customers can sign up by calling 866-552-3755 or visiting their website. 
All of the refrigerants, foams, plastics, and metals from the appliances that O&R picks up are recycled in separate streams. Each refrigerator only has 1/3 of a pound of refrigerant, but in a 20-year time frame, capturing the refrigerants from just 8 or 9 typical refrigerators is the equivalent of taking the average American car off the road for a year.  
The Village of Nyack is currently working on a policy for addressing the proper disposal of non-working refrigerators. Smaller appliances containing refrigerants should be disposed of at the Household Hazardous Waste Drop-off Facility in Pomona.

Talking to Your HVAC Contractor About Leaks
HVAC technicians often don't take the time to fix leaks or properly capture refrigerants during replacement and repair of central air conditioning or heat pump systems since it is easier and less time consuming to add more refrigerant to a leaking system than to fix the leak. Discuss the matter with repair personnel before they work on your system and stress that you want all the refrigerant to be captured and taken for proper recycling.
Finding a Cool Supermarket
Leakage of HFCs from supermarkets is a major problem. According to the EPA, a single supermarket emits 875 pounds of HFCs each year, equal to the carbon dioxide from more than 300 cars. Voluntary action by supermarkets can help reduce greenhouse gas emissions and meet global climate commitments under the Paris Agreement and Montreal Protocol. Check to see how your supermarket stacks up at this website.
Learn More
New Yorkers for Cool Refrigerant Management works to promote refrigerant management solutions at the local and state levels. Our work includes outreach to help consumers and local governments make better decisions about purchasing, handling, and disposing of equipment containing HFCs, and supporting policies on refrigerant management that will reduce their overall lifecycle emissions. To learn more, contact refrigs@sustainhv.org
Useful links
Email Earth Matters
Read Earth Matters every Wednesday on Nyack News And Views, or sign up for the Earth Matters mailing list.
Earth Matters is a weekly feature that focuses on conservation, sustainability, recycling, and healthy living. This weekly series is brought to you by Julie Wendholt, Financial Advisor & Vice President of Pell Wealth Partners, a private wealth advisory practice of Ameriprise Financial Services, LLC.