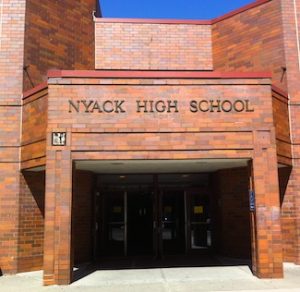 by Tom Burns
As I come to the end of my 31 year teaching career in the Nyack schools, I am filled with many emotions and so much gratitude. There are many people I could thank for inspiring and sustaining me through these many years. So many, in fact, that I am very purposefully avoiding naming any individuals out of fear of leaving someone out. Actually, that's not true. There is one individual I want to take this opportunity to single out. Unfortunately, I don't know this person's name. Let me explain.
It was the fall of 1989 and I was doing my Student Teaching. I had been there probably 2 weeks. My role thus far had been limited to just observing and interacting with the students before class or as I handed out papers. Then came the day for me to get up in front of them and teach my first lesson.
I can't remember exactly what I taught, but I know I had everything scripted on long, yellow legal pad paper. Every point, every question was written out with approximations of where I'd be in terms of time. I placed it on a podium in front of the room and stood there rigidly, barely acknowledging the students as they shuffled into the class chattering away with each other, unpacking their bags and finding their seats.
As they settled in, I was overcome by an intense wave of panic. There was no way I'd be able to speak in an authoritative voice that could call 20 or so 15 year-olds into some kind of order. No way I'd be able to look up from my script, ask questions, acknowledge answers and move the lesson along at the right clip. No way I'd command the room, administer discipline or casually joke around with them. No way I could be the kind of teacher I wanted to be.
I glanced at the door just a few feet away and realized that if I acted quickly, I could gather up most of my things and make a quick dash before most of them noticed. The exit door was just outside the classroom and the teacher parking lot was only a few yards from that. I could be in my car, speeding away contemplating Plan B for my life before the late bell even rang.
I gripped the podium in white-knuckled terror, seriously considering that option. And just when the plausibility of that idea was about to win out, one of the students must have realized that the pimply-faced student teacher with the bad ties who had been hanging around their class for the past couple of weeks was actually going to teach them that day. That student could have sensed blood in the water and made a snarky comment or cracked a joke or farted or anything else that would have ended things right then and there. Instead, that sensitive, perceptive and generous 15 year-old, upon realizing what was going to happen, chose to be kind and started to clap. The rest of the class quickly caught on and they all began to applaud. I exhaled, smiled, and acknowledged it, maybe with a mock bow (there is a ham hidden beneath all the anxiety); we all shared a laugh and I was able to begin.
Now, 31 years later, I look back on that anonymous student and realize how exemplary they are of the thousands of young people I've had the good fortune of interacting with over the years. Whether through teaching, coaching, or advising, I have been continuously awed by Nyack students. They are bright, funny, kind, generous, and compassionate. Of course not all of them, all the time–they are human beings after all–but, on the whole, they have brought me tremendous joy and have taught me so much. The students of Nyack High School have challenged me, buoyed me, made me laugh and made me cry. They have given me hope for our future and a lifetime full of memories. I am even fortunate enough to count some former students among my closest friends.
I don't know who that student was many years ago in Ms. Kerpe's 10th grade English class, but you saved me. While part of me would love to know your name, I actually don't need to know it. You are so many students, in so many classes over so many years. Thank you all.
Tom Burns is a recently retired Nyack High School English teacher.