This week in the villages: It's time for spring water main flushing by the village of Nyack Water Department.  This week covers West Nyack, Central Nyack, and the Nyack College area of South Nyack. On Sunday, streets will again be closed in downtown Nyack for a Nyack Spring Fling Promenade Sunday. Bring mom and the family out and support the local businesses. For those still needing a COVID-19 vaccine, there will be a mobile clinic in South Nyack. The Friday Family Movie Series begins in the Town of Orangetown and the annual Carry the Load rally takes place in Congers and makes its way to Jackson Hose #3/Chelsea H&L #2 in Nyack on Monday.
Nyack Area COVID Update for May 1
| | | | | | | |
| --- | --- | --- | --- | --- | --- | --- |
| | 1-May | 24-Apr | 17-Apr | 10-Apr | 3-Apr | 27-Mar |
| Active cases by community | | | | | | |
| Nyack | 33 | 61 | 77 | 70 | 82 | 81 |
| Valley Cottage | 23 | 25 | 29 | 40 | 53 | 37 |
| West Nyack | 20 | 21 | 25 | 39 | 55 | 47 |
| Piermont | 2 | 6 | 13 | 6 | 9 | 13 |
| | | | | | | |
| Rockland County | | | | | | |
| 7 day postivity rate | 1.6% | 2.1% | 3.6% | 4.5% | 6.0% | 5.3% |
| Active cases | 567 | 938 | 1,331 | 1,653 | 1,787 | 1,644 |
| Hospitalized | 21 | 17 | 32 | 48 | 54 | 58 |
| COVID-19 deaths (total) | 949 | 949 | 941 | 931 | 925 | 914 |
Source: Rockland County Health Department / NYS Health Department, 5/1/2021
The Rockland County Department of Health (RCDOH) is posting registration links for the COVID-19 vaccine on the COVID-19 webpage. The links to make appointments will remain on the COVID-19 webpage to make it more accessible for residents to book new appointments whenever they become available and when cancelations occur. For up-to-date alerts on when the RCDOH COVID-19 vaccine appointments become available, follow/like facebook.com/rockhealth or twitter.com/rockhealth.
Village of Nyack
The Nyack Business Council will hold a meeting via Zoom today (Mon, May 3, 2021) at 4p.
Today (May 3), the Planning Board will consider an application for tree removal, an application to construct an east yard deck, various site plan applications, and a request for referral to ZBA for required variances associated with having a shed in front yard. Read the full agenda at Nyack-NY.gov before Zoom-ing into the meeting at 7p.
Mayor Hammond will hold a Monthly Update meeting on Tue, May 4, 2021 at 9a.
Water Main Flushing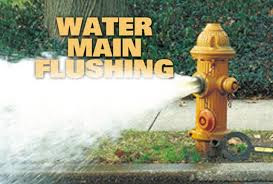 The village of Nyack Water Department will flush water mains throughout the entire water distribution system as follows:
West Nyack and Central Nyack – Mon, May 3 to Wed, May 5, 2021
Nyack College Area of South Nyack – Thurs, May 6, 2021
Nyack and Remainder of South Nyack – Mon, May 10 to Thurs, May 13, 2021
Flushing will take place between the hours of 9p and 6a. As a result of the flushing, your water may be temporarily discolored and you might experience a temporary reduction in water pressure.
Nyack Spring Fling Promenade Sunday
Sun, May 9, 2021, is the second Nyack Spring Fling Promenade Sunday of the year. Downtown Nyack will close the streets to traffic from 10a to 5p to allow for strolling, shopping, and dining. Don't forget to get your spring edition Nyack Fan Card valid through June 30, 2021 and receive discounts at 15 participating restaurants and shops. Visit visitnyack.org for more information on Promenade Sunday and Nyack Spring Fling, which runs everyday through June 30, 2021.
Village of South Nyack
The Zoning Board of Appeals will meet on Tue, May 4, 2021. Read the full agenda before Zooming into the meeting at 7:30p.
Mobile COVID-19 Vaccine Clinic
There will be a Mobile COVID-19 Vaccine Clinic at Assemblies of God Church, 11 Division Ave, South Nyack on Thurs, May 6, 2021 from 10a–4p. The Pfizer vaccine will be administered to individuals 16 years of age and older. You can pre-register so that your vaccine is reserved for you and you will be in and out faster, or walk-ins are welcome, and you would complete your registration form there. To register you must fill out 2 forms: a Patient Registration Form for Refuah, and a COVID-19 Vaccine Registration Form and under Mobile Vaccine Clinic Location, fill in South Nyack. Once they've receive both forms, Refuah will reach out to you for an appointment.
Save the Date – Public
There will be a virtual public hearings on a local law concerning the dissolution of the South Nyack/Grandview Police Department, which will focus on the establishment of a South Nyack Police Department and the replacement of Article II of Chapter 47 of the code of the Village of South Nyack on Tue, May 11, 2021 at 7:30p via Zoom.
The full text of the proposed law is on file in the Village Clerk's office and may be reviewed by interested persons on southnyack.ny.gov and is posted on the outside bulletin boards at Village Hall located at 282 S Broadway, S Nyack. The Board of Trustees will hear at said time and place all persons in support of this local law and any objections thereto. Interested parties may attend via Zoom or by agent or representative via Zoom.
Designated Metered Streets Parking Update
A map of designated streets with metered parking has been posted to southnyack.ny.gov. No other information is available on the website.
Village of Upper Nyack
Overview of the Tree Preservation Law of 2021
At the recent public hearing on the Tree Preservation Law of 2021, several residents asked for a summary of the law's provisions. An overview, which should provide answers to any outstanding questions, may be found at uppernyack-ny.us. The full text of the law can be also be found at uppernyack-ny.us or a copy may be obtained from the Village Clerk.
Public Comments on Proposed Noise Law
Public comments on the proposed Noise Law have been posted to uppernyack-ny.us. The comment file will be updated as comments are received. The Public Hearing on this proposed law will continue at the next regular meeting of the Board of Trustees on May 20, 2021.
Town of Orangetown
Movies in the Park
Join Orangetown's Parks & Recreation Department for their Friday Family Movie Series in Veteran's Memorial Park on Fri, May 7, 2021 at 8p for a screening of The Croods: A New Age. The cost is $3 per person with a maximum of $15 per family (same household only). Space will be limited and social distancing rules will be in place. In case of rain, the movies will be shown at a later date. Non-residents are invited to attend at a cost of $4 per person if space is available 2 days prior to each movie. For more information, please email recreation@orangetown.com. Please visit orangetown.com to register.
Town of Clarkstown.
Carry the Load – Congers Rally – Monday, May 3, 2021
Carry the Load is a national not-for-profit organization founded by veterans to restore the true meaning of Memorial Day with its annual National Relay that travels 3,000 miles, from West Point to Dallas, carrying the American flag.
Join the Carry the Load East Coast National Relay Team for a mile-long walk into Congers Station Park. For those that would like to walk with the American Flag into the Town of Congers, please meet at Old Haverstraw Rd and Patricia Ave at 6:15p. In an effort to comply with local COVID-19 guidelines, please ensure you register and indicate where you will be physically participating. For those who would like to join the event but not walk, please meet at 5:30p at Congers Station Park for a barbecue, music and some kid-friendly fun, and cheer the walkers on as they enter the park. From there, the American flag will continue with other walkers on its 3,000-mile trek to Dallas, Texas. Carrytheload.org has more information about the East Coast route as it passes by Nyack Fire Department – Jackson Hose #3/Chelsea H&L #2.
2021 Comprehensive Plan Update
The 2021 Town of Clarkstown Comprehensive Plan Update & Draft Generic Environmental Impact Statement (DGEIS) is now posted on compplan2020.clarkstown.org. A public hearing is scheduled for June 1, 2021 at 7p in Clarkstown Town Hall. Comments will be accepted until 10 days after the close of the public hearing. Please send your comments on the document via email to compplan2020@clarkstown.org. Comments may also be mailed to Principal Planner Joe Simoes at the Planning Department, 10 Maple Avenue, New City, NY 10956. Hard copies of the document are available for viewing at the Town Clerk's Office and Planning Department in Town Hall, as well as the Valley Cottage, West Nyack, Nanuet and New City Libraries.
Clarkstown Community Centers Reopen
All four Town of Clarkstown community centers (Street Community Center, Congers Community Center, Pascack Community Center, and Central Nyack Community Center) will re-open today (Mon, May 3, 2021).
A current Clarkstown Community Center I.D. is required for entry, face masks must be worn inside at all times except when eating or drinking (This includes gym, weight room, and classes), and equipment must be wiped down after each use (gym, game room, and weight room).
Yard Waste Pick Up
The Clarkstown Highway Department has started its Yard Waste Pick Up Program for the spring 2021 season. Information about proper waste placement and a schedule may be found on town.clarkstown.ny.us.
Rockland County
Free Paper Shredding
There will be Free Paper Shredding on Sat, May 8, 2021 from 8a-12p at Haverstraw Town Hall, One Rosman Rd, Garnerville. There is a three box limit per car (24x15x11). Please consider bringing a non-perishable food item for donation to local food pantries.
---