This week in the villages: The Nyack Public Schools Budget Vote and Board Election is Tuesday. Upper Nyack will hold a public hearing on the proposed Noise Law at the Board of Trustees meeting. South Nyack will honor Dr. Frances Pratt. The Friday Family Movie Series continues in the Town of Orangetown and the Town of Clarkstown is looking to hire lifeguards and water safety instructors.
Nyack Area COVID Update for May 15
| | | | | | | |
| --- | --- | --- | --- | --- | --- | --- |
| | 15-May | 8-May | 1-May | 24-Apr | 17-Apr | 10-Apr |
| Active cases by community | | | | | | |
| Nyack | 7 | 18 | 33 | 61 | 77 | 70 |
| Valley Cottage | 10 | 20 | 23 | 25 | 29 | 40 |
| West Nyack | 5 | 16 | 20 | 21 | 25 | 39 |
| Piermont | 2 | 0 | 2 | 6 | 13 | 6 |
| | | | | | | |
| Rockland County | | | | | | |
| 7 day postivity rate | 0.7% | 1.4% | 1.6% | 2.1% | 3.6% | 4.5% |
| Active cases | 276 | 419 | 567 | 938 | 1,331 | 1,653 |
| Hospitalized | 8 | 15 | 21 | 17 | 32 | 48 |
| COVID-19 deaths (total) | 955 | 952 | 949 | 949 | 941 | 931 |
Source: Rockland County Health Department / NYS Health Department, 5/15/2021
The Rockland County Department of Health (RCDOH) is posting registration links for the COVID-19 vaccine on the COVID-19 webpage. The links to make appointments will remain on the COVID-19 webpage to make it more accessible for residents to book new appointments whenever they become available and when cancelations occur. 1st dose appointments are now available for the Pfizer-BioNTech COVID-19 vaccine for individuals 12 and older from 3 to 7p on Wed, May 19, 2021. Any 12–17-year-old receiving the vaccine must arrive with a parent or guardian who will sign a consent form. The parent or guardian must show some form of personal identification such as a driver's license. If you have health insurance, please bring your benefit card with you. For up-to-date alerts on when the RCDOH COVID-19 vaccine appointments become available, follow and like facebook.com/rockhealth or twitter.com/rockhealth.
Village of Nyack
The Nyack Business Council will hold a meeting via Zoom today (Mon, May 17, 2021) at 4p.
The Architectural Review Board will meet on Wed, May 19, 2021 to consider requests for signage, requests for an amendment to April decision regarding decks, extend front porches and add roof decks, to replace windows, to replace decks, to replace sidewalks, steps, and curbs, to demolish existing buildings and fuel pump canopys and relocate on site, to replace rear doors, and to add a covered porch over existing decks and replace windows and sidings. Read the full agenda at Nyack-NY.gov before Zooming into the meeting at 7p.
Village of South Nyack
Justice Court will be held on Mon, May 17, 2021 at 9a.
Ceremony to Honor Dr. Frances Pratt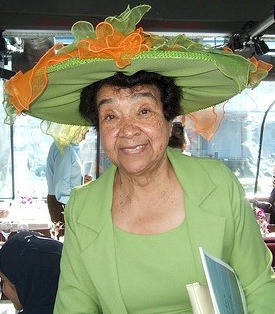 On Wed, May 19, 2020 at 11a there will be a ceremony to honor South Nyack resident Dr. Frances Pratt. This ceremony will take place on Cooper Drive in South Nyack which will be honorarily named Dr. Frances Pratt Drive.
Dr. Pratt has been a household word in our community for many years, and has been described as a "living legend". She had a 53 year career at Nyack Hospital; which included being the Head Nurse in the Emergency room and later Health Administrator. A waiting room and a scholarship have been named in Dr. Pratt's honor. She is a licensed Family Care Provider, and was the President of the Nyack Chapter of the NAACP for 40 years. More recently, Dr. Pratt was a member of the South Nyack/Grandview-on-Hudson police-reform panel.
In addition to Dr. Pratt's dedication and commitment to the community, social justice and equality, she is well known for the beautiful, colorful hats that she wears to complement her outfits.
Village of Upper Nyack
The Zoning Board of Appeals will meet on Tue, May 18, 2021. Read the full agenda at uppernyack-ny.us before Zoom-ing into the meeting at 8p.
The Planning Board will meet on Wed, May 19, 2021. Read the full agenda at uppernyack-ny.us before Zoom-ing into the meeting at 7:30p.
The Board of Trustees of the Village of Upper Nyack will hold a regular meeting including a public hearing on Thurs, May 20, 2021 at to consider the adoption of a proposed Local Law, the Noise Law of the Village of Upper Nyack, regulating unnecessary noise within the Village of Upper Nyack. This law will also be known as Local Law #5 of 2021. The full text of the proposed law is available on uppernyack-ny.us. Read the full agenda at uppernyack-ny.us before Zoom-ing into the meeting at 7p. The meeting will be held via videoconferencing, and transcripts will be provided at a later date. The public will have the opportunity to see and hear the meeting live and provide comments. Comments and questions can also be provided via email before the meeting to Carol G. Brotherhood, Village Clerk at village.clerk@uppernyuack-ny.us.
Overview of the Tree Preservation Law of 2021
At the recent public hearing on the Tree Preservation Law of 2021, several residents asked for a summary of the law's provisions. An overview, which should provide answers to any outstanding questions, may be found at uppernyack-ny.us. The full text of the law can be also be found at uppernyack-ny.us or a copy may be obtained from the Village Clerk.
Nyack Public Schools
Budget Vote and School Board Trustee Election
Polls will be open from 7a-9p on Tue, May 18, 2021 for the Nyack School Board Trustee election and budget vote. The polling locations are Depew Manor, Hilltop Building (Nyack Schools Administration Building), Valley Cottage Elementary School, and Upper Nyack Elementary School. You can find your polling location at the Nyack UFSD Poll Place Finder. The proposed budget may be found at nyackschools.org.
Incumbents Damon Bender and Karen Hughes are running along with newcomer John Duval for the two open board seats. Here is John Duval's Closing Argument.
Town of Orangetown
Movies in the Park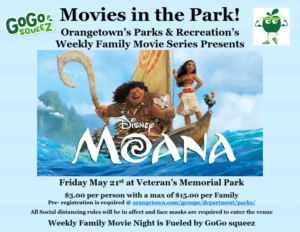 Join Orangetown's Parks & Recreation Department for their Friday Family Movie Series in Veteran's Memorial Park on Fri, May 21, 2021 at 8p for a screening of Disney's Moana. The cost is $3 per person with a maximum of $15 per family (same household only). Space will be limited and social distancing rules will be in place. In case of rain, the movies will be shown at a later date. For more information, please email recreation@orangetown.com. Please visit orangetown.com to register.
Food Drive
The John M. Perry American Legion Post 1044 is holding a food drive to benefit People to People Food Pantry on Sat, May 22, 2021 from 10a-3p at 691 Rte. 340, Sparkill. Please bring unopened non-perishable food including: pasta & sauce, cereal, rice, beans, soup, coffee & tea, peanut butter, jam, snack bars, drinks, cake mix, toiletries, dried fruits, snacks, dry goods, and canned goods. Contact Cmdr. Mart at 845-709-1631 or email davidmart2017@gmail.com for further information.
Town of Clarkstown.
Lifeguards Needed
The town is looking for certified lifeguards and water safety instructors to work at the Clarkstown pools this summer. The pay rate for lifeguards is $14 per hour and the pay rate for water safety instructors is $15 per hour. Applicants must be 16-years-old. An application may be found on town.clarkstown.ny.us or you may call 845-639-6200.
2021 Comprehensive Plan Update
The 2021 Town of Clarkstown Comprehensive Plan Update & Draft Generic Environmental Impact Statement (DGEIS) is now posted on compplan2020.clarkstown.org. A public hearing is scheduled for June 1, 2021 at 7p in Clarkstown Town Hall. Comments will be accepted until 10 days after the close of the public hearing. Please send your comments on the document via email to compplan2020@clarkstown.org. Comments may also be mailed to Principal Planner Joe Simoes at the Planning Department, 10 Maple Avenue, New City, NY 10956. Hard copies of the document are available for viewing at the Town Clerk's Office and Planning Department in Town Hall, as well as the Valley Cottage, West Nyack, Nanuet and New City Libraries.
Federal Restaurant Revitalization Fund
The Town of Clarkstown and the Rockland Small Business Development Center hosted a webinar about what you need to know in applying for a share of the new $28.6 billion federal Restaurant Revitalization Fund. The fund is now open and restaurants should apply as soon as possible. If you missed it, the webinar may be viewed on the Town of Clarkstown Youtube channel.
Save the Date – Town of Clarkstown Clean Energy Program Information Sessions
If you received a packet of information recently about Clarkstown's new clean energy program, there will be online Info Sessions on May 19 and May 26, 2021 to learn more and get answers to your questions. Information on how to join these information sessions may be found on town.clarkstown.ny.us.
Yard Waste Pick Up
The Clarkstown Highway Department has started its Yard Waste Pick Up Program for the spring 2021 season. Information about proper waste placement and a schedule may be found on town.clarkstown.ny.us.
Rockland County
Mosquito Control Products Available
Free mosquito control products are now available for the 2021 season. Mosquito Dunks® can be picked up by appointment only at the Center for Environmental Health office, 50 Sanatorium Rd, Building D, Pomona for the treatment of closed or unused private swimming pools. Details about the program may be found on rocklandgov.com. If you are concerned about a property or area of standing water breeding mosquitoes, you may file an online complaint on rocklandgov.com.
---