This week in the villages: Today, Americans give thanks to those who lost their lives serving in the armed forces. The holiday will be commemorated by 13 events countywide. Hudson Link buses will run on a weekend schedule today; government offices, banks, post offices, and public schools will be closed. South Nyack will hold an informational meeting about the Village Dissolution and the Town of Clarkstown will hold a public hearing on its Comprehensive Plan. On Sunday, streets will again be closed in downtown Nyack for a special Nyack Spring Fling Promenade Sunday. And the Town of Orangetown continues its Friday Family Movie Series, hosts the Hunger's 5K Heroes and the "Bike" Road Family Day.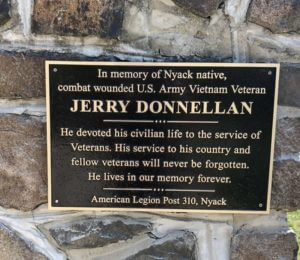 Memorial Day Events in Rockland County
Blauvelt – Ceremony at Lions Park at 12p hosted by the Blauvelt Lions Club.
Haverstraw – Ceremony will be held at the World War I Monument at the Mount Repose Cemetery at 11a.
Hillburn – Parade begins at 9a at the Suffern Central School District administration building and will proceed to the World War I Monument, corner of Lake Ave and 4th St, for a ceremony.
Nanuet – Service begins at 12p at the Veterans Monument at the Nanuet Train Station ( 25 Prospect St). Sponsored by American Legion Naurashan Post 794, and Jewish War Veterans.
Nyack – Ceremony honoring former Rockland County Veterans Service Agency Director and Veterans Advocate, Jerry Donnellan at American Legion Post 310, 85 Piermont Ave at 11a with a bronze plaque installation in his honor.
Palisades – Ceremony will be held at the flag pole at the War Monument in Triangle Square at Closter Rd and Rt 9W at 9a.
Pearl River – The John H. Secor American Legion Post 329 hosts the annual parade. It starts at 10:15a from Key Bank and ends at Braunsdorf Park. A service will begin at 10:45a.
Piermont – Piermont Engine Hose Co #1 parade begins at 10a from VFW Post 7452 and continues to Kennedy Park followed by a ceremony.
Sparkill – Parade begins at 11:30a from the Sparkill Firehouse and ends at Depot Square Town Park followed by a ceremony at 11:50a.
Suffern – Parade begins at 11a at the intersection of Orange and Lafayette Aves and proceeds to the Soldiers Monument on Washington Ave, where a ceremony will follow.
Tappan – Memorial service and wreath laying at the Tappan Triangle hosted by the Carl A. Schelin American Legion Post 1271 at 10a.
Memorial Day Transportation Changes
On Mon, May 31, 2021, Transport of Rockland (TOR) buses 59, 91, 92, 93, 94, and Loop 3 will operate on a Saturday schedule; Loop 1 and Loop 2 will operate on a weekday schedule; there will be no service on TOR 95 and 97. Hudson Link buses will operate on a weekend schedule; and Metro-North will operate a weekend/holiday schedule. TRIPS paratransit buses will operate A.D.A. service only. Additional transportation changes may be found on rocklandgov.com.
Nyack Area COVID Update for May 29
| | | | | | | |
| --- | --- | --- | --- | --- | --- | --- |
| | 29-May | 22-May | 15-May | 8-May | 1-May | 24-Apr |
| Active cases by community | | | | | | |
| Nyack | 6 | 6 | 7 | 18 | 33 | 61 |
| Valley Cottage | 4 | 4 | 10 | 20 | 23 | 25 |
| West Nyack | 4 | 7 | 5 | 16 | 20 | 21 |
| Piermont | 0 | 2 | 2 | 0 | 2 | 6 |
| | | | | | | |
| Rockland County | | | | | | |
| 7 day postivity rate | 0.6% | 0.9% | 0.7% | 1.4% | 1.6% | 2.1% |
| Active cases | 190 | 186 | 276 | 419 | 567 | 938 |
| Hospitalized | 6 | 8 | 8 | 15 | 21 | 17 |
| COVID-19 deaths (total) | 957 | 957 | 955 | 952 | 949 | 949 |
Source: Rockland County Health Department / NYS Health Department, 5/29/2021
The Rockland County Department of Health (RCDOH) is posting registration links for the COVID-19 vaccine on the COVID-19 webpage. The links to make appointments will remain on the COVID-19 webpage to make it more accessible for residents to book new appointments whenever they become available and when cancelations occur. For up-to-date alerts on when the RCDOH COVID-19 vaccine appointments become available, follow and like facebook.com/rockhealth or twitter.com/rockhealth.
Village of Nyack
Nyack Spring Fling Promenade Sunday
Sun, June 6, 2021, is the third Nyack Spring Fling Promenade Sunday of the year. This special PRIDE Promenade, celebrating alongside the Rockland Pride Center, will be the highlight of the Spring Fling season. Downtown Nyack will close the streets to traffic from 10a to 5p to allow for strolling, shopping, and dining. Don't forget to get your spring edition Nyack Fan Card valid through June 30, 2021 and receive discounts at 15 participating restaurants and shops. Visit visitnyack.org for more information on Promenade Sunday and Nyack Spring Fling, which runs everyday through June 20, 2021.
Village of South Nyack
Village Dissolution Informational Meeting
An Informational Meeting about the Village Dissolution will be held on Wed, June 2, 2021 at 7p via Zoom. Laberge Group will provide information regarding the planning process and progress made thus far, and will share a Draft Dissolution Plan. There will be a Q & A session with a 3 minute limit per person. To pose a question or make a comment, you can simply click the "raise hand" button on Zoom or you may submit your question via the "chat" function on Zoom and it will be read it aloud. To stay up to date on the Village Dissolution, visit the website on labergegroup.com.
Village of Upper Nyack
Village Board Meeting Recording Available
In case you missed it, a video recording and transcript is available for the May 27 Workshop Meeting of the Village Board of Trustees.
Overview of the Tree Preservation Law of 2021
At the recent public hearing on the Tree Preservation Law of 2021, several residents asked for a summary of the law's provisions. An overview, which should provide answers to any outstanding questions, may be found at uppernyack-ny.us. The full text of the law can be also be found at uppernyack-ny.us or a copy may be obtained from the Village Clerk.
Nyack Public Schools
The Board of Education will meet on June 1, 2021. Read the full agenda at go.boarddocs.com before Zoom-ing into the meeting at 6:30p.
Town of Orangetown
Movies in the Park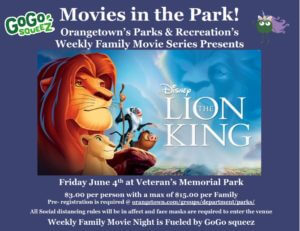 Join Orangetown's Parks & Recreation Department for their Friday Family Movie Series in Veteran's Memorial Park on Fri, June 4, 2021 at 8p for a screening of Disney's The Lion King. The cost is $3 per person with a maximum of $15 per family (same household only). Space will be limited and social distancing rules will be in place. In case of rain, the movies will be shown at a later date. For more information, please email recreation@orangetown.com. Please visit orangetown.com to register.
Hunger's 5K Heroes
Help stock food pantry shelves in Orangetown and walk, run, skip or crawl in the Hunger's 5K Heroes on Sat, June 5, 2021 at 10:30a at the Joseph B. Clarke Rail Trail at Depot Square, Sparkill. You may also choose to participate virtually. Join Orangetown Supervisor Teresa Kenny, Assemblyman Mike Lawler, and Senator Elijah Reichlin-Melnick and help your neighbors in need. Find out more and register or donate at runsignup.com.
Orangetown "Bike" Road Family Day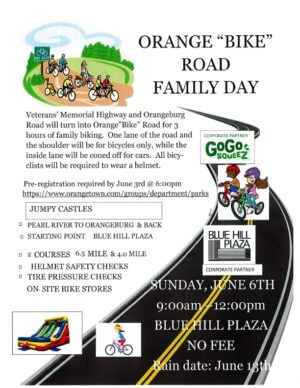 On Sun, June 6, 2021 from 9a-12p, Veterans' Memorial Hwy and Orangeburg Rd will turn into Orange "Bike" Road for 3 hours of family biking. The start and finish point will be Blue Hill Plaza and there will be two courses. One course is 6.5 miles long and will take you from the Blue Hill Plaza to Lester Drive in Orangeburg, through the Betsy Ross area of Orangeburg and Pearl River while the second course will take you down to Blaisdell Road around Veteran's Memorial Park and back.
A single lane of the road will be for bicycles only along with the shoulder, while the inside lane will be coned off for cars. You must pre-register for this event no later than June 3, 2021 at 6p at orangetown.com. All bicyclists will be required to wear a helmet. More information may be found on orangetown.com.
Town of Clarkstown
Registration Open for Summer Recreation Programs
Registration is now open for all summer programs including camps, aquatics, and birthday parties. You must have a verified Community Pass account to register. If you need to create an account, you must come into the Recreation Administration Building to prove residency.
Lifeguards Needed
The town is looking for certified lifeguards and water safety instructors to work at the Clarkstown pools this summer. The pay rate for lifeguards is $14 per hour and the pay rate for water safety instructors is $15 per hour. Applicants must be 16-years-old. An application may be found on town.clarkstown.ny.us or you may call 845-639-6200.
2021 Comprehensive Plan Update
The 2021 Town of Clarkstown Comprehensive Plan Update & Draft Generic Environmental Impact Statement (DGEIS) is now posted on compplan2020.clarkstown.org. A public hearing is scheduled for June 1, 2021 at 7p in Clarkstown Town Hall. Comments will be accepted until 10 days after the close of the public hearing. Please send your comments on the document via email to compplan2020@clarkstown.org. Comments may also be mailed to Principal Planner Joe Simoes at the Planning Department, 10 Maple Avenue, New City, NY 10956. Hard copies of the document are available for viewing at the Town Clerk's Office and Planning Department in Town Hall, as well as the Valley Cottage, West Nyack, Nanuet and New City Libraries.
Yard Waste Pick Up
The Clarkstown Highway Department has started its Yard Waste Pick Up Program for the spring 2021 season. Information about proper waste placement and a schedule may be found on town.clarkstown.ny.us.
Rockland County
Mosquito Control Products Available
Free mosquito control products are now available for the 2021 season. Mosquito Dunks® can be picked up by appointment only at the Center for Environmental Health office, 50 Sanatorium Rd, Building D, Pomona for the treatment of closed or unused private swimming pools. Details about the program may be found on rocklandgov.com. If you are concerned about a property or area of standing water breeding mosquitoes, you may file an online complaint on rocklandgov.com.
---