This week in the villages: Spring water main flushing continues in Nyack and the remainder of South Nyack. The villages of Nyack and South Nyack will hold Board of Trustee meetings. The Friday Family Movie Series continues in the Town of Orangetown and they will hold their annual Highway Department Open House on Saturday.
Nyack Area COVID Update for May 8
| | | | | | | |
| --- | --- | --- | --- | --- | --- | --- |
| | 8-May | 1-May | 24-Apr | 17-Apr | 10-Apr | 3-Apr |
| Active cases by community | | | | | | |
| Nyack | 18 | 33 | 61 | 77 | 70 | 82 |
| Valley Cottage | 20 | 23 | 25 | 29 | 40 | 53 |
| West Nyack | 16 | 20 | 21 | 25 | 39 | 55 |
| Piermont | 0 | 2 | 6 | 13 | 6 | 9 |
| | | | | | | |
| Rockland County | | | | | | |
| 7 day postivity rate | 1.4% | 1.6% | 2.1% | 3.6% | 4.5% | 6.0% |
| Active cases | 419 | 567 | 938 | 1,331 | 1,653 | 1,787 |
| Hospitalized | 15 | 21 | 17 | 32 | 48 | 54 |
| COVID-19 deaths (total) | 952 | 949 | 949 | 941 | 931 | 925 |
Source: Rockland County Health Department / NYS Health Department, 5/8/2021
The Rockland County Department of Health (RCDOH) is posting registration links for the COVID-19 vaccine on the COVID-19 webpage. The links to make appointments will remain on the COVID-19 webpage to make it more accessible for residents to book new appointments whenever they become available and when cancelations occur. For up-to-date alerts on when the RCDOH COVID-19 vaccine appointments become available, follow and like facebook.com/rockhealth or twitter.com/rockhealth.
Village of Nyack
The Nyack Business Council will hold a meeting via Zoom today (Mon, May 10, 2021) at 4p.
And the Village Board of Trustees will hold a workshop via Zoom on Thurs, May 13, 2021 at 7p. Then, Zoom into the Village Board meeting at 7:30p.
Water Main Flushing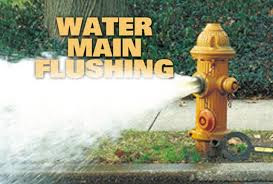 The village of Nyack Water Department will continue flushing water mains in Nyack and the remainder of South Nyack from Monday through Thursday. Flushing will take place between the hours of 9p and 6a. As a result of the flushing, your water may be temporarily discolored and you might experience a temporary reduction in water pressure.
Village of South Nyack
The Board of Trustees will hold a public hearing on a local law concerning the dissolution of the South Nyack/Grandview Police Department at the regularly scheduled board of trustees meeting on Tue, May 11 2021. Read the full agenda at Southnyack.ny.gov before Zooming into the meeting at 7:30p.
The Planning Board will meet on Wed, May 12, 2021 at 7:30p.
Village of Upper Nyack
The Architectural Review Board will meet tonight (Mon, May 10, 2021) at 6p. Read the full agenda at uppernyack-ny.us before Zoom-ing into the meeting.
Overview of the Tree Preservation Law of 2021
At the recent public hearing on the Tree Preservation Law of 2021, several residents asked for a summary of the law's provisions. An overview, which should provide answers to any outstanding questions, may be found at uppernyack-ny.us. The full text of the law can be also be found at uppernyack-ny.us or a copy may be obtained from the Village Clerk.
Proposed Noise Law Modification
Upon review of comments from the public, the Village Board of Trustees has made modifications to the proposed Noise Law. The modified text of the law can be found on uppernyack-ny.us. The Public Hearing on this proposed law will continue at the next regular meeting of the Board of Trustees on May 20, 2021.
Town of Orangetown
Movies in the Park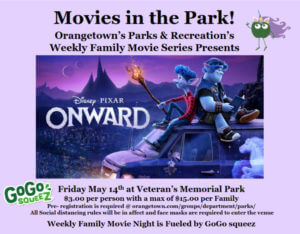 Join Orangetown's Parks & Recreation Department for their Friday Family Movie Series in Veteran's Memorial Park on Fri, May 14, 2021 at 8p for a screening of Disney Pixar's Onward. The cost is $3 per person with a maximum of $15 per family (same household only). Space will be limited and social distancing rules will be in place. In case of rain, the movies will be shown at a later date. For more information, please email recreation@orangetown.com. Please visit orangetown.com to register.
25th Annual Highway Department Open House
On Sat, May 15, 2021 from 10a to 12p, residents and their families are invited to tour the facility, witness equipment demonstrations, meet Highway Department representatives, and learn more about the operation of the Orangetown Highway Department. Free "Highway Helper" t-shirts will be given to the first 50 children in attendance. A flyer may be found at orangetown.com.
Town of Clarkstown.
2021 Comprehensive Plan Update
The 2021 Town of Clarkstown Comprehensive Plan Update & Draft Generic Environmental Impact Statement (DGEIS) is now posted on compplan2020.clarkstown.org. A public hearing is scheduled for June 1, 2021 at 7p in Clarkstown Town Hall. Comments will be accepted until 10 days after the close of the public hearing. Please send your comments on the document via email to compplan2020@clarkstown.org. Comments may also be mailed to Principal Planner Joe Simoes at the Planning Department, 10 Maple Avenue, New City, NY 10956. Hard copies of the document are available for viewing at the Town Clerk's Office and Planning Department in Town Hall, as well as the Valley Cottage, West Nyack, Nanuet and New City Libraries.
Clarkstown Community Centers Reopen
All four Town of Clarkstown community centers (Street Community Center, Congers Community Center, Pascack Community Center, and Central Nyack Community Center) are now open.
A current Clarkstown Community Center I.D. is required for entry, face masks must be worn inside at all times except when eating or drinking (This includes gym, weight room, and classes), and equipment must be wiped down after each use (gym, game room, and weight room).
Federal Restaurant Revitalization Fund
The Town of Clarkstown and the Rockland Small Business Development Center hosted a webinar about what you need to know in applying for a share of the new $28.6 billion federal Restaurant Revitalization Fund. The fund is now open and restaurants should apply as soon as possible. If you missed it, the webinar may be viewed on the Town of Clarkstown Youtube channel.
Save the Date – Town of Clarkstown Clean Energy Program Information Sessions
If you received a packet of information recently about Clarkstown's new clean energy program, there will be online Info Sessions on May 19 and May 26, 2021 to learn more and get answers to your questions. Information on how to join these information sessions may be found on town.clarkstown.ny.us.
Yard Waste Pick Up
The Clarkstown Highway Department has started its Yard Waste Pick Up Program for the spring 2021 season. Information about proper waste placement and a schedule may be found on town.clarkstown.ny.us.
Rockland County
Mosquito Control Products Available
Free mosquito control products are now available for the 2021 season. Mosquito Dunks® can be picked up by appointment only at the Center for Environmental Health office, 50 Sanatorium Rd, Building D, Pomona for the treatment of closed or unused private swimming pools. Details about the program may be found on rocklandgov.com. If you are concerned about a property or area of standing water breeding mosquitoes, you may file an online complaint on rocklandgov.com.
Virtual Public Statement Hearings for Department of Public Service Planning Proposals
The New York State Public Service Commission announced that it will hold virtual public statement hearings on Wed, May 12, 2021, and Thurs, May 13, 2021, regarding the gas system planning process proposal and the moratorium management proposal. More information on how to comment on these proposals may be found on dps.ny,gov.
---