by Amy Alinkovsky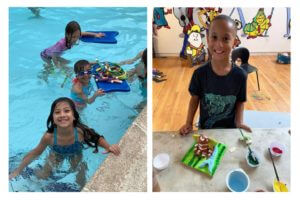 SUMMER ARTS CAMP @ RoCA
Open House, Free
Outdoor Live Open House – Saturday, May 15, 2021, 2-5pm
Are you looking for an outdoor arts experience for your child this summer? Does your child need a creative outlet after this challenging year? Want to learn more about Arts Camp @ RoCA? Join us for our Camp Open House. The outdoor live open house–including a free drop-in workshop is May 15, 2021, 2–5p (rain date: May 22). Meet the Camp Director and Staff! Tour the facility and grounds!
Arts Camp @ RoCA is a place for children to explore their creativity and imagination while developing expressive skills they can bring back to the classroom and use throughout their lives. RoCA is a space for developing artists to explore a variety of visual art forms in our studios, including: Painting & Drawing, Sculpture, Art & Nature, Dance, Music, Theater Arts, Cartooning and more!
Under the guidance of professional teaching artists, educators and caring counselors, campers explore the arts in a supportive environment where creative expression, skill building, group cooperation, personal development, and self-esteem are encouraged.
The RoCA campus invites campers to be immersed in art on the five-acre grounds of The Catherine Konner Sculpture Park and in our fully-equipped, air-conditioned art studios. RoCA's large sparkling pool and open field provide plenty of healthy outdoor recreation.  Our camp is proud to maintain a consistent 5:1 camper to counselor ratio for ages 5-9 and 7:1 for ages 10-14.
Join us and find out why Arts Camp @ RoCA is one of the area's most sought after, unique, and praised day camps.   
Arts Camp @ RoCA dates for the 2021 season are: June 28–August 20. Campers can attend a 2, 4, 6 or 8-week session (3 or 5 day a week options). The two-week sessions are June 28–July 9, July 12-July 23, July 26–August 6, and August 9-August 20. RoCA accepts campers entering Kindergarten through 9th grade in 2021. Measures have been put in place to assure that Covid Prevention Guidelines are met. 
Space is limited, so don't delay! Register at RoCA's website, www.rocklandartcenter.org. If you have any questions, call (845) 358-0877.
Rockland Center for the Arts is located at 27 S. Greenbush Rd., West Nyack, NY. Regular hours are:  Mon-Fri 10-4; Sat and Sun 1-4 pm. For more information visit www.rocklandartcenter.org or call 845-358-0877.