by Mike Hays
The buzzing whine of prop planes and the whir of revving engines before filled the ears of residents living near the Miller Airport in West Nyack in the 1940s. Having filled in some of Greenbush swamp where the Palisades Mall is now located, the Miller family, owners of the nearby Miller Dairies, built a full-service light plane airport that was known as the New York City Light Plane Terminal and Rockland's fastest growing airport in 1946.
One of many small airports in Rockland, the Miller Airport boomed as interest in flying increased after WW II, especially among veterans funded by the GI Bill. Garret Miller Sr. owned the land. Garret Miller, Jr., known as Gary, learned to fly in 1940 and was certified as a flight instructor during the war years. Garret Sr. and Howard Miller, Gary's twin brother, soon learned to fly as well. While it was a family business, Gary managed the flight school.
Local opposition to the airport was strong among the residents along Greenbush Road. One woman complained of oil dripping from overhead planes onto her laundry hanging outside. Others feared accidents, although few actually occurred. Some feared further airport expansion. Pro-business villagers applauded the Millers for opening up new business on the swampland along Rt. 59. Everything came to a head in 1952, zoning was denied, and the airport was closed for good.
The Miller Airport
The airport opened in 1940 and eventually had two runways, one 2,300 ft long and one 1,800 feet. A hanger was built for storage of planes as well as outdoor tie-down service. In 1946, 12 planes were kept at the field. An onsite mechanic's shop was licensed by the Civil Aeronautics Board. There was an office and pilot's lounge as well as the nearby Miller's Milk Bar for meals.
Flight lessons proved to be very popular.  More than 60 veterans learned to fly there in 1946. Not all trainees were veterans. Lois Holliday, a Nyack resident and a student at the Pratt Institute, was enrolled as the sole woman. The Bergen County Civil Air Patrol (CAP) kept a plane there and held its air maneuvers there.
The Miller also sold planes as dealers for Aeronca and Stinson, two popular small plane makers in the late 1940s. The Millers offered an air ambulance service and picked up express packages from LaGuardia and Newark. They offered chartered flights. They were popular among private plane enthusiasts as they did not require radio equipment for landing as did larger airports, as long as planes came in according to the wind tee on the runway.
The Miller Family
Garret Miller, the son of a German immigrant, moved to Valley Cottage around the turn of the century. He started up a dairy farm in West Nyack in 1937. He had three children including twin boys born in 1913, Garret Miller Jr. or Gary as he was known became a civilian flying instructor during World War II and taught Army students at U.S. bases how in preparation for the D-Day invasion of Normandy. He also taught New City resident and actor Henry Morgan, known for his television roles in Dragnet and as Colonel Potter in Mash, and other notables who had an interest in the art of flying. 
A Brief History of Rockland Airports
With lots of open farmland, Rockland County was a perfect landing place for small aircraft. Many took their first plane ride from these airport. Win Perry, Nyack historian, took his ride at the now forgotten (except by Win) Tri-Motor Strip on Greenbush Rd.
Ramapo Airport/French Farms (1929-1949) Brewery Road, New City 
The airport was the brainchild of Dr. Pierre Bernard of South Nyack's Clarkstown Country Club who was president of the Rockland Aero Club. The airport opened the same year as Newark and Teterboro airports.
Christie Airport, 1929-1969, Old Rt. 304, New City, near Christie Drive
Opened by William Christie Sr. and his sons, Jim, John and Bill, it was Rockland's first commercial airport with scheduled flights. Rockland's first airmail flight took off from the airport.
County Airport/Spring Valley Airport/ Ramapo Valley Airport, 1946-1985, Smith Road, Spring Valley
The Spring Valley Airport operated under several names and became the most active airport in Rockland County. At its peak it had 150 planes, 6 hangers, 2 flight schools, a helicopter operation, and the Mason Jar, a bar/restaurant. It was the last airport remaining in Rockland.
Nyack's Other Airports 
Nyack Seaplane Base (1946-1951), Main St.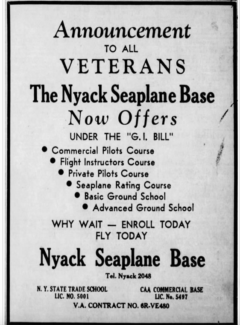 Two ex-P-47 WWII pilots started a seaplane training facility at the base of Main St. in Nyack sharing facilities with the ferry dock terminal. They ran Piper J3 Cubs on floats. In 1950, a major storm damaged the dock and base. Shortly after that, an out-of-control 1940 Pontiac driven by a Brooklyn man who had only had his license for two weeks crashed into the Quonset hanger, damaging the planes. The base closed the next year.
Tri-Motor Strip (pre-WWII) on Greenbush Road
This airstrip was used for sightseeing flights in a Kinner Bird plane. It was located on the east side of Rt. 303 across from the location of the old Nyack Drive-In, and between Rt. 303 and Greenbush Road.
Miller Airport Sold Cars, Including Crosleys
Miller set up a Crosley agency in a showroom connected to one of his buildings. The Crosley cars were way ahead of their time, too far ahead to last long. They were small, and the only car that sold for less than $1,000. It had disc brakes, and offered the first "sports utility" vehicle. The Crosley Hot Spot was the first American-made postwar sports car. The Big Three auto makers were making ever-larger cars in the 1950s and the public had no interest in small cars. The company went out of business in 1952.
Other car dealers filled the show room. Donald Foley of Staten Island once flew into Miller Airport in a small plane and left with car having traded his plane for a car.
Zoning Issues
Then, as is true today with Palisades Mall, zoning was a hot topic for the airport. Miller bought property near the cloverleaf for his dairy in 1935. He bought abutting land in 1937 and 1946 that was largely swampland. The swampland was filled by receiving rubbish (no garbage) in an agreement with the township. The fill allowed Miller to expand the airport. As Miller Sr. said at the time, "people called me crazy when I spent so much time to fill up the swamp."
In 1950, 38 Greenbush residents filed a lawsuit opposing the township's zoning for a commercial airport. The case was hotly argued on both sides. Litigation went on until early 1952 when a judge ruled the airport closed.
Closure
In addition to zoning problems, the Millers had other airport troubles. In 1950, the rambling stucco building used as an airport mechanics shed and auto showroom between the diary and Clark's filling station was destroyed by a fire. With the demise of the GI Bill in 1951 and increased local citizen reaction against a commercial airport, the Millers closed the airport for good.
Family Tragedy
The Miller brothers, Garret Jr (known s Gary) and Howard were twins. Both were experienced pilots. Garret ran the airport until it closed and then continued to train people at other airports. Howard was a watercolor artist. They were both to die in tragic plane accidents.
In July 1967, Howard and his wife Edna were flying from Ramapo Valley Airport to Montauk when they crashed in Long Island Sound. Their bodies were recovered a week later. On April 7, 1984 Garret Miller Jr was flying with a student, John Palermo, a 61-year-old IBM executive who lived on Tweed Blvd in Nyack. The plane crashed shortly after takeoff from the Ramapo Valley Airport near the Thruway and Rt. 59. Miller was killed. Two of their sons also died in crashes. Phillip Miller, son of Howard and Edna, died in an auto accident and Garret Miller III died in a motorcycle crash.
Looking Back
The Miller Airport closed just as work started on the Tappan Zee Bridge and the Thruway that would cross the Miller property. It was a time of great change in West Nyack. Within a few years the farms, dairies, and airports would be a distant memory as suburbia washed over the area. It is possible that without local protests, Miller Airport could have become a Rockland County version of Westchester's White Plains Airport that was founded about the same time.
Source:
The History of Aviation in Rockland County, Adam Raines and Richard MacVicar, 2013
See Also:
Nyack People & Places: The Nyack Drive-In
Nyack People & Places: What Happened to the Milkman?
Michael Hays is a 35-year resident of the Nyacks. He grew up the son of a professor and nurse in Champaign, Illinois. He has recently retired from a long career in educational publishing with Prentice-Hall and McGraw-Hill. He is an avid cyclist, amateur historian and photographer, gardener, and dog walker. He has enjoyed more years than he cares to count with his beautiful companion, Bernie Richey. You can follow him on Instagram as UpperNyackMike.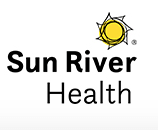 Nyack People & Places, a weekly series that features photos and profiles of citizens and scenes near Nyack, NY, is brought to you by
Sun River Health
, and
Weld Realty
.