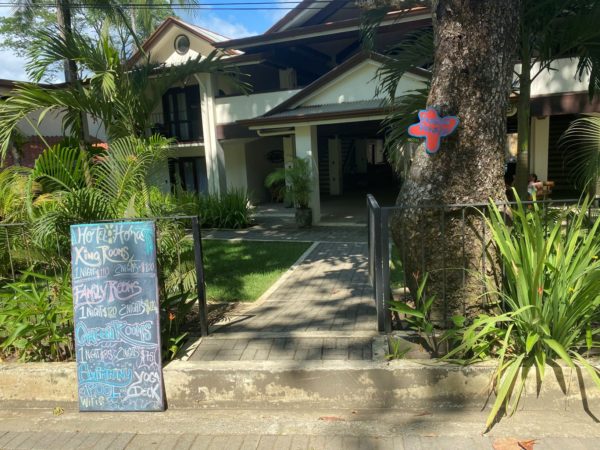 by DL Cohen
Dominical is one of the many small beach towns that dot Costa Rica's Pacific coast.
It's in Puntarenas, south of the Nicoya Peninsula where most of the surf activity is centered. And yet the broad southern beaches of Dominical and Uvita are equally spectacular, and Dominical may have the most dependable break in Costa Rica. Playas Coco or Conchal are on lovely bays up north where you'll find calmer water, but if you like to surf or body surf, or just like to lie by the beach and listen to the soothing music of the waves, there's no better place than Dominical.
A broad, palm-lined avenue runs parallel to the beach where you can both park and promenade. Stalls selling standard tourist fare, colorful beach wraps, and t-shirts and jewelry line the avenue. The beach is vast, both in length and width. The day I was there it was low tide, and it was a good 100 yards or more from the dry sand to the water. But people don't set up on the beach. Between the promenade and the beach is a strip of sandy land shaded by palm and jackfruit trees. Set up your towel there, or rent a beach chair for a few bucks and you've got a comfortable, shaded view of the beach for the day.
It's a resort town, so there's no need to polish your non-existent Spanish. Everyone speaks English here. But unlike Tamarindo up north, there's less of a party vibe here. I've met young families who've abandoned their life in the states to set up here, 20- and 30-somethings who come for the surf, as well as the older gentry in the expensive houses in the hills above town (prices start around $400k). The mix is a welcoming one, and there's a pleasant, organic vibe. I spoke with Brice of Dominical Real Estate, who told me rentals go for $500-$1200 a month in town, more for the fancier houses on the hill with the hot tubs and pools. There are 2 gyms in town and yoga classes all over the place. You can't swing a dead cat without hitting a yoga instructor in Dominical.
Best eats: Mono Congo, a pleasant open-air restaurant serving organic fare, as locally sourced as possible (though, saying "open air" in Costa Rica is redundant–everything in CR is open air aside from your hotel room). Their avocado toast is outstanding. The Tico Bowl divine. And try the Gallo Pinto. It's a national specialty, and theirs is delicious.
Another pleasant spot, a bit more upscale, is Fuego Brew Company, which is worth a trip for the setting alone. It's arrived at by crossing a charming bamboo bridge lit with Christmas tree lights. Then over to their airy main floor (there is no level land in Costa Rica), which includes a generous dining room, an upstairs lounge, a patio, and a large and lively bar. They claim to have the finest microbrewery in Costa Rica. I can't conclusively verify that, but my lager was a thing of beauty, light but with good body and a citrusy tang at the finish. Their food is great, too: simple and fresh. Try the Orchard Salad or the ceviche. Costa Rican ceviche is to die for.
For shorter stays, my favorite spot is the Rio Lindo Hotel. The rooms are neat and clean, with beautiful natural wood in the bathrooms, and the circular pool is outstanding. I've never been in a pool where you can just keep doing one endless lap. Turn around to work your other side. You walk through the entrance into a welcoming, open air bar whose countertop doubles as the front desk. And it's got Jo, one of the friendliest proprietors in town, an expat who abandoned her New York career in finance to buy the Rio Lindo. I've stayed there twice, and both times she couldn't have been sweeter or more genuine. When she saw my guitar she arranged an impromptu concert that night. The Imperial (Costa Rica's national beer) was cold and the live music-starved crowd enthusiastic. My room, one of the more modest, was $50 a night. And both times I paid the morning after I stayed (in cash, it's cheaper).
A cheaper option is Tortilla Flats, a legendary local institution with rooms as low as $25 these days. And the beach is literally across the street.
There's much to recommend Dominical aside from the surf. There is ziplining, river rafting, and some incredible waterfalls in the area, including Nauyaca Falls, a true natural wonder so spectacular that if it was the only thing you saw in Costa Rica, you'd leave feeling blessed. There's also Uvita, another beach town right down the road from Dominical, which has incredible beaches and wildlife and hosts the Envision Festival every February, which promises a "complete shift in our life path." You'll have to wait a year for the your complete shift. The next festival is scheduled for February 2022 (because, guess…). And there's a special beach for whale-watching in Uvita that is actually shaped like a whale's tail. I believe it is this synchronicity on which the entire 10-day Envision Festival is based.
The beer is cold. The water is warm. Round trip non-stop plane tickets are $336. What are you waiting for?
You can reach D.L. Cohen at dancohen320@gmail.com.
See also: