by Ellie Lewis
I work at an educational institution where students of driving age know me relatively well. This is why I decided to purchase a used electric vehicle (EV) last year. I wanted to set an example: you, too, can drive an EV.
After my purchase last winter, I haven't looked back—except to watch gas stations pass in my rear view mirror. I've found the transition to an EV to be surprisingly liberating. I didn't realize how much time and energy I devoted to thinking about gas (and its expense) on a daily basis until I no longer had a reason to care. To drive an EV is one simple way to begin to uncouple from our wholesale dependence on fossil fuels and how that industry worms its way into our lives. It's a way to signal to those around you that they, too, can live in suburban America without needing thousands of moving parts, various oils and fluids, and gasoline, sitting in their driveways.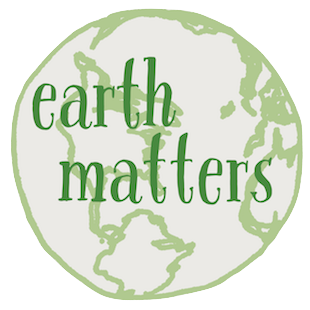 Earth Matters focuses on conservation, sustainability, recycling and healthy living. 
If Earth Matters to you, sign up for our mailing list and get the next installment delivered bright to your inbox.
Like most drivers transitioning to an EV, I had a few of the usual concerns before buying: would we always need to use my husband's internal combustion engine vehicle to do on long trips? Would our electric bill rise? Would we need to have electrical work done for moderately-fast charging at home?
A while back, I had an opportunity to drive my EV to Baltimore for a conference. Using the PlugShare app, which crowdsources information on charging station locations, type, and status, I planned my trip, stopping twice to charge using Level-3 DC fast-chargers. My EV has a range of approximately 100 miles, more or less. The more power one uses while driving—i.e., if you're blasting A/C while driving 70mph on a highway—the less range one can expect. Fast-charging takes approximately 25 minutes. By the time I used the restroom and meandered indecisively through snack aisles at each rest stop, my battery was almost completely charged. While the trip took longer than I was used to, I didn't mind—I wasn't using gas. Long trips simply require a shift in attitude: it may take longer, and that's okay. Bring a book. Talk to the dude charging his Kia Soul next to you. Be indecisive in the snack aisles.
Or, if you have the means, purchase an EV with a longer range. Sure, Tesla Model 3s have a 250-mile range, but a Chevy Bolt has a higher range at 259 miles. The Hyundai Kona has about the same. The range of the newest Nissan Leaf is 226, and the Kia Niro's is 239. This is to say that most new EVs should ease any "range anxiety" you might have. Purchasing a new EV also means you're eligible for New York State rebate of $2,000 and a federal tax rebate up to $7,500.
In the past year, Nyack resident John Gromada added a second EV to his household. "The Chevy Bolt has been wonderful and life-changing," he says. "We can do long trips with no hassle, and have been able to find free or inexpensive charging easily when we do longer trips." John says his Leaf has been low maintenance, noting that in the five years his family has owned their Nissan Leaf, "the only maintenance we've had to do is change the tires and windshield wipers. No oil changes, no exhaust system problems. No check engine lights or air filters or spark plugs." With solar panels on the Gromada's roof, their cars are nearly cost-free to operate.
Regarding concerns that our gas savings would be wiped out by a higher Orange & Rockland utility bill, I haven't noticed any significant difference in my electric bill pre- and post-EV. While I had intended to install a Level-2 charger (which requires a 240V outlet) soon after I had purchased the vehicle, I've found that I haven't had the need for it. I have a relatively short commute, and often go days without recharging. When I charge, I simply use a regular 120V outlet overnight. If your commute is long and your workplace doesn't yet have charging stations installed, advocate that your workplace take advantage of the various incentive programs from New York State, which usually covers 80-100% of the station installation and unit cost. The Village of Nyack used one of these incentive programs to install its free charging station downtown.
"At some point soon, everyone will wake up and try to remember the last time they went to a gas station, and realize that they can't," says Tesla-driver Michael Cohen, whose daily commute is nearly 80 miles roundtrip. At that point, you won't care. You won't miss petroleum. At least in one respect, you'll have freed yourself from it. And you'll be having too much fun driving your torque-happy machine: in the words of my former-Karmann-Ghia-WRX-BMW-current-Bolt-driving-brother-in-law, Arley, "The downside of driving an EV is that when I drive any other car, it seems slow and buzzy."
Ellie Lewis is a member of the Village of Nyack's Sustainability committee and the proud owner of a Nissan 2017 Leaf (previously owned!) electric vehicle. Ellie says EV's can be part of the solution to suburban and rural America's larger problem, which is a nearly complete reliance on personal vehicles and lack of free, reliable, public transportation and safe walking and biking paths.
See also:
Earth Matters  focuses on conservation, sustainability, recycling and healthy living. This weekly series is brought to you by Julie Wendholt, Financial Advisor & Vice President of Pell Wealth Partners, a private wealth advisory practice of Ameriprise Financial Services, LLC.