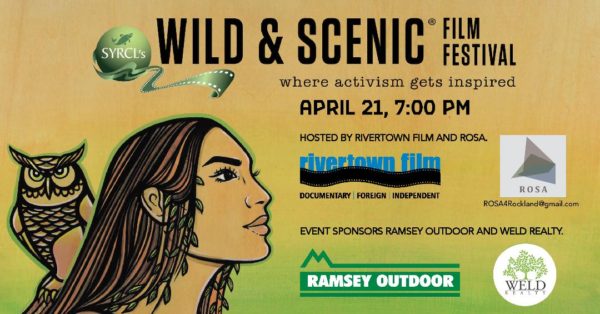 by Juliana Roth
As Earth Day approaches, Rivertown Film Society and ROSA4Rockland, a local grassroots environmental non-profit, will present the annual award-winning Wild & Scenic Film Festival on April 21st. There is a special focus on women in this year's program. Their stories occupy a diverse range of perspectives. In one of the 9 short films, Magali, we follow the film's namesake who has dedicated 15 years of her life to rescuing, rehabilitating, and releasing wild animals in the Peruvian Amazon rainforest. Throughout the film, we learn of her struggles as she tends to a group of Howler monkeys. TranSending follows Erin Parisi, a Transgender woman training for the Seven Summits and the need for true inclusion and support in athletics.
Usually presented at Suffern's historic Lafayette Theater, this evening of short films carries us through the stories of Myrtle Simpson, a trailblazer, skiing pioneer, adventurer, writer, mother, and polar explorer alongside that of Dani Burt, the first-ever women's World Adaptive Surfing champion. By listening to the voices of Colleen Cooley, one of the few female Dine? (Navajo) river guides on the San Juan River, and indigenous activist Ruth Alipaz Cuqui fighting to stop the Chepete-Bala mega dam, the necessity of water protection is made clear. In the films Stories from the Blue: Discovering Inner Earth and Becoming Ruby, viewers are asked to consider what environmental storytelling can do and how it may transform us and our understanding of ourselves.
"As one of the feature filmmakers put it, our lives came to a halt in 2020 and there is an opportunity for us to listen to 'our planet's whispers' that are now screams," said Board Chairperson Vera Aronow in reference to a spoken word piece in the program called A Mother's Love. Aronow is the director of several award-winning documentaries and worked on The Quiet Revolution (1992), a 6-part series about sustainable development filmed in some of the world's poorest communities in India, Bangladesh, Honduras, Zimbabwe, Nepal, and the United States which broadcasted on national PBS. "The crisis that we've gone through over the past year revealed pre-existing inequity across the world as well as the opportunity we have now to act as united stewards of the land."
The Wild & Scenic Film Festival originates in Nevada City, California as a 5-day festival of more than 100 films, then goes on tour in shorter formats to over 180 communities throughout the United States and the world, including Rockland County, where a 2-hour program of short films is curated specifically for our community.
Sponsored by WELD Realty and Ramsey Outdoor, registration for the program is now available on Rivertown Film Society's website. The program will go live on April 21st at 7p EST with a runtime of 1 hour and 46 minutes. The film society will host a discussion on April 26th at 7p EST to go deeper into the questions raised in the films. Tickets are $25 and members of Rivertown Film can use the code RFM for a $10 discount. The event is a wonderful opportunity to learn more about local environmental issues and actions unique to Rockland County.
"This festival is the highlight of the spring season here in the Hudson Valley," says Suzanne Mitchell, a board member of both Rivertown and ROSA. "The films on exhibit put a jump in our step as we prepare to venture into the great outdoors and enjoy the scenic wonder and beauty of our area."