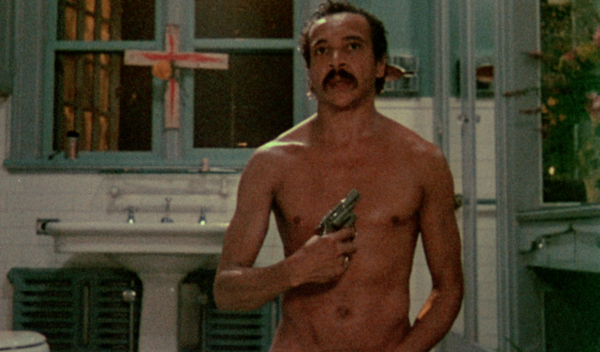 by Juliana Roth
"To remember a man is to give him eternal life," Bill Gunn said years before his early death at Nyack Hospital on April 5th, 1989. Originally from West Philadelphia, Rockland County was Gunn's home, meaning it's where he wrote his novels, plays, and screenplays; it's where he practiced his lines as an actor; it's where he filmed scenes of Ganja & Hess and where he performed an iconic role in Losing Ground, a feature film directed by another Rockland filmmaker, Kathleen Collins, one of the first Black women to do so, and which had its local premiere with Rivertown Film Society earlier this year.
Both Collins and Gunn were featured in The Film Society of Lincoln Center's groundbreaking 2015 film series Tell It Like It Is: Black Independents in New York, 1968–1986. These 2 Rockland County filmmakers accounted for 4 of the 17 long-form films in the series. Their locally produced movies refused common stereotypes about the Black experience.
Gunn's Ganja & Hess was the only film from the US in the 1973 Cannes Critics Week where it was given a standing ovation, but it was soon recut and released in an inferior version by financiers who hoped to sell the film to the horror market, which was hungry for the next Blacula. The version premiering locally with Rivertown Film Society on April 9th is the original release, restored by The Museum of Modern Art with support from Martin Scorsese's Film Foundation, and mastered in HD from a 35mm negative. The film society will host a discussion on April 13th at 7p EST with producer Chiz Schultz and film actor and composer of the score, Sam Waymon.
The Emergence of an Artist
Throughout childhood, Bill Gunn was called "lazy" by his white teachers (due, they said, to his Blackness) and assigned to the Special Education program. He was later dismissed from high school for spending his days staring out the window—and, well, not conforming to the desires of his educators. His parents enlisted him in the Navy where he served for almost 2 years before arriving in New York City. This is when Gunn began his life as an artist. In 1954, he made his Broadway debut alongside James Dean.
Gunn went on to perform on screen, appearing in The Outer Limits, The Man From U.N.C.L.E., The Sound and the Fury, and as one of Cliff Huxtable's poker friends on The Cosby Show. Gunn wrote the script for Hal Ashby's The Landlord, Jan Kadar's The Angel Levine, and a teleplay for NBC called Johnnas for which he won an Emmy Award in 1972. Gunn also wrote novels for Delacorte Press and I. Reed Books. In his writing, the humiliation of Black men is a recurring theme, most notably in his novel Rhinestone Sharecropping, which is suspected to be inspired by his experience of writing a biopic script about the life of Muhammed Ali.
Gunn's future producing partner Chiz Schultz saw him for the first time in an off-Broadway production. "I used to go to a restaurant called Downey's. I saw him there and went up to him and told him how much I appreciated his performance," Schultz says. Schultz is not just a producer and a professor at the New School and several other colleges, but an actor himself. Most recently, he won Best Actor abroad for Dorris 85.
"He loved Rockland," Schultz continues. "We both lived in the Nyack area so we were neighbors and we would see one another. He showed me a script he had written and wanted to direct and asked for my help. That script was Ganja & Hess."
Funding a Dream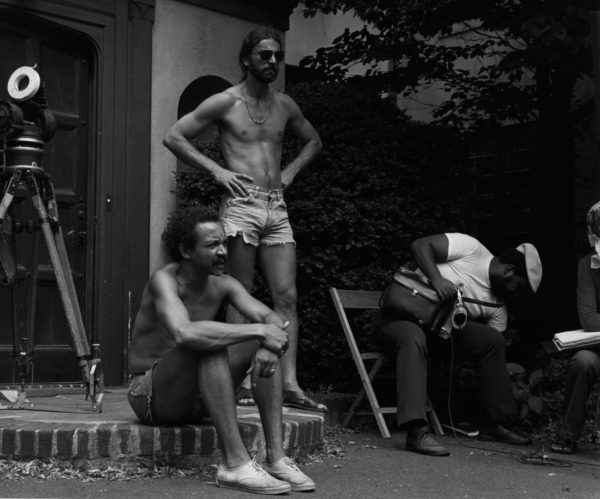 "Chiz was a wonderful producer. He didn't need us yet he believed in us," Sam Waymon says of the pre-production process. "Chiz had a huge amount of character." The team recruited Duane Jones (Night of the Living Dead) to play anthropologist Hess Green, who is stabbed with an ancient ceremonial dagger by his unstable assistant (Bill Gunn), bestowing upon him the blessing of immortality… and the curse of an unquenchable thirst for blood. When the assistant's beautiful and outspoken wife Ganja (Marlene Clark) comes searching for her missing husband, she and Hess form an unexpected partnership.
The team raised around $300,000, a small budget for a feature film, and needed to think creatively with their resources. So, they found a house in Croton-on-Hudson that had trouble selling and offered the owners a small rental fee. "We used the house for everything—exteriors, interiors—we redressed rooms in the house," says Schultz. He reflects on an unnerving encounter with a teamsters rep who visited his office before shooting began and alluded to hearing their rental house was flammable and that they hadn't signed up to use them. When Schultz mentioned how little money they had and that the production was all Black, he was taken off guard. He hadn't heard of such a thing before and promptly left Schultz's office.
As the producing team built up their crew, they were upfront about the fact that they would be paid less than they were worth. "The people who stayed were the ones who believed in the film and its integrity. They knew they were part of something different. Nobody had any idea of what this film would do," Waymon says. "It was fun and intense and very spiritual." Their final crew had worked on bigger Hollywood productions, but when they read the script, Waymon remembers them remarking on how it did something they hadn't seen before: it made people of color look good. So, they dedicated themselves to it.
This desire to show Black people in a new way on screen included the gel lights Gunn ordered for the set. "You film people of color with different lighting than you do with white people because of their skin tone. We used Surprise Pink gels. That's why the images, colors, and textures in Ganja & Hess are so beautiful. That was deliberate by Bill," Waymon says.
Along with ensuring the proper tools were available for his crew, Gunn put finishing touches on the script. "I did the proofreading and retyping long before we went into production. It was like getting a shot in the arm because I was part of the makeup of the characters," Waymon describes of his experience writing the score while simultaneously being in production as an actor. "I envisioned the interaction between the actors like notes on a staff. To me the action—because acting is reacting to something—I was able to translate that into musical notes." In one of the opening scenes of the film, a shot shows the cover of a vinyl record by Waymon's sister, Nina Simone, signaling that music is an essential part of the storytelling. Along with being Waymon's first film score, it was his first time on screen. He'd go on to be in Gunn's Personal Problems, a meta soap opera written by Ishmael Reed.
Bringing the Horror to Life
Along with the undertone of addiction and white Christianity's destructive relationship with Black culture, the film's central concerns are with death and rebirth, desire and consumption, the conflation of history with present circumstance—all the best paradoxes that exist in art.
The iconic church scene in which Waymon appears as Rev. Luther Williams is shot in, of all places, the church where Rivertown Film Society would hold their screenings pre-pandemic (formerly The Evangel Revival Time Church #2). The scene features Apostle Dorin Elizabeth Alston and members of the congregation. Those shots contain some of the most joyful moments of the film, in particular with images of the children, through whom Waymon remembers Gunn wanting to represent the future and ideas of innocence and honesty. The film ends with one of the children, a young boy, looking right at the camera.
"That howling you hear on the film from Hess sounds scary. It was," Waymon continues through laughter. He remembers telling Bill that he needed the crew to lock him in the music room so he could imagine what it would sound like for a soul to leave someone's body. He didn't see anybody for days as a machine left by the sound man ran continuously. All Waymon had was a piano and his voice. He describes those days as an otherworldly experience. "At some point I lost track of time. I felt that I was evolving into myself. I was dying to the act of dreaming."
After Waymon emerged from isolation, Bill played the recording back. He looked at Sam and said, "We got it. We got Hess dying in the shadow of the cross."
Schultz remembers this same attention to detail in Gunn. "He was very precise. At one point, he was planning out the look of the living room and had all of these cutouts from magazines of living rooms, all these different colors and textures. He was trying to find the one he wanted. And, he was just wonderful with the actors. They just loved him."
Waymon and Schultz agree: Ganja & Hess wouldn't have been the same film had a big studio been involved, including Spike Lee's remake of the film as Da Sweet Blood of Jesus. "I think our restrictions made it what it is. When it opened, all the white critics hated it. They weren't prepared for Black characters like that, Black characters who had a lot of money," says Schultz. "They said it's impossible."
Gunn's Vampires
"It got banned everywhere, except for The Amsterdam News, a Black newspaper," says Schultz. "They loved it and said it was a real breakthrough in film." The stream of harsh reviews wasn't the first time Gunn encountered recrimination of his vision, but this time he penned an unflinching Letter to the Editor in The New York Times defending Ganja & Hess, directly addressing the white critic who left the screening after only 20 minutes. Gunn named the behavior for what it was: arrogant. Criminal. He wrote: "There are times when the white critic must sit down and listen. If he cannot listen and learn, then he must not concern himself with black creativity."
Now in the permanent collection at MoMA and screened all over the world, the original cut hardly survived this period intact. The distributor cut the film into Blood Couple, which does contain some portions of the original footage not in the original Ganja & Hess including a scene of Gunn's character painting, but still missed Gunn's precise poetics. "A distributor hired an editor to recut the film. Bill and I went to see it and we both walked out in the middle," says Schultz. "We wouldn't let our names be associated with it. I think it died an early death."
Gunn wasn't the only Black artist of this era who felt erased by the powers that be. "It was amazing because at the same time I was doing a lot of this I was teaching. I would mention Paul Robeson and people would say, 'Who was that?' It was rare anyone knew his name, and part of that is because he was branded a communist and they got to all of the textbook publishers and had his name removed," Schultz remembers. "It was an incredible destruction of a person. That made me more than ever interested in bringing Paul Robeson to light: here is one of the greatest Americans who ever lived that no one's ever heard."
Against the wishes of the distributor, Gunn sent Ganja & Hess to Cannes and the film was selected. Unsurprisingly, no major American paper spoke to this accomplishment though they did find the time to call the film's star, Marlene Clark, a "brownskinned looker." But after acceptance to the festival, Gunn faced a new problem: they were out of cash.
"He got to France because of our neighbor, Ms. Leman," Waymon says. He remembers her inviting them over for tea on their lawn after she heard of the film's acceptance. "She bought our unused tennis court, which was overgrown and cracked, in horrible shape, so that we could have enough to send Bill to France. She was a great patron of the arts." She wrote Gunn a check on the spot.
Because of her generosity, Gunn had enough money to fly to Paris to hear the standing ovation for himself. When Josephine Baker saw the film in France, she wouldn't let Bill go. She carried him on her arm all around France. Waymon describes hearing from Gunn how angry Diana Ross was that Lady Sings the Blues did not win after all. "All of the Hollywood producers there were wondering: 'Who are these people? Where did this film come from?'"
Gunn knew the problem was with his country, not him. He stood witness to what was happening to Black artists within the machinery of Hollywood, and he could sense what was to come. Gunn's legacy is one of resistance, of maintaining—as Waymon puts it—style in the face of the forces that prefer you conform or disappear. It is through the community efforts, most notably locals Waymon and Schultz, that Gunn, as he was, is properly remembered, granting him that eternal life.
"Ganja & Hess rejects practically every cultural 'norm' from the way we are supposed think of politics to the way we are supposed to make movies. Most people have difficulty watching it, much less embracing it, and that may be exactly why those that do embrace it are so adamant and vocal, not only to protect Gunn and his film, but to keep a public space open for their own world views and ensure that other artists are allowed to say what they want," says Executive Director Matthew Seig.
Seig adds, "The people who kept Ganja & Hess alive were curators and writers (as opposed to film programmers and mainstream critics) who were aligned in their thinking. These are people who consider it their job to move people to accept expanded ways of seeing form and content, and thus the world around them. Ganja & Hess may be more challenging than other films that we show, but it is remarkable that like Kathleen Collins' Losing Ground, shown by Rivertown Film last month, this film and filmmaker came from our own community, and we should remember and celebrate them here." Nearly 32 years to the date of Gunn's passing, local artist/writer/historian Bill Batson will moderate a discussion with Sam Waymon and Chiz Schultz, both still Rockland County residents. Registration will begin soon on Rivertown Film Society's website.