This week in the villages: Schoooool's back… in person! Today the Nyack Public Schools are returning to full in-person learning. Town of Clarkstown Supervisor George Hoehmann is holding a Tele Town Hall. On Thursday, the Town of Orangetown is holding a blood drive and Clarkstown is holding a webinar on the Restaurant Revitalization Fund for restaurant owners. And on Saturday, there will be free paper shredding for Rockland residents.
Nyack Area COVID Update for April 17
| | | | | | | |
| --- | --- | --- | --- | --- | --- | --- |
| | 17-Apr | 10-Apr | 3-Apr | 27-Mar | 20-Mar | 13-Mar |
| Active cases by community | | | | | | |
| Nyack | 77 | 70 | 82 | 81 | 71 | 50 |
| Valley Cottage | 29 | 40 | 53 | 37 | 26 | 28 |
| West Nyack | 25 | 39 | 55 | 47 | 66 | 60 |
| Piermont | 13 | 6 | 9 | 13 | 9 | 8 |
| | | | | | | |
| Rockland County | | | | | | |
| 7 day postivity rate | 3.6% | 4.5% | 6.0% | 5.3% | 5.5% | 6.1% |
| Active cases | 1,331 | 1,653 | 1,787 | 1,644 | 2,014 | 1,909 |
| Hospitalized | 32 | 48 | 54 | 58 | 51 | 41 |
| COVID-19 deaths (total) | 941 | 931 | 925 | 914 | 910 | 901 |
Source: Rockland County Health Department / NYS Health Department, 4/17/2021
The Rockland County Department of Health (RCDOH) is posting registration links for the COVID-19 vaccine on the COVID-19 webpage. The links to make appointments will remain on the COVID-19 webpage to make it more accessible for residents to book new appointments whenever they become available and when cancelations occur. For up-to-date alerts on when the RCDOH COVID-19 vaccine appointments become available, follow/like facebook.com/rockhealth or twitter.com/rockhealth.
Village of Nyack
The Nyack Business Council will hold a meeting via Zoom today (Mon, Apr 19, 2021) at 4p.
The Architectural Review Board will meet on Wed, Apr 21, 2021 at 7p to consider requests for signage, requests for window replacement, new siding, windows, decking and railings, extending front porch, replacing existing retaining wall, pathways, steps and patio, and a request to demolish existing building and fuel pump canopy and relocate on site. Read the full agenda at Nyack-NY.gov.
And the Village Board of Trustees will hold a pre-meeting workshop via Zoom on Thurs, Apr 22, 2021 at 7p. Then, Zoom into the Village Board meeting at 7:30p.
Village of Upper Nyack
The Zoning Board of Appeals will meet on Tue, Apr 20, 2021. Read the full agenda at uppernyack-ny.us before Zoom-ing into the meeting at 8p.
And the Planning Board will meet on Wed, Apr 21, 2021. Read the full agenda at uppernyack-ny.us before Zoom-ing into the meeting at 7:30p.
Nyack Public Schools
The Board of Education will meet on Tue, Apr 20, 2021. Read the full agenda at go.boarddocs.com before Zoom-ing into the meeting at 6:30p.
Nyack Public Schools Return to In-Person Learning
A full return to in-person learning for K-12 students in the Nyack Public School District begins today (Mon, Apr 19, 2021). A Daily Health Screening Questionnaire must be filled out for each child before entering his/her/their school building each day. It is provided in English, Spanish, and Haitian Creole. A March 26 letter from Dr. Montesano to all parents/guardians details important information (English version, Spanish version, Haitian Creole version). Remote learning will still be available for the remainder of the school year for families who do not wish to send their children back to school full-time.
Town of Orangetown
Blood Drive
The Town of Orangetown is hosting a blood drive on Thurs, Apr 22, 2021 from 9a – 8p at Orangetown Town Hall, Court Room, 26 W Orangeburg Rd, Orangeburg. Since the outbreak of COVID-19, there has been severe blood shortages in New York and across the country. Appointments are strongly recommended, walk-in donors are welcome only as capacity permits. Appointments may be made at donate.nybc.org or you can call Carmel Reilly at (845) 359-5100 ext. 2288.
Mobile COVID-19 Vaccine Clinic
For those still looking to be vaccinated, the Mobile COVID-19 Vaccine Clinic will be at Orangetown Town Hall, 26 W Orangeburg Rd, Orangeburg on Wed, Apr 28, 2021 from 10a – 4p. Up to 100 pre-registered individuals can be vaccinated at this event. It is by appointment only and you must be able to return on May 19, 2021 for the second shot. To register you must fill out two forms: a Patient Registration Form for Refuah, and a COVID-19 Vaccine Registration Form and under Mobile Vaccine Clinc Location, fill in Orangetown. Once they receive both forms, Refuah will reach out to you for an appointment. Please call Allison at Town Hall at (845) 359-5100 ext. 2293 with any further questions.
Town of Clarkstown
Tele Town Hall Tonight (Mon, Apr 19, 2021), 6p
Join Supervisor George Hoehmann for an update on a group telephone call to ask any questions or bring up any concerns you may have. Call 845-207-0875 or 845-639-2150to join or watch on FB live.
Webinar for Clarkstown Restaurant Owners
On Thurs, Apr 22, 2021 at 2p, The Town of Clarkstown and the Rockland Small Business Development Center will host a webinar to review details you need to know in applying for a share of the new $28.6 billion federal Restaurant Revitalization Fund.
If you are a restaurant, food stand, food truck, food cart, snack and non-alcoholic beverage bar, caterer, bar, lounge, saloon, tavern, inn, brewery, brewpub, microbrewery taproom, tasting room, bakery, winery, distillery, a licensed facility or premise of a beverage alcohol producer where the public may taste, sample, or purchase products, or other similar places of business in which the public or patrons assemble for the primary purpose of being served food or alcohol, you may be eligible to receive funds. Registration is required.
Military Tribute Banners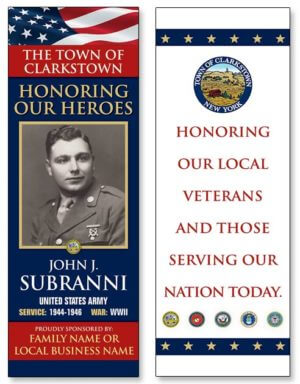 If you have a loved one who has served or is currently serving in the military, consider honoring them with a military tribute banner. The banners will be displayed on the light posts in the various hamlet centers from Memorial Day to Veterans Day. The banners are a small way to acknowledge the sacrifice they have made serving the community and our country. The deadline to sponsor a banner is Apr 28, 2021. The cost to sponsor is $150. Visit military tribute banners.org to learn more.
Yard Waste Pick Up
The Clarkstown Highway Department has started its Yard Waste Pick Up Program for the spring 2021 season. Information about proper waste placement and a schedule may be found on town.clarkstown.ny.us.
Rockland County
Buildings and the Energy Efficient Economy Part 3: Clean Heating/Cooling/Hot Water Virtual Program
On Tue, Apr 20, 2021 at 7p, Donovan Gordon, Director of Clean Heating and Cooling for the New York State Energy Research & Development Authority (NYSERDA), will present Clean Heating/Cooling/Hot Water. Topics covered will include: what is clean heating and cooling and how does it work, why is it so important to our future, what's right for homes, apartments, buildings and campuses, what's new in terms of concepts and technologies, and what about the finances and are there incentives. Registration is required for Zoom link. The link will be sent a few days before the program. For more information, email RocklandGoesGreen@aol.com.
Free Paper Shredding
There will be Free Paper Shredding on Sat, Apr 24, 2021 from 8a – 12p at Germonds Park, 165 Germonds Rd, West Nyack. There is a three box limit per car (24x15x11). Please consider bringing a non-perishable food item for donation to local food pantries.
Memorial Day Essay Scholarship
Help restore the true meaning of Memorial Day by participating in a Memorial Day essay contest for high school seniors in the following school districts: Clarkstown South, Clarkstown North, Nanuet, Nyack, Albertus Magnus, and East Ramapo. The essay must be 1,000 words or less. The scholarship is $2,500 and the deadline is Wed, Apr 28, 2021. The award will be presented at the Carry the Load Rally on Mon, May 3, 2021 at the Congers Station Park. Email e.moschetti@clarkstown.org for an application.
---