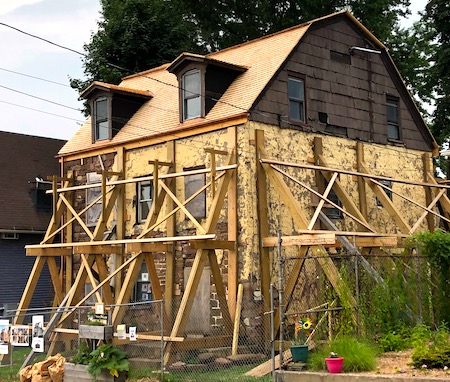 by Jennifer Hilmes Rothschild
The John Green House has been designated a historic landmark by Nyack Village Board of Trustees. The house, which was previously listed on the New York State and National Registers of Historic Places, will now be better protected against demolition or inappropriate renovations because of this local designation.
The John Green House, located on lower Main Street in Nyack, is historically significant because it is the last of the Dutch Colonial Style sandstone houses in the village and because of its association with John Green, a sloop captain and businessman instrumental in the early development of Nyack. He played a leading role in building Nyack's first church building (The Old Stone Meeting House in Upper Nyack), its first steamboat, and the Nyack Turnpike, which later became known as Route 59.
The house is in fragile condition, with its sandstone walls supported by massive wood bracing. Modern gypsum board, carpet, and vinyl flooring have been removed by volunteer work parties.
Local designation is also desirable because that recognition is required for some grants. The only other designated landmarks in the Village of Nyack are the Hopper House and Grace Church. The Tappan Zee Playhouse had also been designated historic, but it was subsequently demolished.
The house is owned by the John Green Preservation Coalition (JGPC), a group of local preservationists which plans to rehabilitate the building as an art gallery. A permanent public exhibition about Nyack's history will be on display along with artists' studios for rent on the upper floors. "This designation as a Nyack Landmark shows the support of the village government for our project," according to Win Perry, president of the group.
The John Green Preservation Coalition faces the daunting task of raising funds for the extensive restoration work needed and thanks the Village of Nyack for honoring this site with historic landmark status. Anyone wishing to become involved in this exciting restoration project or who wishes to donate towards these goals is encouraged to visit the JGPC homepage on the web at: https://johngreenhouse.org.