by Juliana Roth
During a year where most annual celebrations are readying for a second round of virtual planning, Rivertown Film Society decided to join in on the fun. Starting on April 2nd, the film society will make the Oscar-Nominated Short Films available to their growing virtual community with the support of ShortsTV and Magnolia Pictures.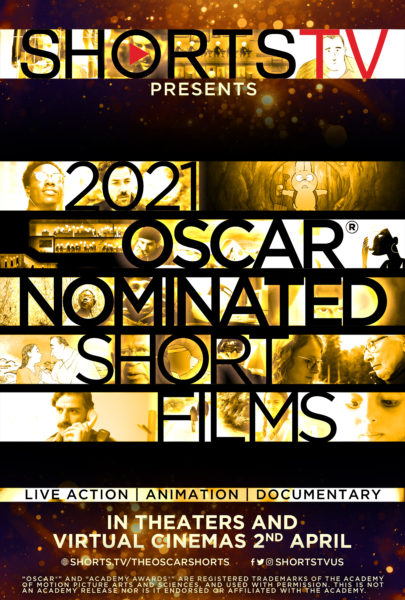 "We are honored to bring these films to our local audience," said Matthew Seig, Executive Director of Rivertown Film Society. Last summer, Rivertown Film Society screened over 20 original short films directed by filmmakers with Rockland roots through a new series called Rockland in  Motion. "Our focus over the years has been to support and promote short form work by Rockland community members. We think sharing the work of those working at the top of their field will be an inspiring experience for all involved."
Viewers will have the option to purchase access to the films in each individual category––Animated, Live Action, or Documentary––or to bundle the programs and watch all at once. With the Academy Awards scheduled for April 25th, the screening is a perfect opportunity to challenge your quarantined friends and family to an Oscar pool.
The short film programs vary in running times from 99 to 136 minutes and cover topics and themes from Black history to parental grief to the Hong Kong protests. While Animated Shorts received a PG-13 rating, the Live Action and Documentary categories are rated R and are not recommended for young audiences. "After a year of what seemed to be a political reckoning for many, we look forward to discussing the themes of protest and history that are present in many of these films," Board Chairperson Vera Aronow shared.
Registration will begin soon on Rivertown Film Society's website where you can also find a list of the selected films. Tickets are $12 for each program category or $30 for all 3. There will be a virtual conversation with local industry professionals to discuss the selections with audiences. The programs are available to view for 30 days after a ticket purchase, and then for 72 hours after starting to watch the program.
If you're looking for a fun way to connect with friends and family from afar, a ticket to the program and good old fashion movie bracket might be just what you need.