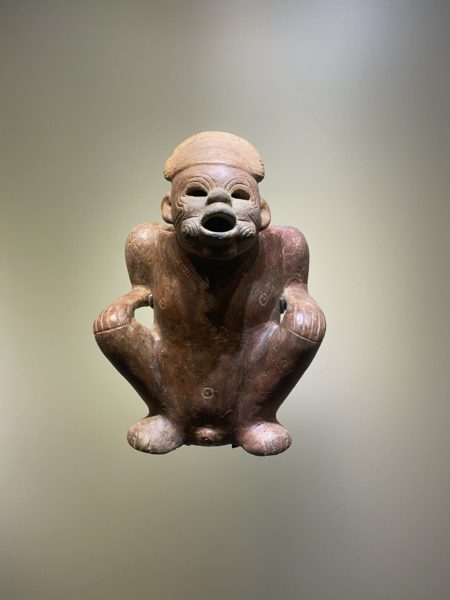 by DL Cohen
1. Spanish Is Hard
You don't have to be a genius to learn Spanish, but it helps. It's tough to get to even moderate fluency in any language. Unless you're 4. Those little fuckers can learn anything. At my age, unnervingly close to 60, I'm happy to report that since I started studying 'en serio' in September, I'm now able not only to order a mojito, but talk about how it tastes and how much it costs and the mojito's relative merit versus a decent margarita. Now that's progress.
And yet, I still really don't know what I'm saying. I visited a beautiful church on the Monserrate in Bogotá, a high, steep cerro (mountain) with gorgeous views over the city. It was closing time and a kind faced woman was gathering everyone toward the door. I turned to her. "I'll be back!" I thought I said brightly. She looked at me, then at the wall outside overlooking the city, like I was one of those delusional Jesus freaks that tend to show up at these sites from time to time. Once I left I looked in my little translator app and realized I had confused the word volver, to return, with voler, to fly. I'd said to her "I can fly!" What I really meant to say was "Yo volveré," I will return. But I wasn't up to future tense. I couldn't even get my mistakes right. Oh well. Winston Churchill's old line came to mind. "Success consists of going from failure to failure without loss of enthusiasm." Just smile and wave.
2. Nature Is Powerful
The rain in Costa Rica is so powerful it deserves its own word. It's delugional. The rain comes down in sheets, in droves, for hours and hours. Cafes are all essentially outside, just a tin roof and the posts holding it up, and the noise of the rain when it really starts coming down rises to a deafening, conversation-stopping roar. It feels like the ocean is created anew each year by these rains.
And the mighty ocean imposing itself on the vast variety of beaches you find in Costa Rica. Wide, windswept beaches like Playa Guiones near Nosara, perhaps the most beautiful surf beach I've ever seen, with 3 and 4 foot rollers coming in at regular intervals, like they're punching in for work. Or Santa Teresa, a friendly town that's home to Playa Hermosa, Beach Beautiful, a perfect beach with gorgeous waves and a river running through it. And Malpais, just down the road from Santa Teresa, which doesn't have a beach but has great big volcanic rock outcroppings that the waves crash onto. You can't swim there at high tide, as it's too dangerous. But when the tide goes out there are an assortment of tidepools formed by the rock, like little jacuzzis that crop up every 6 hours or so. Playa Ventana, tucked away in a little cove south of Dominical, doesn't have much surf, but is one of those beaches so beautiful you feel like it's a set, like someone's bound to lift it and cart it away, like you are stepping into the cover of Conde Nast Traveler. Then there's Puerto Viejo over on the Atlantic side, an energized, buzzy, Carribean infused town with a long beach lined with shops and restaurants, and rutted dirt roads that run along it where local families park their cars and move en masse to the beach, camping there for the day. The Jones Beach of Costa Rica.
It feels like these are not only distinct beaches but distinct waters—the flat, foamy, greenish grey of the surf beaches, the clear fishiness of the tidepools, the deep blue of the watery coves. In Costa Rica, the nature is powerfully beautiful, but there's also more of it. There are no suburbs, no highways, no mini-malls, no giant gas stations. Outside San Jose, the capital, there are mostly small towns and windy roads and rainforest. It takes some getting used to. You have the feeling sometimes that you're living in the USA of the '50s. Yet I spoke with a taxi driver who had grown up on a tiny farm about midway between San Isidro de General and Dominical, a distance of 13.5 miles. He remembered when the road wasn't paved between them and it took most of a day to make it to town. It puts you in mind of how far we have come, and how fast. Now he lives in San Isidro. He doesn't like to farm.
3. People Are Amazing
I've ended my travels by going to Colombia, a whole new world. In Bogotá, I went to the Museo del Oro, the Museum of Gold, and was astounded by what I saw there. The artwork and artifacts of a tremendously developed civilization, one whose artisans used their skill and craftsmanship with gold entirely in service to the culture and belief system of their tribe. The natural world was only the surface layer in a vast cosmos of meaning and ritual that had accrued over time. Birds and bells and snakes, and rattles, the seasons and the rains and the sun and moon, all sorts of signs and symbols held their place in the world, and kept the world in place.
The culture of the West is all about the written word, and the belief that written words create history, create truth, create progress. Then you go to this museum and you wonder. These flawed relics are the product of sophisticated artisans. Their skill was handed down orally for generations, for millenia. They put their energy, their skill, into their belief in the wheel of life. Time is not linear but circular, and here and there and all around you all the time. There is a fulfillment in going round and round and round and not always forward. The cracked containers and hammered headdresses and ancient instruments and ornaments are displayed in expensive boxes with expensive lighting in an expensive building. Then the people too busy to notice the seasons come and look at the cracked artwork of those who did. And get a hint, a whiff, a peek into that world where forward is back and up is also down and progress is not all it's cracked up to be.