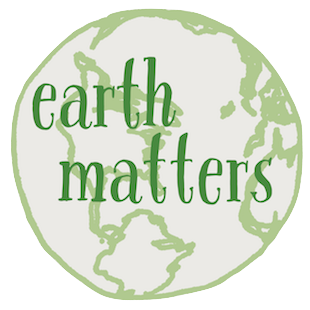 Earth Matters focuses on conservation, sustainability, recycling and healthy living.

If Earth Matters to you, sign up for our mailing list and get the next installment delivered bright to your inbox.
by Tony Lisanti
Now that we all are practicing safe distancing and finding creative ways to entertain ourselves at home, it's a good time to consider some spring housekeeping items to lower energy bills and increase comfort. Some of these may seem obvious, while others may be considered "back burner" items and considered frivolous or unnecessary.
Let's start with a simple walk through your house (assuming you live in a house and not an apartment).
Check all your exterior doors for weather stripping and door sweeps.
If torn or worn, replace. Check your refrigerator: pull it out from the wall and clean the dust & dander from the coils. It will help it run at its intended efficiency. While you're at it, change the water filler if you have a model with a water fill.
Open and close your windows.
Clean dirt and debris from all the window seals and weather stripping. A damp sponge with soap & water will do. Do the same for any sliding glass doors you may have. Next, go to your attic. Do you have a pull-down stair or scuttle opening? If so, check to see if you have weatherstripping. If not, the local hardware store or home center sells them. Is the cover insulated? If not, search online for attic stair covers; there are lots.
How do you heat & cool your home?
Many homes in and around Nyack have gas heat. There is a misconception that gas heating equipment does not need maintenance. False! ALL heating equipment can use annual maintenance. While not as dirty as oil, gas-fired equipment still creates combustion deposits and burners do get dirty. When they get dirty, they don't burn efficiently and create excess Carbon Monoxide. Since most systems are located in a basement or attic, they ingest a lot of dust and dirt. After all, you need air and fuel for combustion. If the area is dirty, how does the burner inside stay clean? Exactly. Have your heating system tuned annually and at a minimum every two years. What about that Central A/C system? Have the refrigerant charge checked each year. Leaky refrigerant lines contribute to green house gas emissions and reduce the rated system efficiency. Lastly, change the filters regularly. Dirty filters make the blower work harder and use more electricity.
Lights
Don't have LED lights? Get some. Especially for outdoor lights. Many have built in day/night sensors for dusk to dawn operation with no need for timers.
Exterior
Clean those clogged gutters to keep bulk water from damaging your roof and walls. Cut back plants from near the house. You should have 12" to 18" between shrubs and tree branches and the side of the home. This is to prevent moisture and other damage that can occur.
Clean that outside dryer vent and consider having the entire length of vent cleaned by a professional. Most certainly inventory your smoke alarms and change batteries. While not an energy item, it is life and safety. 
Tony Lisanti, CEM, CPHC, Integral Building & Design, Inc.
Read Earth Matters every Wednesday on Nyack News And Views, or sign up for the Earth Matters mailing list.
Earth Matters  focuses on conservation, sustainability, recycling and healthy living.