This week in the villages: State Assemblyman Michael Lawler is hosting a food drive; non-perishable food may be dropped of at the Nyack Village Hall and several other locations. The Nyack Homeless Project is continuing to collect non-perishable food at various locations as well. There will be Village Board of Trustee meetings in Nyack and South Nyack, as well as Zoning Board meeting in Nyack and a Police Board meeting in South Nyack. For those interested in Energy Optimization, there will be a virtual program on Tuesday. And the latest Upper Nyack Green Committee newsletter is now available.
Nyack Area COVID Update for February 20
| | | | | | | |
| --- | --- | --- | --- | --- | --- | --- |
| | 20-Feb | 13-Feb | 6-Feb | 30-Jan | 23-Jan | 16-Jan |
| Active cases by community | | | | | | |
| Nyack | 54 | 69 | 84 | 105 | 96 | 81 |
| Valley Cottage | 27 | 41 | 66 | 62 | 76 | 86 |
| West Nyack | 33 | 33 | 42 | 49 | 61 | 89 |
| Piermont | 11 | 11 | 14 | 16 | 13 | 8 |
| | | | | | | |
| Rockland County | | | | | | |
| 7 day postivity rate | 5.1% | 5.2% | 5.6% | 6.1% | 6.8% | 7.0% |
| Active cases | 1,592 | 1,743 | 2,092 | 2,311 | 2,514 | 2,786 |
| Hospitalized | 50 | 59 | 78 | 76 | 89 | 89 |
| COVID-19 deaths (total) | 872 | 858 | 845 | 836 | 821 | 806 |
Source: Rockland County Health Department / NYS Health Department, 2/20/2021
Village of Nyack
The Nyack Business Council will hold a meeting via Zoom today (Mon, Feb 22, 2021) at 4p.
The Mon 2/22 Zoning Board Meeting will consider a change in area variances. Read the full agenda at Nyack-NY.gov before Zoom-ing into the meeting at 7p.
And the Village Board of Trustees will hold a pre-meeting workshop via Zoom on Thurs, Feb 25 at 7p. Then, Zoom into the Village Board meeting at 7:30p.
Nyack Community Garden
The Nyack Community Garden is a community-based, nonprofit organization that provides residents of the Nyack School District with an opportunity to grow vegetables and flowers in a safe, friendly environment. It is accepting applications for new gardeners until Feb 22, 2021. New gardeners are encouraged to mail in completed applications as soon as possible, as priority on the waiting list for plots is determined by the dates of postmarks on the completed applications. Email nyackcommunitygarden@gmail.com to request an application.
Help Fund Spring Tree Planting in Nyack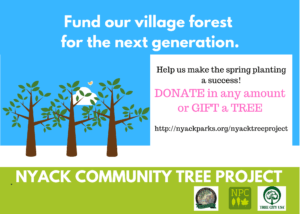 The Nyack Community Tree Project is seeking donations in any amount for its spring planting. Or consider giving the gift of a tree. For $100, an 8-10 ft tree will be planted within the Village of Nyack on your recipient's behalf. A beautiful printed card will be sent to the recipient with a message letting them know you have given the gift of a tree. To make a donation or gift a tree, please visit nyackparks.org/nyack tree project.
Nyack "Fan Card"
Nyack has a new initiative to help make next year a little less tough on the local businesses we all know and love. It's called the Nyack Fan Card, and the idea behind it is simple: For $20, you get a shopping card (purchasable online, or at 15 participating establishments listed here) that gives you significant discounts at participating shops and restaurants–savings well beyond the $20 cost of the card. The cards go live on January 1, 2021 and remain valid until March 31, 2021.
Village of South Nyack
The Police Board will meet on Tue, Feb 23, 2021 at 6p via Zoom.
The Board of Trustees will also meet on Tue, Feb 23, 2021. Read the full agenda before Zooming into the meeting at 7:30p.
The Executive Order 203 Committee will meet on Wed, Feb 24, 2021 at 6p via Zoom.
Village of Upper Nyack
February/March 2021 Green Committee Newsletter
The February/March 2021 Upper Nyack Green Committee Newsletter shares information about safe levels of  per-and poly-fluoroalkyl substances (PFAS) in the water and the issues about the levels of PFAS in Rockland's drinking water. To get more earth friendly news, sign up to receive Nyack News and Views' Earth Matters newsletter delivered to your mailbox every Thursday.
Town of Orangetown
Food Drive
Assemblyman Mike Lawler is hosting a Food Drive to benefit food pantries of Rockland Community Against Hunger. Donations of non-perishable food will be accepted from Feb 22 – Mar 1, 2021 at Nyack Village Hall, 9 N Broadway along with several other locations.
Military Tribute Banners
Orders may now be placed for the Town of Orangetown Military Tribute Banners. If you previously subscribed, you can renew at any time. Feel free to email Supervisor@Orangetown.com or call (845) 359-5100 x 2293 for more information.
Town of Clarkstown
COVID-19 Vaccination Assistance for Seniors
Supervisor Hoehmann has implemented a program with BOCES nursing students to assist eligible senior residents having trouble with the online registration. Seniors can call the office at (845) 639-2050 to be added to the list for assistance.
Rockland County
Energy Optimization Virtual Program
On Tue, Feb 23, 2021 at 7p, architect Jodi Smits Anderson, Director of Sustainability Programs at the New York State Dormitory Authority, will present Energy Optimization: Efficient, Clean, Healthy. Topics covered will include: what is energy optimization and why it is important for the economy and the environment, how NY State is rethinking buildings and building codes, and more. CE credit available for Planning and Zoning Board members via the Rockland Municipal Planning Federation. Registration is required for Zoom link. The link will be sent the week of the program. For more information, email RocklandGoesGreen@aol.com.
ML by Maria Luisa Scholarship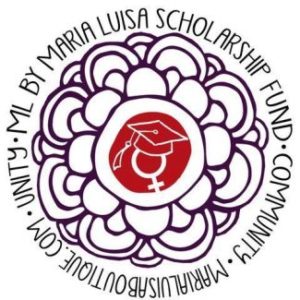 The application for the 2021 ML by Maria Luisa Scholarship program is now available to graduating female students in Rockland County. The ML by Maria Luisa Scholarship recognizes Rockland County high school female seniors who, through their actions or beliefs, embrace the principals of ML by Maria Luisa: civic and community involvement, commitment to social justice, social equality, and environment/eco-friendly lifestyles.
Two $1,000 scholarships will be awarded: one to a promising woman who is a senior attending a private or public Rockland County high school (must be a Rockland County resident) and one to a promising woman who is a senior attending Nyack High School. Candidates who identify as women will be considered regardless of sex assigned at birth. The scholarship will assist with costs in attending a college of the students' choice. The application deadline is March 31, 2021.
---