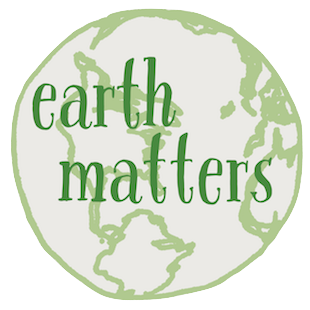 Earth Matters focuses on conservation, sustainability, recycling and healthy living. 
If Earth Matters to you, sign up for our mailing list and get the next installment delivered right to your inbox.
by Glenn Sungela
We know how disruptive the coronavirus pandemic has been to education. Students, parents, caregivers, and educators have been forced to seesaw between classroom and online learning, sometimes with just hours or days notice. Learning outside in the real world was curtailed significantly if not suspended because of social distancing and other safety protocols.
But outside agencies and organizations rose to the challenge and succeeded in adapting and even expanding their environmental educational programs. Here are a few of them.
Other Ways to Thrive
Environmental education continued to be a big part of the Rockland County Soil and Water Conservation District's (SWCD) services. The SWCD is a sub-agency of the Division of Environmental Resources (DER) services.  Stream biomonitoring, or surveying living organisms to determine the quality of their habitats; supporting the American Eel Project; assessing culverts over vital streams and tributaries; and the storm drain marker program are just some of the environmental programs DER supports to protect and preserve the county's natural resources.
In 2020 SWCD plied its energies to helping formal educators in Rockland.  The Rockland County Environmental Education Working Group was re-established. Dedicated staff from Keep Rockland Beautiful, Rockland Cornell Cooperative Extension, the Lamont-Doherty Earth Observatory, the Rockland County Youth Bureau, and the Rockland County Soil and Water Conservation District met virtually and brainstormed how informal educators could assist formal educators in their virtual and physical classrooms. The Working Group also met with the Harbor Educator Working Group to learn from their best practices and successes with informal educators in New York City and Yonkers.
These discussions and informational exchanges led the Working Group to develop an online portal that brings together local and regional educational programs and resources for one stop access.  The portal starts with resources based in Rockland County, and then offers 40 more categorized by resource type:
?      Lesson plans and activities

?      At home activities

?      Interactive interfaces

?      Online video resources

?      Virtual tours and field trips

?      Webinars
Each portal entry notes educational topics covered and intended educational level. In its first month, the portal received more than 150 inquiries, per John Lyon, Rockland County's Director of Strategic Communications. Not bad considering the amount of inbound communications educators and many others sift through daily. By the end of 2020, the SWCD educated about 1,500 youths and adults through in-person (pre-pandemic), in-person socially distanced, and virtual lessons. All things considered, another impressive accomplishment.
In 2020 Rockland County's Division of Environmental Resources (DER) continued to support boards and committees dedicated to preserving the county's natural resources. Board and committee members consist of elected and appointed municipal officials, and volunteers committed to fulfilling the boards' missions. The boards are:
Agricultural and Farmland Protection Board
Environmental Management Council
Parks Commission
Soil and Water Conservation District
Water Quality Coordinating Committee
With support from DER, the Environmental Management Council continued to sponsor its annual Eleanor Burlingham Earth Day Essay and Poster contest. The theme for 2020 was How can you reduce your use of plastic in your daily life? Despite the challenges and distractions of remote learning and pandemic healthcare protocols, parents and educators led 34 students to submit essays and posters.  The EMC recognized 6 winning entries with Council members sharing their own video recordings of the names of the students and highlights of their entries.
Additional resources:
Strawtown Studio Scaling Up
Last June, Earth Matters published an article on how Strawtown Studio turned to in-home environmental learning with its NatureArt Adventure Box Program. Because educators and parents were not comfortable with bringing children of ages 5-13 outdoors to experience nature first hand, nature was brought to them.
The NatureArt Adventure Box has a wide range of natural items to help children stretch their minds and ways of thinking. Items included clay, watercolors, wooden beads, gold leaf, muslin (a cotton fabric), and sandpaper. Strawtown Studio's founding Director Laurie Seeman said, "There was a new dynamic which pleasantly surprised us: other family members were taking part. Parents were excited to see art in their home."
The Program continues to apply principles long advocated by Seeman such as cardinal directions, or spherical thinking. Said Seeman, "it is important for children to be able to co-generate with others, to develop mind pathways that can travel, and to have elements of surprise."
Strawtown also adapted to the pandemic's restrictions by expanding its teaching network. "Nature-connected children need nature-connected adults," said Seeman. In October, 22 people participated in Strawtown's Facilitator Training program including educators for all ages, parents as teachers, artists, community leaders, at least one farmer, and an environmental policy analyst who wants to speak with more understanding for the earth. The program was a blend of live on-line and in person training. Since 2002, more than 120 people have participated in Facilitator Training.
Additional resources:
More Than a Little Help From the "Friends"
In 2018, the Friends of Rockland Lake and Hook Mountain, with support from the Nyack School District, piloted an outdoor experiential educational program for 4th grade students. Since then, "Learning in the Parks" has brought over 500 students to Hook Mountain and Nyack Beach State Park to explore the special geology of the Palisades Sill, the unique ecosystem of the Hudson River Estuary, and local trailside ecology.
Professional Geologist Diana Cutt from the US Environmental Protection Agency stunned her student audience with the news that an entire continent had ripped apart right where they were sitting. Once the site of the Manhattan Trap Rock Quarry, the Palisades Sill and plateau were protected when the Palisades Interstate Parks Commission was founded in 1900.
While the pandemic forced "Learning in the Parks" to be suspended in 2020, the Friends pushed on in other ways. They succeeded in obtaining a $45,000 grant to expand the program by getting more educators and scientists to connect with students, and to involve more students such as all 4th grade students in the South Orangetown School District. The grant will help cover the costs of educational materials, transportation, and stipends.
The $45,000 grant is supported by the New York State Park and Trail Partnership Grants and New York's Environmental Protection Fund. Park and Trail Partnership Grants are administered by Parks & Trails New York, in collaboration with the New York State Office of Parks, Recreation and Historic Preservation.
Last year, the Friends also continued to support construction of a new hiking trail enabling access from Nyack Beach to the top of Hook Mountain and the Long Path. Within a newly constructed kiosk near the trailhead at Nyack Beach State Park, interpretive signage will provide educational information about the ecology and natural history of the parks, complementing the historical interpretive signs at Rockland Lake State Park.
Rising more than 700 ft, the trail will provide easier and safer access to the southern side of Hook Mountain for park patrons. The trail was constructed by the Long Distance Trail Crew of the New York New Jersey Trail Conference. "Their work is extraordinary, it's like art," said David Neil, Friends Board Chairman. A grand opening of the trail and completion of the historic wall reconstruction at Nyack Beach will be held later this year.
Additional Resources
Read Earth Matters every Wednesday on Nyack News And Views, or sign up for the Earth Matters mailing list.