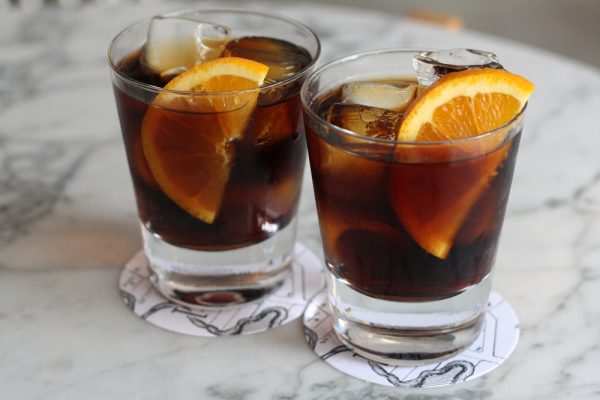 by Ben McCarthy
I first had vermouth at Huertas, a Basque restaurant and bar in the East Village that had become one of my favorite spots in Manhattan for food and drinks. Vermouth (or "vermut" as it is called in Spanish) is one of Spain's most popular drinks. For us Americans, it's strange to think of drinking vermouth straight since it's often relegated to a lowly cocktail mixer. But I promise you that this recipe will not disappoint.
Unlike the store-bought sweet vermouth you'd normally employ in, say, a Negroni, this vermouth is more nuanced; the sweetness plays back and is accompanied by the aromatic bitterness of citrus peel and spices. It's great as an aperitif or as a digestif post dinner. Or you can simply drink it with your meal, as I often do. It's a great way to celebrate a new presidency. And it's much lower in alcohol content than most mixed drinks, making it perfect for a pre-dinner beverage.
I find that this vermouth goes well with almost any type of food and is excellent on sweltering summery days and cold winter evenings alike.
The recipe, courtesy of the Huertas cookbook, is quite simple and requires almost no special equipment. All you need is some cheesecloth and a big container to mix your ingredients in. Spices can also be substituted but I find the Huertas recipe a great baseline.
Ingredients:
3 750ml bottles of Amontillado Sherry. Don't go for something expensive, get the cheapest Amontillado Sherry you can find. Trader Joe's sells one for around $5.99 per bottle that will do just fine.

1 and ½ cups of juicy red wine, a Tempranillo works well here and Trader Joe's also has a cheap one that is perfect. Again, don't waste money on an expensive red that is going to be wasted when mixed with spices and sherry.

1/4 cup pomegranate molasses, you can opt for less (or more) although I think that this amount adds the perfect touch of sweetness without turning the vermouth into a sugar bomb.

Peel of one lemon

Peel of one orange

Peel of one small grapefruit

4 kaffir lime leaves (if you can't find these feel free to use another type of citrus leaf or even lemongrass).

2 grams freshly grated nutmeg

2 cinnamon sticks

5g dried chamomile

The Huertas recipe calls for 3.6g angelica root and 1/2g gentian root which can sometimes be difficult to find, clove, cardamom and allspice will all work well as substitutes. There is really no wrong aromatic or spice to add so feel free to experiment here.
Directions
Add sherry, wine, and pomegranate molasses together and stir.

Add lime leaves and citrus peels, wrap spices in cheesecloth and add to the mixture.

Let sit in the refrigerator for three days.

After three days, remove spice bundle, lime leaves, and citrus peels.

Serve on the rocks with an orange peel garnish. 

Enjoy your vermouth. 
A Note on Storage
I like to use the old sherry bottles to store my vermouth. It will keep for around a month in the fridge. 
See also: