This week in the villages: On Friday, voters overwhelmingly approved the purchase of land adjacent to Nyack High School. The villages of Nyack, South Nyack, and Upper Nyack will hold Board of Trustee meetings and workshops. The New York Thruway Authority is looking for vendors for the Cuomo Bridge Bike/Walking path. And it's time to order Military Tribute banners for your loved ones.
Nyack Area COVID Update for January 23
| | | | | | | |
| --- | --- | --- | --- | --- | --- | --- |
| | 23-Jan | 16-Jan | 9-Jan | 2-Jan | 26-Dec | 19-Dec |
| Active cases by community | | | | | | |
| Nyack | 96 | 81 | 73 | 69 | 84 | 94 |
| Valley Cottage | 76 | 86 | 71 | 67 | 61 | 56 |
| West Nyack | 61 | 89 | 61 | 44 | 43 | 42 |
| Piermont | 13 | 8 | 5 | 10 | 10 | 10 |
| | | | | | | |
| Rockland County | | | | | | |
| 7 day postivity rate | 6.8% | 7.0% | 7.9% | 7.8% | 6.1% | 6.2% |
| Active cases | 2,514 | 2,786 | 2,449 | 2,293 | 1,929 | 2,130 |
| Hospitalized | 89 | 89 | 106 | 75 | 100 | 86 |
| COVID-19 deaths (total) | 821 | 806 | 790 | 771 | 755 | 739 |
Source: Rockland County Health Department / NYS Health Department, 1/23/2021
Village of Nyack
Mayor Don Hammond will hold his weekly Communication Meeting via Zoom on Thurs, Jan 28, 2021 at 9a.
And the Village Board of Trustees will hold a pre-meeting workshop via Zoom on Thurs, Jan 28 at 7p. Then, Zoom into the Village Board meeting at 7:30p.
Military Tribute Banners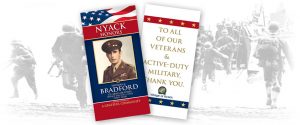 It's time to order your Military Tribute Banners for 2021. These banners make a beautiful tribute to honor your veterans, active-duty, reserve, and National Guard members. Banners will be displayed from Memorial Day to Veterans Day in the village downtown area. For more information, contact Ann Marie Tisty at 845-358-0548 or at annmarietisty@nyack-ny.gov.
Nyack Homeless Project
The Nyack Homeless Project is collecting donations of money, new clothes, and non-perishable food. Please help feed and clothe your Rockland neighbors in need. Visit nyackhp.org to donate or send a check to Nyack Homeless Project, PO Box 164, Nyack, NY 10960. For a list of drop off locations for non-perishable food, visit nyackhp.org.
Nyack "Fan Card"
Nyack has a new initiative to help make next year a little less tough on the local businesses we all know and love. It's called the Nyack Fan Card, and the idea behind it is simple: For $20, you get a shopping card (purchasable online, or at 15 participating establishments listed here) that gives you significant discounts at participating shops and restaurants–savings well beyond the $20 cost of the card. The cards go live on January 1, 2021 and remain valid until March 31, 2021.
Village of South Nyack
The Police Board will meet on Tue, Jan 26, 2021 via Zoom at 6:30p.
The Board of Trustees will also meet on Tue, Jan 26, 2021. Read the full agenda before Zooming into the meeting at 7:30p.
Village of Upper Nyack
The Board of Trustees will hold a workshop on Thurs, Jan 28, 2021 at 7p. More info at uppernyack-ny.us.
Village Board Workshop Recordings Available
In case you missed them, video recording and transcript are available for the January 14 Workshop of the Village Board of Trustees and for the January 21 Regular Meeting of the Village Board of Trustees and Public Hearing.
Nyack Public Schools
Land Purchase Proposal Passes
With the community's support, on Friday, the Nyack School District's proposal to purchase the 1.1-acre site at 366 North Highland Ave, Upper Nyack for $687,500 won approval by 840 votes to 131. The District looks forward to sharing plans for future development of this property.
Town of Orangetown
Military Tribute Banners
This week, orders for the Town of Orangetown Military Tribute Banners will open up. If you previously subscribed, you can renew at any time. Feel free to email Supervisor@Orangetown.com or call (845) 359-5100 x 2293 for more information.
Christmas Tree Pickup
The Orangetown Highway Department is currently picking up Christmas trees from the town right-of-way. Residents are advised to place their Christmas trees out on the right-of-way, not on the paved road surface, as soon as possible. The pickup will be completed on Fri, Jan 29, 2021. For further information, please contact the Orangetown Highway Department at (845) 359-6500 or at highwaydept@orangetown.com.
Town of Clarkstown
Business Loan and Grants Webinar
In case you missed last week's Business Loan and Grants Webinar, you may view it on the Town of Clarkstown YouTube Channel.
Rockland County
Local Vendors for Governor Mario M. Cuomo Bridge Bike/Walking Path Needed
The New York State Thruway Authority is seeking local vendors interested in selling food, beverages, and other services at the Governor Mario M. Cuomo Bridge's bike/walking path. The Thruway Authority is inviting qualified local vendors to provide high quality, unique, and diverse menu items, including non-alcoholic beverages, over the course of 2 years at the path's Westchester and Rockland landings, and bicycle rentals at the Westchester landing. Each vending season will run from the beginning of spring through October. Beginning this year, vendors will also have the option of providing refreshments at the Painters Point overlook, which is located at the mid-point of the path. Services at the landings must be provided at least 5 days a week, including weekends, and during daylight hours. In addition to a proposal, those interested must provide detailed information about their business, experience, and at least 2 references. Preference will be given to local vendors and Taste NY Farm Market participants.
The Westchester landing, located off South Broadway in Tarrytown, features 2 truck stalls for food trucks, trailers, or mobile bike rental/repair stations. Each stall has access to electric outlets. Additionally, its plaza has space for a pop-up tent. The Rockland landing, located within Interchange 10 of the New York State Thruway in South Nyack, features a truck stall with access to electricity. The landing also includes space for one pop-up tent adjacent to the path. The Painters Point overlook has access to electricity and room for a portable chiller.
A vendor solicitation form and more information may be found on mariomcuomobridge.ny.gov. Proposals are due by Feb 12, 2021.
Help Scheduling a COVID-19 Vaccination
For those in need of help setting up an appointment for a COVID-19 vaccination, the NYS Department of Health has set up a NYS COVID-19 Vaccination Hotline at (833) 697-4829. You may also call the Rockland County Office for the Aging at (845) 364-2110, (845) 364-2115, or (845) 364-2108.
Barstool Fund
Barstool Sports has created the Barstool Fund  powered by the 30 Day Fund to help small businesses survive. If you are a small business or would like to nominate a small business to get financial assistance you can apply at www.barstool sports.com.
---