This week in the villages: Today is Martin Luther King Jr. Day, a federal and state holiday, meaning closings of government and state offices, banks, and post offices. The Nyack branch of the NAACP will hold a virtual observance. And in Nyack, trash will be collected on Tue, Jan 19, 2021. In South Nyack, there will be a meeting of the Executive Order 203 committee and the Village of Upper Nyack will hold a public hearing for an amendment to a local law. The Nyack Public Schools will hold a vote for a proposed land purchase.
Nyack Area COVID Update for January 16
| | | | | | | |
| --- | --- | --- | --- | --- | --- | --- |
| | 16-Jan | 9-Jan | 2-Jan | 26-Dec | 19-Dec | 12-Dec |
| Active cases by community | | | | | | |
| Nyack | 81 | 73 | 69 | 84 | 94 | 83 |
| Valley Cottage | 86 | 71 | 67 | 61 | 56 | 53 |
| West Nyack | 89 | 61 | 44 | 43 | 42 | 42 |
| Piermont | 8 | 5 | 10 | 10 | 10 | 8 |
| | | | | | | |
| Rockland County | | | | | | |
| 7 day postivity rate | 7.0% | 7.9% | 7.8% | 6.1% | 6.2% | 5.6% |
| Active cases | 2,786 | 2,449 | 2,293 | 1,929 | 2,130 | 2,216 |
| Hospitalized | 89 | 106 | 75 | 100 | 86 | 73 |
| COVID-19 deaths (total) | 806 | 790 | 771 | 755 | 739 | 716 |
Source: Rockland County Health Department / NYS Health Department, 1/16/2021
Dr. Martin Luther King, Jr. Day Observance
The Nyack Branch of the NAACP will commemorate the legacy and dream of the late Dr. Martin Luther King Jr. at a virtual interfaith service on Mon, Jan 18, 2021 at 2p via Zoom. The Webinar ID is 854 4563 5104, the Passcode is 356819, and the call in number is 301 715 8592.
Dr. Martin Luther King, Jr. Day Bus, Train Schedules
Hudson Link will run its weekend schedule on Dr. Martin Luther King, Jr. Day, Mon, Jan 18, 2021. Metro-North Hudson Line trains will also operate weekend service on Dr. Martin Luther King, Jr. Day.
Transport of Rockland (TOR) buses will operate on a regular weekday schedule. TRIPS paratransit buses will operate A.D.A. service only.
Further information for Dr. Martin Luther King, Jr. Day transportation schedules may be found on rocklandgov.com.
Village of Nyack
The Wed 1/20 Architectural Review Board will consider requests for signage at 3 locations, a new roof, window changes, and to resize a one car garage. Read the full agenda at Nyack-NY.gov before Zoom-ing into the meeting at 7p.
Mayor Don Hammond will hold his weekly Communication Meeting via Zoom on Thurs, Jan 21, 2021 at 9a.
Architectural Review Board Openings
The Architectural Review Board (ARB)  has openings for members. The ARB assists applicants to focus on design principles which can result in creative solutions that will develop a satisfactory visual appearance, preserve property values, and encourage improvement in the overall quality of life.
The Board meets on the 3rd Wednesday of the month, 7p, at Village Hall. An appointment is for a 5 year term. Interested candidates should be able to:
Read plans and elevations. Ability to think 3-dimensionally: visualize scale, massing, and proportion relative to adjacent buildings.
Understand and interpret guidelines as it relates to the Building Code.
Follow guidelines regarding excessive similarity and dissimilarity.
Be able to present an opinion using language of the code in an objective manner.
Village residency is a requirement for these positions. If you would like to apply for a position on the ARB, please send a cover letter and resume to Mayor Hammond at dhammond@nyack-ny.gov.
Christmas Tree Pickup
The Village of Nyack Department of Public Works will be picking up Christmas trees this month. Please leave trees at the curb, not in the roadway. And remove all decorations. The Department of Public Works has gone green and trees will be recycled into mulch.
Trash and Recycling Schedule
For 2021, no postcards will be mailed with changes to the trash and recycling schedule. All changes will be posted on nyack-ny.gov. There is also a printable trash and recycling schedule on nyack-ny.gov.
Nyack Homeless Project
The Nyack Homeless Project is collecting donations of money, new clothes, and non-perishable food. Please help feed and clothe your Rockland neighbors in need. Visit nyackhp.org to donate or send a check to Nyack Homeless Project, PO Box 164, Nyack, NY 10960. For a list of drop off locations for non-perishable food, visit nyackhp.org.
Nyack "Fan Card"
Nyack has a new initiative to help make next year a little less tough on the local businesses we all know and love. It's called the Nyack Fan Card, and the idea behind it is simple: For $20, you get a shopping card (purchasable online, or at 15 participating establishments listed here) that gives you significant discounts at participating shops and restaurants–savings well beyond the $20 cost of the card. The cards go live on January 1, 2021 and remain valid until March 31, 2021.
Village of South Nyack
The Executive Order 203 Committee will meet on Wed, Jan 20, 2021 at 6p via  Zoom. The Mental Health Committee of the Rockland Coalition to End the New Jim Crow will give a presentation about their recommendations for shifting response to mental health crises from law enforcement to mental-health responders. After the presentation, they'll take questions from the committee and the general public. This is a crucial aspect of police reform, one that has received support from police-reform advocates and law enforcement alike.
Village of Upper Nyack
The Zoning Board of Appeals will meet on Tue, Jan 19, 2021 at 8p. More info at uppernyack-ny.us.
The Planning Board will meet on Wed, Jan 20, 2021 at 7:30p. More info at uppernyack-ny.us.
Public Hearing for Amendment to Local Law Thurs, Jan 21
The Board of Trustees of the Village of Upper Nyack will hold a public hearing on Thurs, Jan 21, 2021 at 7:30p to consider the adoption of a proposed Local Law, the Tree Preservation Law, enacting regulations pertaining to the preservation and removal of trees within the Village of Upper Nyack. This law will also be known as Local Law # 1 of 2021.
The meeting will be held via Zoom videoconferencing, and a transcript will be provided at a later date. The public will have the opportunity to see and hear the meeting live and provide comments. Comments and questions can also be provided via email before the meeting to Carol G. Brotherhood, Village Clerk at village.clerk@uppernyack-ny.us. The full text of the proposed amendment is available on uppernyack-ny.us.
Nyack Public Schools
Land Purchase Vote Fri, Jan 22
On Fri, Jan 22, 2021, voters in the Nyack Union Free School District will be asked to approve the district's proposal to purchase a 1.1-acre site at 366 North Highland Ave, Upper Nyack. The proposition will authorize the purchase of the property for $687,500 using existing undesignated fund balance monies. The resolution also seeks permission to spend another $10,000 from the undesignated fund balance for various purchase and closing costs. Taxpayers will pay nothing for the purchase and closing costs because the necessary funds have already been set aside. Visit the Jan. 22 Vote On Land Purchase Page on nyackschools.org for additional information on the property purchase, the vote, and for an Absentee Ballot Application.
In case you missed one of the information sessions last week, you may view Dr. Montesano's presentation.
Town of Orangetown
Christmas Tree Pickup
The Orangetown Highway Department is currently picking up Christmas trees from the town right-of-way. Residents are advised to place their Christmas trees out on the right-of-way, not on the paved road surface, as soon as possible. The pickup will be completed on Fri, Jan 29, 2021. For further information, please contact the Orangetown Highway Department at (845) 359-6500 or at highwaydept@orangetown.com.
Town of Clarkstown
Business Loan and Grants Webinar
Supervisor George Hoehmann will host an informational webinar on Tue, Jan 19, 2021 at 2p on important updates to a number of business grant and loan programs with special guest Tom Morley, Director of the Rockland Small Business Development Center.
The webinar can be accessed at webinar.clarkstown.org and will cover:
The re-opening of the federal Paycheck Protection Program
The re-opening of the Economic Injury Disaster Loan program
Important changes to the NY Forward Loan Fund
There will be a Q&A session following the approximately 30 minute long presentation.
Rockland County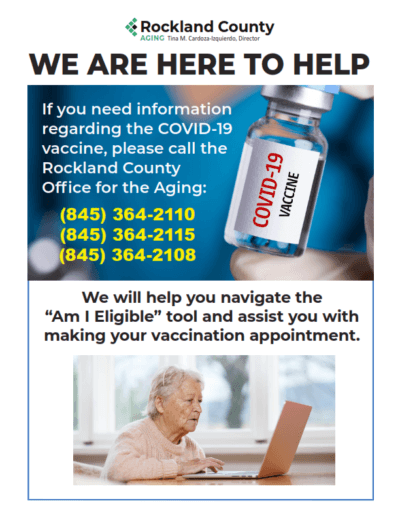 Raising the New York State Bar and Restaurant Recovery Fund
In an effort to support small businesses during the COVID-19 pandemic, the Raising the NYS Bar Restaurant Recovery Fund offers approximately $3 million in reimbursement grants for up to $5,000 to eligible businesses. The program is intended to support full-service restaurants during the winter months when outdoor dining is limited and as restaurants adjust to New York State's COVID-19 safety restrictions and new mandates.
Restaurants can apply to the Rising the NYS Bar Restaurant Recovery Fund starting today, Mon, Jan 11, 2021 at nysrestaurantrecovery.
Barstool Fund
Barstool Sports has created the Barstool Fund  powered by the 30 Day Fund to help small businesses survive. If you are a small business or would like to nominate a small business to get financial assistance you can apply at www.barstool sports.com.
---