This week in the villages: Last week COVID-19 vaccinations began in Rockland County for those individuals eligible under Phase 1A. Today, Mon, Jan 11, 2021, individuals in the Phase 1B group will also be eligible to begin receiving the vaccine under the New York State Phased Vaccination program. The Boards of Trustees of Nyack, South Nyack, and Upper Nyack will all hold meetings this week. And there will be 2 virtual meetings on the Jan 22, 2021 Nyack Public Schools Land Purchase Vote.
Nyack Area COVID Update for January 9
| | | | | | | |
| --- | --- | --- | --- | --- | --- | --- |
| | 9-Jan | 2-Jan | 26-Dec | 19-Dec | 12-Dec | 5-Dec |
| Active cases by community | | | | | | |
| Nyack | 73 | 69 | 84 | 94 | 83 | 66 |
| Valley Cottage | 71 | 67 | 61 | 56 | 53 | 48 |
| West Nyack | 61 | 44 | 43 | 42 | 42 | 48 |
| Piermont | 5 | 10 | 10 | 10 | 8 | 8 |
| | | | | | | |
| Rockland County | | | | | | |
| 7 day postivity rate | 7.9% | 7.8% | 6.1% | 6.2% | 5.6% | 5.6% |
| Active cases | 2,449 | 2,293 | 1,929 | 2,130 | 2,216 | 1,953 |
| Hospitalized | 106 | 75 | 100 | 86 | 73 | 52 |
| COVID-19 deaths (total) | 790 | 771 | 755 | 739 | 716 | 707 |
Source: Rockland County Health Department / NYS Health Department, 1/9/2021
COVID-19 Vaccinations Begin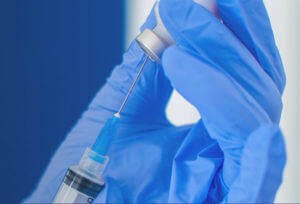 Last week those individuals eligible under the New York State Phased Vaccination program Phase 1A began receiving vaccines. To check if you are eligible to receive the COVID-19 vaccine in New York, visit am-i-eligible.covid19vaccine.health.ny.gov. If you are eligible, the tool will return a list of providers near you that you can contact to schedule an appointment. Individuals are NOT currently able to call either the state or local health department to register to be vaccinated. Today, Mon, Jan 11, 2021, individuals in Phase 1B under the New York State Phased Vaccination program will be eligible to begin receiving vaccinations including: teachers and education workers, first responders, public safety workers, public transit workers, and people 75 and older. Prior to receiving the vaccination, you must complete the New York State COVID-19 Vaccine Form. This form can be completed online, and you will receive a submission ID, or you can fill out the form at your vaccination site.
Village of Nyack
Mayor Don Hammond will hold his weekly Communication Meeting via Zoom on Thurs, Jan 14, 2021 at 9a.
And the Village Board of Trustees will hold a pre-meeting workshop via Zoom for you on Thurs, Jan 14 at 7p before Zooming into the Village Board meeting at 7:30p.
Christmas Tree Pickup
The Village of Nyack Department of Public Works will be picking up Christmas trees this month. Please leave trees at the curb, not in the roadway. And remove all decorations. The Department of Public Works has gone green and trees will be recycled into mulch.
Trash and Recycling Schedule
For 2021, no postcards will be mailed with changes to the trash and recycling schedule. All changes will be posted on nyack-ny.gov. There is also a printable trash and recycling schedule on nyack-ny.gov.
Nyack Homeless Project
The Nyack Homeless Project is collecting donations of money, new clothes, and non-perishable food. Please help feed and clothe your Rockland neighbors in need. Visit nyackhp.org to donate or send a check to Nyack Homeless Project, PO Box 164, Nyack, NY 10960. For a list of drop off locations for non-perishable food, visit nyackhp.org.
Nyack "Fan Card"
Nyack has a new initiative to help make next year a little less tough on the local businesses we all know and love. It's called the Nyack Fan Card, and the idea behind it is simple: For $20, you get a shopping card (purchasable online, or at 15 participating establishments listed here) that gives you significant discounts at participating shops and restaurants–savings well beyond the $20 cost of the card. The cards go live on January 1, 2021 and remain valid until March 31, 2021.
Village Board Welcomes New Trustee
The Village Board welcomes Joe Rand to serve on the Village Board and complete Elijah Reichlin-Melnick's term which expires December 31, 2021. Joe Rand is a native of Rockland who has lived in Nyack since 2009 and has been involved in numerous public service efforts. Joe served on boards for Rockland Community College and United Hospice, and has been honored for his contributions to the Rockland YMCA, Rockland PRIDE, United Hospice, and the Rockland Historical Society.
Professionally, Joe is the Chief Creative Officer of Howard Hanna – Rand Realty, a real estate company with almost 30 offices throughout the region, with an office on Broadway in Nyack for over 25 years. Joe lives in Nyack with his wife Linie and his two children, Jake (10) and Aurelia (8) who attend Upper Nyack Elementary.
Village of South Nyack
The Board of Trustees will meet on Tue, Jan 12, 2021. Read the Board of Trustees agenda at Southnyack.ny.gov before Zoom-ing into the meeting at 7:30p.
The Planning Board will meet on Wed, Jan 13, 2021. Read the full agenda at Southnyack.ny.gov before Zoom-ing into the meeting at 7:30p
Village of Upper Nyack
The Architectural Review Board will meet on Mon, Jan 11, 2021 at 6p. Read the full agenda at uppernyack-ny.us before Zoom-ing into the meeting.
The Board of Trustees will hold a workshop on Thurs, Jan 14, 2021 at 7p.
Save the Date – Public Hearing for Amendment to Local Law
The Board of Trustees of the Village of Upper Nyack will hold a public hearing on Thurs, Jan 21, 2021 at 7:30p to consider the adoption of a proposed Local Law, the Tree Preservation Law, enacting regulations pertaining to the preservation and removal of trees within the Village of Upper Nyack. This law will also be known as Local Law # 1 of 2021.
The meeting will be held via Zoom videoconferencing, and a transcript will be provided at a later date. The public will have the opportunity to see and hear the meeting live and provide comments. Comments and questions can also be provided via email before the meeting to Carol G. Brotherhood, Village Clerk at village.clerk@uppernyack-ny.us. The full text of the proposed amendment is available on uppernyack-ny.us.
Nyack Public Schools
Land Purchase Vote
On Fri, Jan 22, 2021, voters in the Nyack Union Free School District will be asked to approve the district's proposal to purchase a 1.1-acre site at 366 North Highland Ave, Upper Nyack. The proposition will authorize the purchase of the property for $687,500 using existing undesignated fund balance monies. The resolution also seeks permission to spend another $10,000 from the undesignated fund balance for various purchase and closing costs. Taxpayers will pay nothing for the purchase and closing costs because the necessary funds have already been set aside. Visit the Jan. 22 Vote On Land Purchase Page on nyackschools.org for additional information on the property purchase, the vote, and for an Absentee Ballot Application.
There will be a community Zoom meeting on the topic of the Land Purchase Vote on Tue, Jan 12, 2021 at 6:30p with Dr. Montesano and another Zoom meeting on Thurs, Jan 14, 2021 at 10a, for those who missed it.
Town of Orangetown
State of Orangetown
In case you missed it, at last week's Town Board meeting, Supervisor Teresa Kenny gave her State of Orangetown address.
2021 Openings in Orangetown Boards and Committees
Boards that have openings for 2021:
Architecture & Community Appearance Board of Review (3 year term)
Historical Areas Board of Review (5 year term)
Orangetown Housing Authority Board (5 year term)
Planning Board (7 year term)
Zoning Board of Appeals (5 year term)
Committees that have openings for 2021 (All 1 year terms):
Blue Hill Golf Course Committee
Orangetown Environmental Committee
Orangetown Office of Emergency Management
Orangetown Parks & Recreation Development Advisory Committee
Orangetown Project Review Committee
Orangetown Shade Tree Commission
Orangetown Traffic Advisory Board
Senior Citizen Advisory Committee
Substance Abuse Committee
TV Advisory Committee
If you are interested in serving on any of these boards or committees, please email your letter of interest as well as a resume to Supervisor Teresa M. Kenny by Fri, Jan 15, 2021.
Christmas Tree Pickup
The Orangetown Highway Department is currently picking up Christmas trees from the town right-of-way. Residents are advised to place their Christmas trees out on the right-of-way, not on the paved road surface, as soon as possible. The pickup will be completed on Fri, Jan 29, 2021. For further information, please contact the Orangetown Highway Department at (845) 359-6500 or at highwaydept@orangetown.com.
Town of Clarkstown
The pickleball courts/hockey rink at Congers Lake Memorial Park has been reopened.  The courts will be open in January and February, weather permitting. If there is a red flag on the gate, the courts are closed, and if there is a green flag, the courts are open. There are no lights.
The courts will be open for pickleball on Mon, Wed, and Sun from 9a-1p and on Tue, Thurs, Fri, and Sat from 9a-4:45p. The courts will be open for hockey on Mon, Wed, and Sun from 1-4:45p.
Rockland County
Raising the New York State Bar and Restaurant Recovery Fund
In an effort to support small businesses during the COVID-19 pandemic, the Raising the NYS Bar Restaurant Recovery Fund offers approximately $3 million in reimbursement grants for up to $5,000 to eligible businesses. The program is intended to support full-service restaurants during the winter months when outdoor dining is limited and as restaurants adjust to New York State's COVID-19 safety restrictions and new mandates.
Restaurants can apply to the Rising the NYS Bar Restaurant Recovery Fund starting today, Mon, Jan 11, 2021 at nysrestaurantrecovery.
Barstool Fund
Barstool Sports has created the Barstool Fund  powered by the 30 Day Fund to help small businesses survive. If you are a small business or would like to nominate a small business to get financial assistance you can apply at www.barstool sports.com.
Goodbye Spark Plugs, Hello Electric Vehicles!
On Thurs, Jan 14, 2021 from 7 – 8:30p, Rockland Goes Green, Rockland Citizens Action Network, Nyack Library, and the Sierra Club present Goodbye Spark Plugs, Hello Electric Vehicles!, a program on electric vehicles and electric vehicle charging via Zoom. The Zoom link will be sent to all registrants the week of the program. CE credit is available for Planning and Zoning Board members through the Rockland Municipal Planning Foundation.
---