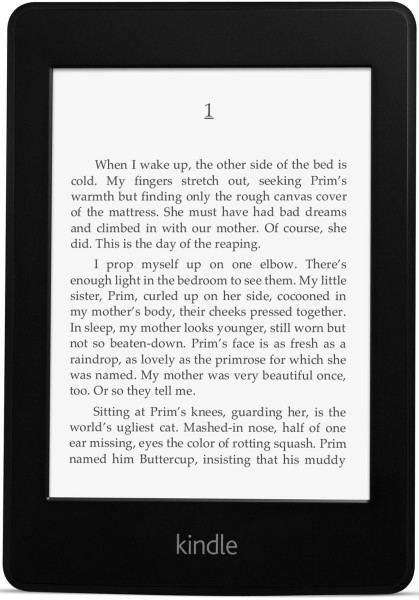 by D.L. Cohen
I bought a Kindle the other day. It arrived this morning. It's sitting on my desk like a dead fish. I'm treating it a bit like a dead fish, too, circling it warily, afraid to touch it. I know some people love them. I'm in a book club and several members swear by them. Me, I'm not so sure.
You see, I'm a book lover. And by that I mean actual books. I love to read, sure, but I also like the tactile feel of books, their different covers, their spines, their pages. They exist. Look. They're just there.
They pile up. They become a pain in the ass when they pile up too much, but that's part of it. It means you've read a lot. Or at least browsed through a lot. I like libraries. Actual, physical libraries. I like rooms in houses with walls of books. There are no walls of books in a Kindle world. Every book ever written is in the palm of your hand. Maybe that fills you with the excitement of endless possibilities, but it makes me a little morose. I don't want to read every book ever written. I want to read that one book that I want to read now. That cheap-ass edition of Walden I read in college, that signed copy of A Handmaid's Tale, that Folger Library edition of Hamlet with the unintelligible commentary in the back. That old DSM edition with the weird stain on it that classified homosexuality as a form of paraphilia. I want to hang on to that. At least until I don't.
I like turning pages. It's wrong to reduce a book to just an endless string of words. Do you slice from an endless loaf of bread? Paint on an endless canvas? Eat from an endless fish? No. Life comes at us in discrete bits, as books are discrete, individual things. You can judge a book by its cover. What else can you judge it by? I love book covers. I loved riding on the subway (back when that was a thing) and seeing what people were reading. That's impossible with a Kindle. Everyone is reading the same thing. They're not reading a book, they're reading a Kindle. They're playing on their phone. It looks the same. And it looks sad.
I think of the book covers that have stuck with me over the years. The shocking orange cover of the old paperback edition of A Clockwork Orange I read in high school. The Godfather. The Great Gatsby. Jaws. All give a sort of visual hint of the story within. And they all look incredible. You get none of that with the Kindle.
There are advantages. I can download any book in the known universe at the touch of a button. I'm returning to Costa Rica in a few days. That's why I bought it. It's impossible to find an English language bookstore down there. It's pretty impossible to find any bookstore at all these days. And underlining. I like to underline when I'm reading, to try and remember particular insights or turns of phrase that I find appealing. Or to be able to find it when you don't remember it. The Kindle makes that easy. That's nice. And you never lose your place in a Kindle. Bookmarks are a thing of the past. I suppose I could mourn them, too, but I could never hang on to a bookmark. I always use some random business card or grocery receipt.
And size. It's not quite small enough to fit into your pocket, but it's smaller than most books. And lighter. It'll be nice not having to hunt down a book, and nice to be able to just pull it out of a little pocket of backpack or purse. Even I don't carry around hardcover books anymore. It's a wonder they still make them.
So I don't know. I've given in, I've bought one, so I'll give myself every chance to like it. I want to like it. I want to get used to the experience of reading on an 8 inch screen. As long as it stays on. That's the other thing about books that I like. You don't have to plug them in. They're just there.
See also: