Rivertown Film Society's New M.C. Escher Documentary Has a Few Suggestions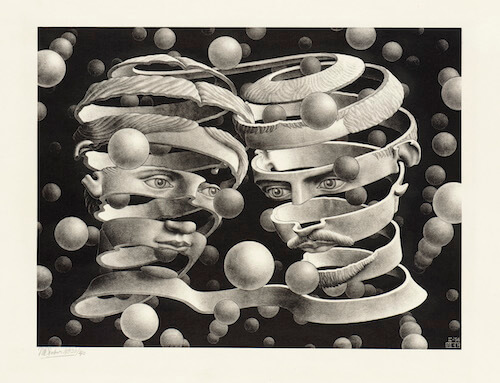 by Juliana Roth
Following a deep discussion with Rockland County arts administrators and nonprofits on the role of artists in transforming local culture with their discussion of MASS MoCA profile Museum Town on February 3rd, Rivertown Film Society brings an innovative documentary on the life of M.C. Escher (1898-1972) to their widening virtual audience. "I fear that there is only one person in the world who could make a really good movie about my prints: myself," Escher famously wrote to a collector about his art, which often plays on scientific patterns. M.C. Escher: Journey to Infinity might be as close as it comes to Escher getting his wish.
Two of Escher's sons, George (92) and Jan (80), appear in the film, revealing Escher through his own words and mathematically-inspired images. Director Robin Lutz incorporates diary musings, excerpts from lectures, and correspondence into the film's narrative. Graham Nash (Crosby, Stills & Nash) makes an appearance, detailing Escher's rediscovery in the 1970s and the psychedelic draw to his art.
The film moves from where Escher was born in Leeuwarden to Italy where he lived during the rise of Mussolini, then to Spain just before Franco, and finally to the Netherlands during German occupation, just before Escher's breakthrough after World War II. His life is a map of an artist creating under authoritarianism, of finding beauty and meaning within an incredibly turbulent world.
A Zoom discussion on the film will be held on Sunday, Feb. 7 at 7p with Julian Aronowitz and Daly Flanagan. Julian is an alumni of Rockland Country Day School and recently received his PhD. in applied mathematics from the University of Southern California, and Daly is the Executive Director of Rockland Center for the arts and an adjunct faculty member at St. Thomas Aquinas College.
Escher is celebrated in movies, in fiction, on posters, on tattooed biceps, among other surprising places, and now in Lutz's sweeping film. Voiced by British actor Stephen Fry, Escher's woodcuts, lithographs, and print works appear in both original and playfully altered form through the documentary. Although many might not recognize the name, they do recognize the art, making Escher one of the most famous Dutch artists in the world, competing for the title with Nyack local Edward Hopper.