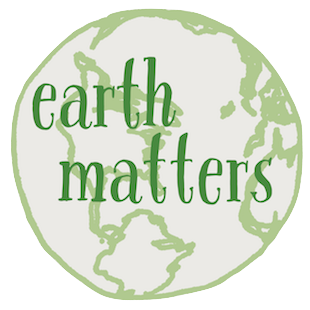 Earth Matters focuses on conservation, sustainability, recycling and healthy living. 
If Earth Matters to you, sign up for our mailing list and get the next installment delivered right to your mailbox. 
by Glenn Sungela
The challenges and difficulties brought by the novel COVID-19 pandemic have been many and profound. It has strained our emotional and physical health, and our livelihoods. At the same time, individuals, organizations, and agencies pressed on and took actions to help protect and preserve our environment for us and generations to come. Here are some of these successes.
Keeping Rockland Beautiful
With the state-wide shutdown, Keep Rockland Beautiful (KRB) was forced to cancel the Great American Cleanup in the spring.  While most of KRB's education programs were rescheduled for later dates, KRB staff member Sara Fernandez explained, "KRB has used COVID-19 as an opportunity to reach people in a variety of ways without having to be present with us." For example, students at Cottage Lane Elementary School learned how environmental stressors affect water quality by using one of KRB's EARTH B.E.A.T. interactive programs called "Bugged About Water Quality."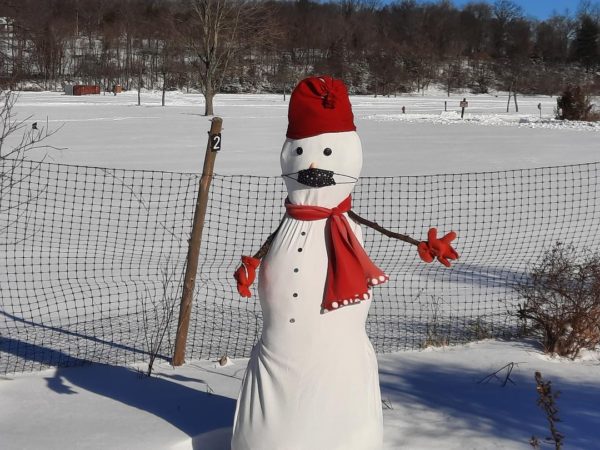 As gathering restrictions eased during the summer, KRB pivoted to fall cleanups. They resumed supporting events by working with cleanup coordinators in many communities throughout the county.  All events used appropriate social distancing and personal protective equipment.
Nate Mitchell, Trustee for the Village of Piermont, described it this way, "One of the great things about Piermont is the pride our residents take in the beauty of our surroundings, and even though COVID cancelled our regular KRB/Riverkeeper springtime pier cleanup, a motivated group of residents took it upon themselves to do an informal, socially distanced cleanup of the pier at the end of the summer."
KRB also held its Annual Gala in November. The event was held virtually and this year's theme was "Six Degrees of Gratitude."
The Town of Orangetown's Highway Department continued to recognize individuals who beautified their properties through its Beautification Award. This year, the Award's 17th, recognized David and Marcia Fernandez and the Gildea family of Pearl River. In beautifying their property, Marcia and David also helped to preserve biodiversity by using native and pollinating plants.
Restoring and preserving biodiversity through ecological landscaping…
Through what? Ecological landscaping is the practice of recognizing and considering the interconnectedness of all living things when designing and implementing a landscape. Components and themes may include selecting native flora that is indigenous to the region, creating pollinator pathways, and strengthening sustainability and resiliency, among others.
Another method of ecological landscaping is permaculture, shorthand for permanent agriculture. Local resident and founder of Freedom Forest Jesse Rahimzadeh applies permaculture to his landscaping designs. "While conventional agriculture is more like a mining process, permaculture considers multi-functions and how one thing supports the next," said Rahimzadeh. "For example, a tree may be planted for shade but may also yield fruit that is part of a local ecosystem."
The Nyack Tree Project applies ecological landscaping to its tree selection, planting, and maintenance.  Supported by volunteers, funds from the Village of Nyack and the Nyack Park Conservancy, their work began in 2015 and continued through 2020.  Though planting was temporarily suspended last spring due to the stay at home orders, work continued in the fall for a grand total of 175 trees along village sidewalks and in Nyack Memorial Park. The fall plantings were supported by a generous donation from Luxury Bath & Kitchen in Nyack.
And these are not "one and done" plantings.  Nyack Tree Committee member Marcy Denker explained, "Ongoing maintenance was done by professional service companies to prune and remove large trees, and to train volunteers and Nyack Village staff in proper care of younger trees." Professional services were funded in part by a grant from NYSDEC's Urban and Community Forest programs.
Speaking of trees, despite the pandemic, the Villages of Nyack, Montebello, and Suffern all continued to participate in the Arbor Day Foundation's Tree City USA program in 2020.
And at Rockland Lake State Park, where hundreds of dead and dying trees have been felled due to disease and invasive insects, the park began a multi-year tree planting project in 2020. Red maples, American elms, and American chestnuts were planted at the park entrances, near the Nature Center, and in picnic groves. Fencing was installed around the new trees to protect them from male deer rubbing their antlers on the bark. The bark carries water and nutrients and its removal often results in the tree dying.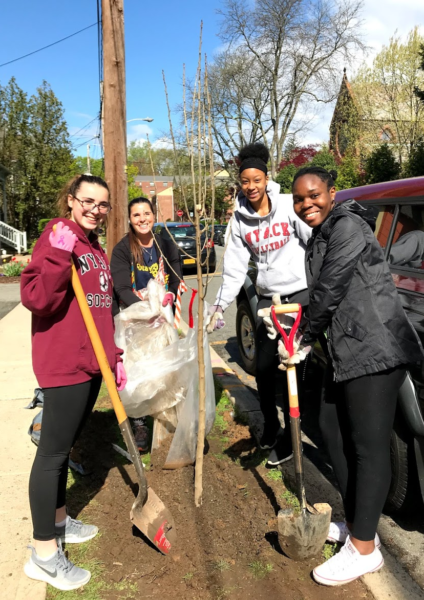 …including invasive species management
One of the most common invasive aquatic plants, unfortunately, are water chestnuts, "Eleocharis dulcis." They, too, spread quickly and crowd out native aquatic plants. Dense water chestnut beds block the sun from reaching submerged vegetation and reduce oxygen to levels lethal to fish and other organisms.
The Sparkill Creek Watershed Alliance (SCWA) supported a water chestnut pull event in July. Volunteers from the SCWA and homeowners along the Creek pitched in. SCWA member Margaret Grace said, "With the help of the Piermont Department of Public Works, they disposed of hundreds of pounds of this invasive species."
Water chestnut pulls in Sparkill Creek were also performed by the Aquatic Invasives Strike Force, a mostly volunteer team that operates under the New York-New Jersey Trail Conference and the Lower Hudson Partnership for Regional Invasive Species Management (LHPRISM). They removed 14,250 plants (estimated 2 ½ tons) over a combined 72 hours period. The Strike Force also spent a combined 96 hours at Rockland Lake where they removed 19,960 plants (estimated 3 ½ tons). Park staff at Rockland Lake State Park properly disposed of the pulled and bagged plants.
Long-time and new volunteers at the Nature Center in Rockland Lake State Park succeeded in cutting back the vast majority of phragmites which were growing inside the main trail loop.  Repeated cutting by volunteers and Park staff helped prevent them from growing back.
In December the Town of Clarkstown issued proposed updates to its Comprehensive Plan.  Among them are a new goal to manage and remove invasive species in town properties, and more detailed consideration of invasive plants and flora considered at risk when reviewing development proposals.
New York State Parks continued to assess ash trees at Rockland Lake State Park which are infested by the invasive insect emerald ash borer. Trees considered salvageable were treated with chemicals and bio-agents to reduce the emerald ash borer population. Bio-agents included certain species of wasps.
And, not to be overlooked:
After suspending work in the spring, long time volunteers at the Nature Center in Rockland Lake State Park returned to help maintain the grounds using appropriate health precautions. They continued to care for the butterfly garden and the grounds along the walking trails, and updated information in the kiosk outside the entrance.
Rockland Goes Green, in partnership with the Sierra Club, the Nyack Library, and Rockland Citizens Action Network, held 3 virtual seminars. Topics included: Solar Parking Lots, Electric Grids for Renewable Energy, and Solar Battery Technologies, and Carbon Pricing Model. Rockland Goes Green's next program is "Good Bye Spark Plugs, Hello Electric Vehicles" set for January 14th. Click here to register.
Rockland County's request for bids for the new county animal shelter required bidders to include incremental costs for LEEDS (Leadership in Environmental Energy and Design), a widely used rating system for 'green' buildings.
Energy Navigator Volunteer Steve Cea led a workshop on how homeowners and renters can reduce their energy bills and carbon footprints using New York State programs. The programs start with a home energy assessment, or audit, and include cost-benefit analysis on building insulation, reducing air drafts, and alternative heating and cooling systems, among others.
Are we missing other environmental activities and accomplishments in 2020? Let us know and we will cover them. What would you like to see accomplished in 2021?
Additional resources:
Read Earth Matters every Wednesday on Nyack News And Views, or sign up for the Earth Matters mailing list.