This week in the villages: On Thursday, South Nyack residents will vote on the Village Dissolution referendum, which asks whether the village should remain as is or dissolve into Orangetown. In Upper Nyack, there will be a virtual public hearing on amendments to three local laws. Due to an impact on staffing, Nyack Middle School and High School will switch to 100% remote learning through December 23. And if you need a gift for someone who has everything, consider having a tree planted in Nyack in your recipient's honor.
Village of South Nyack Dissolution Vote Thurs, Dec 17
The Village of South Nyack dissolution referendum vote will be held on Thurs, Dec 17, 2020 from 12-9p at Living Christ Church, 151 S Broadway, S Nyack. Voters with COVID-19 concerns may vote by absentee ballot. Absentee ballot applications are available on the Village of South Nyack website or at Village Hall (845-358-0287). The original, signed application must be returned to the South Nyack Village Clerk's Office (cannot be emailed or faxed). Absentee ballots must be returned to the village clerk's office, 282 S Broadway by 9p on Dec 17, 2020.
The Village Board of Trustees and Mayor Bonnie Christian have engaged the services of CGR to provide consultation services related to the Citizen Dissolution of South Nyack Petition that was filed on Aug 14, 2020. CGR has created The Future of the Village of South Nyack website to inform its residents. Read the top takeaways from the outside consultant's analysis in CGR's S. Nyack Dissolution Report: 10 Important Takeaways.
Know before you go (to vote):
Nyack Area COVID Update for Dec 12
| | | | | |
| --- | --- | --- | --- | --- |
| | | 12-Dec | 5-Dec | 30-Nov |
| Active cases by community | | | | |
| | Nyack | 83 | 66 | 48 |
| | Valley Cottage | 53 | 48 | 32 |
| | West Nyack | 42 | 48 | 48 |
| | Piermont | 8 | 8 | 6 |
| | | | | |
| | | | | |
| | 7 day postivity rate | 5.6% | 5.6% | 4.1% |
| | Active cases | 2,216 | 1,953 | 1,478 |
| | Hospitalized | 73 | 52 | 65 |
| | COVID-19 deaths (total) | 716 | 707 | 695 |
Source: Rockland County Health Department / NYS Health Department, 12/12/2020
Village of Nyack
The Wed 12/16 Architectural Review Board will consider requests for signage at 3 locations, an application for a rear addition, and a request to convert theater space into a supermarket. Read the full agenda at Nyack-NY.gov before Zoom-ing into the meeting at 7p.
Mayor Don Hammond will hold his weekly Communication Meeting via Zoom on Thurs, Dec 17, 2020 at 9a.
Give the Gift of Trees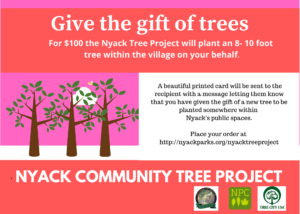 Looking for a special gift for someone who has everything? For $100 the Nyack Tree Project will plant an 8-10 ft tree within the Village of Nyack on your recipient's behalf. A beautiful printed card will be sent to the recipient with a message letting them know you have given the gift of a tree to be planted in one of Nyack's public spaces. You may place your order at nyackparks.org/nyack tree project.
Holiday Parking 
There will be NO charge for parking in the village's Main St lots on Saturdays from Nov 28 to Dec 19, 2020. Please note that on-street meters will still be in effect. Parking is always free village-wide on Sundays. This is a great opportunity to support local businesses by shopping small and by enjoying the eclectic restaurant scene. Be safe!
Nyack Homeless Project
The Nyack Homeless Project is collecting donations of money, new clothes, and non-perishable food. Please help feed and clothe your Rockland neighbors in need. Visit nyackhp.org to donate or se9iknd a check to Nyack Homeless Project, PO Box 164, Nyack, NY 10960. For a list of drop off locations for non-perishable food, visit nyackhp.org.
Village of South Nyack
Leaf Collection
Curbside leaf collection will go through Fri, Dec 18, 2020, weather permitting. Please place loose leaves in the gutter in a wind-row for pick-up by the DPW vacuum. The leaves must be free of sticks, rocks, and trash. It is the homeowner's responsibility to inform their landscape contractor of village requirements. Grass clippings and other yard debris should be put in bio-degradable bags and placed on the grass between the sidewalk and the curb.
Bio-bags are available at Village Hall for South Nyack residents. A copy of South Nyack Department of Public Works guidelines may be found on southnyack.ny.gov.
Village of Upper Nyack
Today (Dec 14), the Architectural Review Board will meet at 6p. More info at uppernyack-ny.us.
The Zoning Board of Appeals will meet on Tue, Dec 15, 2020 at 8p. More info at uppernyack-ny.us.
The Planning Board will meet on Wed, Dec 16, 2020 at 7:30p. More info at uppernyack-ny.us.
Public Hearing for Amendments to Local Laws
The Board of Trustees of the Village of Upper Nyack will hold a public hearing on Thurs, Dec 17, 2020 at 7:30p at the Upper Nyack Village Hall to amend the following local laws from the 1965 Code of General Ordinances as follows:
Chapter 2, Regulation of Vehicles, amending Ordinance 2.2 e. Parking of Vehicles, extending no parking on North Broadway, also known as local law #7 of 2020.
Chapter 3, Fires, Burning, Refuse, etc. – Permit Required, amending Ordinance 3.3 sections a, b., and c. to allow for fire pit or burn barrels, also known as local law #8 of 2020.
Chapter 4, Health and Sanitation, amending Ordinance 4.1 c. Receptacles for Rubbish, etc.: Collection and Charges, amending the time you may put your receptacle curb side, also known as local law #9 of 2020.
The meeting will be held via Zoom videoconferencing, and a transcript will be provided at a later date. The public will have the opportunity to see and hear the meeting live and provide comments. Comments and questions can also be provided via email before the meeting to Carol G. Brotherhood, Village Clerk at village.clerk@uppernyack-ny.us. The full text of the proposed amendments will be available on uppernyack-ny.us.
Free Reusable Shopping Bags
Rockland County Solid Waste Management has delivered reusable shopping bags to Village Hall for distribution to residents. Bags will be placed on the front porch of Village Hall. First come, first served. One per resident, please.
Yard Debris
As a reminder to all residents and contractors, yard debris must be bagged or bundled as follows:
Brush: Must be tied in bundles no longer than 5 ft and must be easily handled by one person.
Leaves, Grass, Clippings, and Yard Debris: Must be placed in biodegradable paper bags (available at the Village Hall). May not be placed in the roadway. Will not be collected if in plastic bags, boxes, or cans.
Dirt and Stones:

Will NOT be collected

. It is the responsibility of the homeowner to dispose of them
Construction Materials and Debris: Contractors are responsible for the removal of all construction materials and debris. All trees or brush cut by professional tree services and landscapers must be removed by the contractor.
Mattresses: Mattresses and box springs must be wrapped in plastic.
Nyack Public Schools
The Board of Education will meet on Tue, Dec 15, 2020. Read the full agenda at go.boarddocs.com before Zoom-ing into the meeting at 6:30p.
Nyack Middle and High School Will Be Remote Only Through Dec 23
As a result of recent extensive impact on staffing, Nyack High School and Nyack Middle School will shift to 100% remote learning from today (Dec 14) through Wed, Dec 23. At this time it is anticipated that the high school and middle school will return to hybrid, in-person instruction on Mon, Jan 4, 2021. Parents will be notified of any changes to plans to return to hybrid, in-person learning on Jan 4. During the winter recess, everyone's assistance in preventing the spread of COVID-19 is needed.

Town of Orangetown
Santa's Mailbox
What better way to mail your letters to Santa than in the beautiful mailboxes set up at the Orangeburg Fire House? The mailboxes will be set up on Monday nights from 6:30 – 8p and during the toy drive. If your name and address is on your letter, you will receive a response from the North Pole. Santa was sighted at the mailboxes removing the letters that were already dropped off. If you have any questions, please call the elf hotline at 845-721-4267.
Toy and Food Drives
The Orangetown Police Benevolent Association is hosting its annual toy drive. New, unwrapped toys may be dropped off in the box outside the Orangetown Police Department.
The Orangeburg Volunteer Fire Department is hosting a toy drive. New, unwrapped toys may be dropped off at the fire department on Sat, Dec 19 from 10a-2p.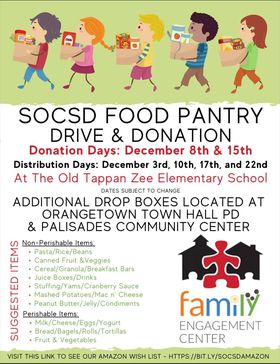 South Orange Central School District is holding a Food Drive. Non-perishable and perishable food items and toiletries may be dropped off on Tue, Dec 15 from 4-7p at the SOCSD Food Pantry, 561 Rte 9W, Piermont. You may also drop off non-perishable food only at the Orangetown Town Hall Police Station. Donations may also be made by purchasing items from the Amazon Wish List for direct delivery to the pantry. For more information, visit socsd.org.
Town of Clarkstown
Clean Energy Program – Answers to Your Questions
The Nyack Villages, the Town of Clarkstown, the Town of Orangetown, and the Village of Haverstraw are proud to be among the founding members of a collaborative municipal energy program called Rockland Community Power. This program will bring 100% renewable energy to the communities, while also lowering costs and strengthening consumer protection.
Do you have questions about Rockland's Clean Energy Program? Are you confused by a letter you got from O&R or an email from Constellation energy? Join an online information session to get answers to all your questions tonight, Mon, Dec 14, 2020 at 7p.
Holiday Dinner Bags for Veterans
Free holiday dinner bags will be given out on Sat, Dec 19 from 1-3p at the Street Community Center, 31 Zukor Rd, New City for veterans and military families. RSVP to Supervisor Hoehmann's office at 845-639-2050 or at supervisor@clarkstown.org.
Toys for Tots
There is a U.S. Marine Corp Toys for Tots donation box located at Clarkstown Town Hall, 2nd floor lobby, 10 Maple Ave, New City.
Rockland County
HEAP (Home Energy Assistance Programs) Applications Available to Rockland Residents
Rockland County families with low incomes can apply for grants to help pay for their heating bills under New York State's Home Energy Assistance Program (HEAP). The amount of the benefit depends on income and family size, and payments are made directly to the utility company. To be eligible, single persons living alone must have a monthly gross income no higher than $2,610. Monthly income limits for larger households may be found at rocklandgov.com. Anyone who is living in federally subsidized housing or who is enrolled in the Section 8 Voucher/Certificate Program where heat is included in the rent may be eligible for a $21 benefit if they have an electric bill in their name.
New and returning HEAP applicants can apply online at www.mybenefits.ny.gov or by mail. New HEAP applicants will be called for a phone interview. In person interviews are not required; there are no in person appointments at this time. Please call the HEAP Department at 364-3480 or 364-3212, Mon through Fri, between 8a and 5p if you want a paper application or if you have any questions.
4th Annual Department of Social Services (DSS) Toy and Clothing Drive
The DSS announced that the county will be accepting new, unwrapped toys, gifts, and clothing during its 4th Annual Toy and Clothing Drive. The drive takes place each year to ensure that every child in Rockland County has a gift to open for the holidays. Toys and gifts are requested for children 18 or younger. A list of drop off locations may be found at www.rocklandgov.com. The drive will run through Fri, Dec 18.