This week in the villages: It will be a quiet week in the river villages with holiday closures and transportation schedule changes due to the Christmas holiday.  Last week, South Nyack residents voted to dissolve their village. On Tuesday, there will be a South Nyack Board of Trustees virtual meeting to discuss the move. And it's not too late to donate food, clothes, or toys to bring some holiday cheer to your neighbors in need.
South Nyack Residents Vote to Dissolve
On Thursday, South Nyack residents voted to approve the dissolution of the village, which will eventually become part of unincorporated Orangetown. In case you missed it, read what happens next in South Nyack Votes to Dissolve.
Nyack Area COVID Update for Dec 19
| | | | | |
| --- | --- | --- | --- | --- |
| | 19-Dec | 12-Dec | 5-Dec | 30-Nov |
| Active cases by community | | | | |
| Nyack | 94 | 83 | 66 | 48 |
| Valley Cottage | 56 | 53 | 48 | 32 |
| West Nyack | 42 | 42 | 48 | 48 |
| Piermont | 10 | 8 | 8 | 6 |
| | | | | |
| Rockland County | | | | |
| 7 day postivity rate | 6.2% | 5.6% | 5.6% | 4.1% |
| Active cases | 2,130 | 2,216 | 1,953 | 1,478 |
| Hospitalized | 86 | 73 | 52 | 65 |
| COVID-19 deaths (total) | 739 | 716 | 707 | 695 |
Source: Rockland County Health Department / NYS Health Department, 12/19/2020
Christmas Holiday Bus, Train Schedules
Hudson Link will run its weekend schedule on Christmas Day, Fri, Dec 25, 2020. Metro-North Hudson Line trains will operate weekend service on Christmas Day.
On Christmas Eve, Thurs, Dec 24, Transport of Rockland (TOR) will operate a regular weekday schedule and TRIPS paratransit buses will operate regular service.
On Christmas Day, Fri, Dec 25, Transport of Rockland (TOR) buses 59, 91, 92, 93, and Loop 3 will operate on a Sunday schedule; there will be no service on buses 94, 95, and 97; bus 91 will not serve New City, Yeager Health Center, or Helen Hayes Hospital; and Loop 1 and Loop 2 will operate on a regular weekday schedule. TRIPS paratransit buses will operate A.D.A. service only.
Further information for Christmas holiday transportation schedules may be found on rocklandgov.com.
Village of Nyack
DPW and recycling will be on the regular schedule of Mondays and Thursdays for the rest of the month.
Give the Gift of Trees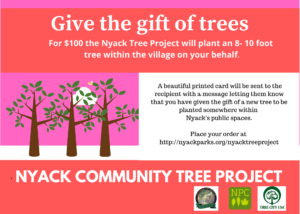 Looking for a special gift for someone who has everything? For $100 the Nyack Tree Project will plant an 8-10 ft tree within the Village of Nyack on your recipient's behalf. A beautiful printed card will be sent to the recipient with a message letting them know you have given the gift of a tree to be planted in one of Nyack's public spaces. You may place your order at nyackparks.org/nyack tree project.
Nyack Homeless Project
The Nyack Homeless Project is collecting donations of money, new clothes, and non-perishable food. Please help feed and clothe your Rockland neighbors in need. Visit nyackhp.org to donate or send a check to Nyack Homeless Project, PO Box 164, Nyack, NY 10960. For a list of drop off locations for non-perishable food, visit nyackhp.org.
Village of South Nyack
The Police Board will meet on Tue, Dec 22, 2020 via Zoom at 6:30p.
The Board of Trustees will also meet on Tue, Dec 22, 2020 via Zoom at 7:30p.
Village of Upper Nyack
Recording of the December 17 Regular Meeting of the Village Board of Trustees and the Public Hearing
In case you missed it, a video recording and a transcript are available for the December 17 Meeting of the Village Board of Trustees and Public Hearing on Amendments to Three Local Laws.
Free Reusable Shopping Bags
Rockland County Solid Waste Management has delivered reusable shopping bags to Village Hall for distribution to residents. Bags will be placed on the front porch of Village Hall. First come, first served. One per resident, please.
Town of Orangetown
Drive-by Food Drive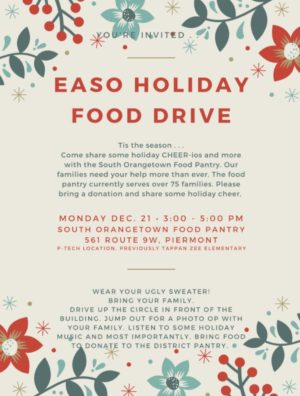 The South Orangetown Food Pantry will be having a special "drive-by" holiday food drive sponsored by Educational Association of South Orangetown (EASO) today, Mon, Dec 21, 2020 from 3-5p. You can just drive up through the circle at the old Tappan Zee Elementary building, 561 Rt 9W, Piermont, and they will take your donations for holiday distribution. Perishables like milk, bread, and butter will be appreciated. Please note, this is a special Monday drop-off in lieu of the Tuesday drop-off. Tues, Dec 22, will be a distribution day.

Town of Clarkstown
Toys for Tots
There is a U.S. Marine Corp Toys for Tots donation box located at Clarkstown Town Hall, 2nd floor lobby, 10 Maple Ave, New City.