by Matthew Chapman
I came to South Nyack almost four years ago in spite of the high property taxes. I soon learned the village was in debt. When I heard that tax-exempt Nyack College was being sold, I assumed every effort would be made to ensure it got sold to a tax-paying buyer.
After much secrecy (some of it understandable) we were informed there was nothing the village could do to help lighten our tax burden. The 107 acre college containing 37 buildings, including dormitories, was bought for $45 million by a Ramapo-based Yeshiva. Millions of tax dollars lost. "Sorry. That's how it is. Bye."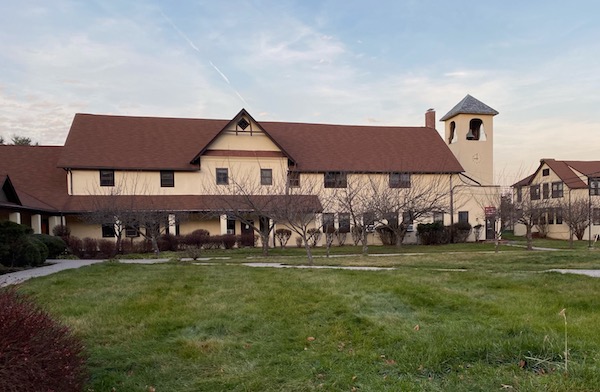 Given how long people knew the college would come on the market, couldn't the village have made it easier for a commercial buyer? Even found one? Mayors often bring tax-yielding businesses and real estate to their towns and villages. Does the law insist that this hillside remain non-profit to the end of time? No. Was this really unavoidable? I don't think so.
The religious group will initially bring 500 students to the campus, half of them college (voting) age. There will be teachers and their families. No property taxes will be paid by anyone living or studying there. If past is prologue, bloc-voting is not out of the question.
The village of South Nyack has received one economic body-blow already: the loss of future tax-revenue from the college property. And it will likely face a second body-blow in the future. RLUIPA is a federal law intended to protect religious groups against discriminatory land use policies, and if the village is confronted with an RLUIPA lawsuit—as many villages in Rockland County have been—it would either have to concede or go further into debt to defend itself. There are links at the end of this that explain how much worse it can get. I really suggest you read them. 
This is part of what led to the idea of dissolution into the larger, better-equipped town of Orangetown where taxes are lower and will probably stay that way.
You are already IN Orangetown. You pay taxes to Orangetown. You are the beneficiary of the Orangetown Community Solar project and several other services. When you go into Nyack, the police you see there are Orangetown police. To get a better sense of what will and won't change, read Sasha Cohen's excellent article, Nyack Dissolution Report: 10 Important Takeaways.
If we dissolve, taxes will go down. There is no question about this.
I have heard people say, "Yeah, but the difference is only a thousand or two a year." Only? No, it's not that simple. There are 600 immigrants in South Nyack, and over 100 people living below the poverty line (see: South Nyack Demographics). If we don't dissolve, higher taxes will push down property values and raise rents. The rich will own the big houses, the middle class will be gutted, and the poor will suffer. This is not the South Nyack I want to live in.
As a left of center Democrat, I wanted to get a sense of what it would be like to live under a largely Republican local administration. I called Democrat friends in Orangetown, specifically Sneden's Landing and Sparkill, places like ours but without a village administration. No one mentioned any problems with the services they received.
As we'd be moving from a small administration to a larger one, I wondered how responsive it would be. The emails of all the board members, administrators, and assistants are easily found on the Orangetown website. I emailed someone involved in Orangetown's Historical Areas Board. My email was responded to in four hours. I emailed a top member of the Orangetown administration. He emailed back within a day giving me his cell phone number. I called him late on a Friday afternoon. He picked up immediately.
I explained my reservations. We spoke for 20 minutes. He said that in local government, at least in Orangetown, party affiliation is more or less irrelevant. He remembered the subject coming up once in several years. Everyone is involved in the practical effort to preserve the character of the town and the area, keep the machinery of government running smoothly, and stop taxes from rising if possible.
The administration seems functional, accessible, and transparent. On the first page of the Orangetown website citizens are offered a Freedom of Information Law request form. There is a Board of Ethics Committee. All meetings are streamed, saved, and available to anyone.
South Nyack As Hamlet:
To Be Or Not to Be?
On Dec 17, voters in South Nyack will weigh in on whether their village should be dissolved and become an unincorporated hamlet of Orangetown. Advocates say it will reduce property taxes; opponents say residents will lose control of local zoning. The citizen's initiative which lead to this referendum was sparked by concerns about the sale of Nyack College.
Read more: CGR's S. Nyack Dissolution Report: 10 Important Takeaways.
Have a point of view about the Dec 17 vote you would like to share? Submit your opinion articles to max@NyackNewsAndViews.com.
The Town Code is easy to find and search. Orangetown is contemplating a new Comprehensive Plan, but no one thinks there will be any drastic changes. The website has a list of its "Projects," a Bike Study, a Green Infrastructure plan, Senior Housing, Sparkill Creek Watershed Flood Mitigation, Active Adult Affordable Housing, and many more. The areas for economic development lie between Rt 303 and 304, and in and around Pearl River. Bloomberg News has facilities in the area, as does Pfizer. Town Supervisor Teresa Kenny is actively seeking to develop the old Rockland Psychiatric Center and bring in more businesses to replace those that have failed.
The Zoning Code seems more stringent than South Nyack's. There is an Architecture and Community Appearance Board and a Historic Areas Board. There's also an Air Quality Review Committee, the Orangetown Environmental Committee, a Substance Abuse Committee, and a Youth Recreation Assessment Advisory Committee.
I did not see anything that would horrify a Democrat, indeed the reverse. What I saw was an open, forward-looking, vibrant, and functional administration. I think if you hit a few of the above links you'll agree.
By law, we cannot vote for dissolution again for another four years if the December 17 vote does not pass. By then, it may be too late and the chance might not come for decades. By contrast, we can return to being a self-governed village at any time.
Am I sad that I won't be dealing with some of the people I like up at Village Hall and some of the board members? Yes, very, very sad. But a mistake was made and now it is up to us to escape its economic consequences in the only way currently possible.
I will be voting Yes on Dissolution.
See also:
Matthew Chapman is a journalist, screenwriter, author, and film director. He was born in England but has lived in America for the last 30 years. He has been involved in the making of almost 20 films as a writer/director, producer, or screenwriter.