By Mike Hays
Before SUVs and all-wheel drive cars, navigating Nyack's hilly unplowed roads in the winter was made possible using locally made horse-drawn sleighs. Nineteenth century sleighs were not quite like we might imagine based on depictions in songs like "Sleigh Ride," "Winter Wonderland," and "Jingle Bells"; instead, they were quite varied.
At one time, Nyack, in addition to shoe and piano makers, had two sleigh factories in downtown Nyack that hand-crafted a wide variety of sleighs of outstanding beauty and utility from one-horse open sleighs to ornate European sleighs that accommodated 8 people and a coachman.
19th Century Sleighs
Sleighs were used for basic transportation, but they were also a great way to get outdoors and have fun during long winters. Businesses used toboggan-like work sleighs called "pungs" for hauling goods like baked goods, logs, and ice blocks. And a favorite sport for kids at the time was "hooking pungs," which involved catching the runners as the pung went past and going along for the ride. Then in New York City, large sleighs drawn by four horses were used in winter commuter lines along Broadway.
In the 19th century, most roads and streets went unplowed in winter and became packed down, perfect for sleigh runners but not so good for wheeled carriages that tended to slip off the road.
Sleighs were usually made by businesses that also built carriages, both being seasonal in demand and having similar production processes. They had a number of accessories, including custom paint and decals, colorful plumes, and sleigh bells. Sleigh bells were almost exclusively made in East Hampton, CT, once know as "BellTown." They were popular not only because they were a way to flaunt wealth but, more practically, because they served to warn others of the sleigh's approach.
The ringing of sleigh bells proved especially useful because sleighs are hard to stop and hard to turn. For
example, runaway horses pulling the Niederhauser Bakery sleigh once overturned as they rounded Main Street onto North Broadway, breaking a glass window.
When it came to buying a sleigh, the most popular models were ones with a single seat board–which also happened to be the cheapest. The popular Portland Sleigh was light and durable. In the late 19th century, styles evolved to suit changing consumer tastes. Designs imitating carriage bodies swept the upscale market such as the cabriolet, phaeton, and curricle. European sleigh designs also became popular, including the Russian and German Sleigh. Upscale consumers wanted unique and custom models, and the Nyack sleigh designers met that need.
An upscale four-passenger sleigh made by the Christie brothers was sold to William Hand, owner of the Hand Mansion on Franklin Street in Nyack, on January 31, 1888. The price was $85.00.
Two large Nyack sleigh factories were in operation for most of the 19th century. In both cases, they designed and manufactured a wide variety of sleighs for local use but also for national distribution to upscale carriage companies which chose not to manufacture sleighs. Other local Nyack companies painted, serviced, and repaired sleighs.
The Wright Factory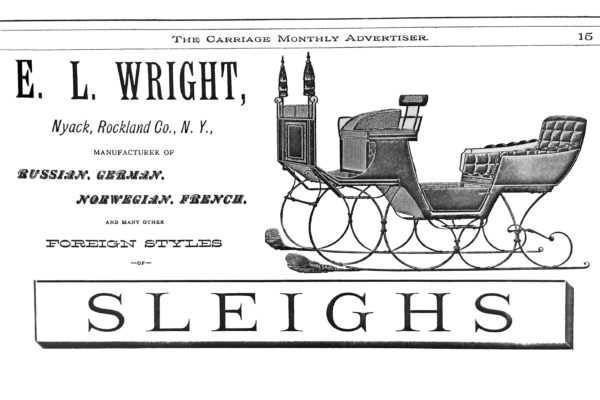 E.L.Wright began making carriages in 1843. He also made wagons, harnesses, and over 27 different kinds of sleighs. His large factory was located in a three-story wood-framed building at Hudson and Railroad Avenues (now called Depot Place).
(At the time, Railroad Avenue continued from Cedar Hill to Depew. Pavion Cosmetics bought the street in 1985 and it was absorbed into their factory. Railroad Avenue was later absorbed into the Nyack Plaza apartments.)
The Wright factory was near the Nyack Train Station, so it was a convenient location to send finished sleighs to distributors. The wood factory burned down in the 1880s and was rebuilt in 1887 as a brick factory that was run by Wright's son, Ornan P. Wright.
O.P. Wright's designs were often featured in Carriage Monthly, a national trade magazine. His Russian Six-Seat Vis-à-Vis sleigh body had panels on all sides that represented a shell with tiger heads carved at the doors. The bodies were painted in ultramarine blue striped with light blue. The sleighs were trimmed in blue cloth. The cushions had diamond-plaited tops with fancy buttons. And the rugs were blue with narrow red stripes bound with laces.
An article in the 1877 edition of the Rockland County Journal mentioned a visit to the shop where five pony sleighs had just been finished for Brewster, NY. They noted the superb design, painting, and trimming.
The Christie Factory
Aaron Christie was the first to make carriages and sleighs in the village, starting his business in 1835 on the corner of Liberty and Church Streets. Christie lived nearby on Broadway next to what was at the time the Presbyterian Church and is now the Nyack Center. In front of the house was a town water pump, popularly known as the Christie Pump.  Several shops were clustered at together at the Christie factory, including, in one corner of the building, a harness maker and carriage trimmer, and elsewhere, a blacksmith shop, wheelwright shop, and the painting room.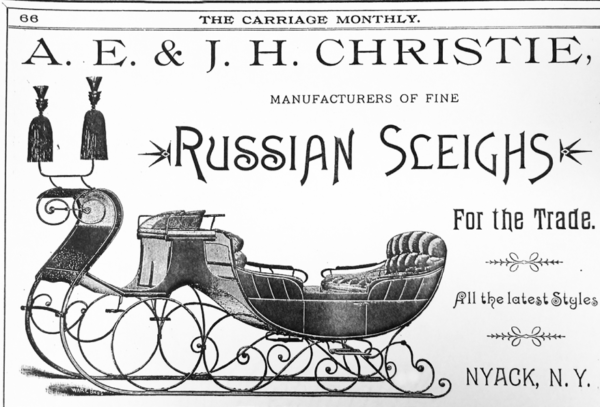 Christie's sons, Augustus E. and James H. expanded the business in 1871 and prospered as the A.E. & J.H. Christie Company, makers of fine carriages & sleighs. Like O.P. Wright, they were a national business, advertising in the Carriage Monthly. Not to be outdone by Wright, in 1888 the Christies also offered a fancy six-passenger Russian sleigh.
The lost art of Nyack's sleigh makers is now a distant memory only dimly lit in our holiday decorations and songs from the American songbook.
Photos: Courtesy of the Nyack Library
Michael Hays is a 30-year resident of the Nyacks. Hays grew up the son of a professor and nurse in Champaign, Illinois. He has recently retired from a long career in educational publishing with Prentice-Hall and McGraw-Hill. Hays is an avid cyclist, amateur historian and photographer, gardener, and dog walker. He has enjoyed more years than he cares to count with his beautiful companion, Bernie Richey. You can follow him on Instagram as UpperNyackMike.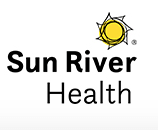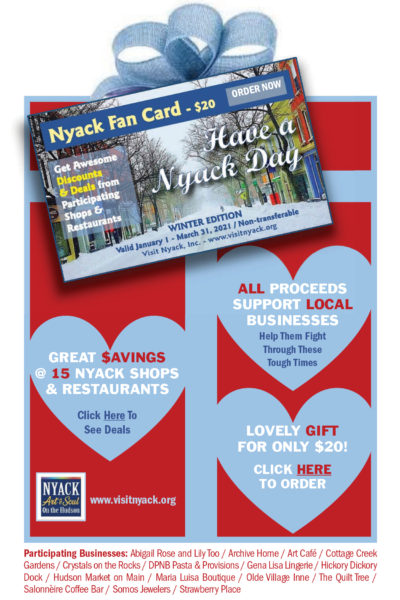 Nyack People & Places, a weekly series that features photos and profiles of citizens and scenes near Nyack, NY, is brought to you by
Sun River Health
,
Nyack Fan Card
, and
Weld Realty