Nyack, Dec 17 8a — Schools are closed and parents are working from home. Same as it ever was — but now there's snow on the ground. Up to a foot of the white stuff is predicted along with winds gusts of 40+ mph.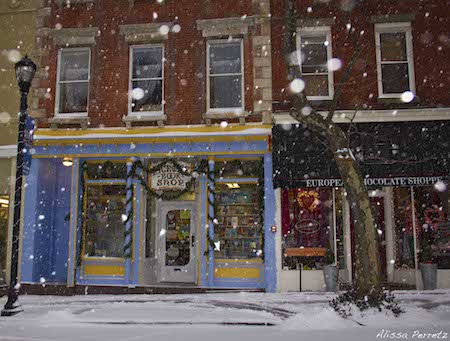 Jan 21 2014 snow in Nyack, NY. Photo Credit: Ali Perretz.
Orange & Rockland Utilities
Despite last night's strong winds, Orange & Rockland reports only nine outages as of 8a impacting just 73 customers. If you lose power, visit ORU.com to let them know.
National Weather Service
330 AM EST Thu Dec 17 2020
…WINTER STORM WARNING REMAINS IN EFFECT UNTIL 1 PM EST THIS
AFTERNOON…
WHAT…Heavy snow. Additional snow accumulations of 1 to 3
inches. Total snowfall 7 to 13 inches. Winds gusting as high as
40 mph.
WHERE…Portions of northeast New Jersey, southern Connecticut
and southeast New York.
WHEN…Until 1 PM EST this afternoon.
IMPACTS…Plan on slippery road conditions. The hazardous
conditions will impact the morning commute.
Nyack
Village of Nyack has implemented it's snow emergency plan for Thursday 12/17/20.
All cars must be removed from the snow emergency routes on Main St, Broadway, Midland Ave, High Ave and all streets east of Franklin Street from Cedar Hill Ave to Fifth Ave Alternate Side Parking Regulations remain in effect for all other streets as posted. Trash and recycling collection is suspended for today, 12/17/20. Trash will be collected on Monday, 12/21/20 and recycling will be collected on Friday, 12/18/20.
The Farmers Market is canceled today 12/17/20.
Upper Nyack
Trash will not be picked up today in the Village of Upper Nyack. The next pick up will be is Monday, December 21.
Parking on the street is suspended until ALL snow is cleared. Do not plow or deposit snow from your driveway and sidewalks onto the roadway. Remember to remove of snow from the sidewalks. Visit UpperNyack-NY.us for more info.
South Nyack
The Village of South Nyack website is mum about today's super snow event, but they do want to remind everyone about the Dissolution Referendum vote from 12n – 9p today at the Living Christ Church on 151 S. Broadway, South Nyack.