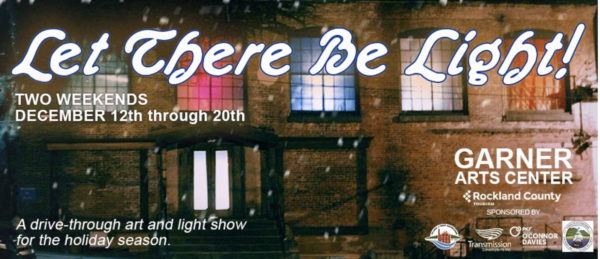 This holiday season may be unlike any other, but that doesn't mean that there won't be bright spots. Take for instance GARNER Arts Center's LET THERE BE LIGHT! It's a drive-through art and light show for the holiday season, unique among this year's socially distant holiday spectacles. Not only is it celebrating the holidays, it celebrates creativity and humanity itself.
GARNER Arts Center sees the arts and self-expression as light in the darkness of this trying and uncertain time. LET THERE BE LIGHT! brings people together safely to appreciate a large-scale art event from their personal vehicles.
This impressive line-up of local, regional, and world-class artists–brilliant painters, sculptors, eco-artists, and projection mappers–can be seen at Rockland County's Garner Historic District, a repurposed 19th century mill complex, located at 55 W Railroad Ave, Garnerville, on December 12 and 13 and December 18 through December 20 (Fri 6-9p, Sat 5-9p, Sun 5-8p).
This is not your average light show either. One of New York's rising talents in theatrical design, Kate McGee is creating a series of immersive light displays. Other featured artists are: Daniel Lanzilotta, Kris Campbell, Johanna Goodman, Polly King, Joanne Howard, and Cassie Hyde Strasser, with video projections by Shura McComb.
And as good as this event will be for kids, adults will enjoy it just as much. Creative energy is the theme. The artwork is fun, yet thought-provoking. You'll leave feeling warm and hopeful.
LET THERE BE LIGHT! will run between 10 and 15 minutes. Admission is by advance reservation only and is limited to 20 cars per 30-minute increment. Tickets are $25 per car for up to 5 visitors, or $35 per car with 6 or more visitors. There is also a limited number of VIP Tickets & Swag Bags. For $50 you'll get:
1 car or SUV entry into event
1 sweet treat from Lucas Candies
1 bag of coffee from Stack Street Coffee
1 coupon from Hudson's Mill Tavern
1 t-shirt from Industrial Arts Brewing Company
1 one-on-one virtual yoga class with Cheryl Schwartz
Tickets may be purchased at eventbrite.com. For more information, visit garnerartscenter.org or email Jesse Heffler, Director of Programs and Operations at info@garnerartscenter.org.
GARNER Arts Center is supported by the New York State Council on the Arts with the support of Governor Andrew M. Cuomo and the New York State Legislature, and by Rockland County's Office of Tourism and Economic Development.
---