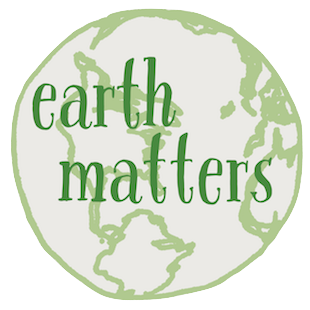 Earth Matters focuses on conservation, sustainability, recycling and healthy living. 
If Earth Matters to you, sign up for our mailing list and get the next installment delivered right to your inbox.
by Glenn Sungela
The challenges and difficulties brought on by the novel COVID-19 pandemic have been many and deep. It has strained our emotional and physical health, and our livelihoods. At the same time, individuals, organizations, and agencies pressed on and took actions to help protect and preserve our environment for us and generations to come.
As we near the end of this difficult year, I'd like to highlight some of these successes, and commend all those who continue to push sustainability forward during the pandemic crisis.
State Level Framework to Address Climate Change
Last year, New York State passed the Climate Leadership and Community Protection Act. Implementation of the Act began shortly afterward with the establishment of organizational structures. At the top is the Climate Action Council, a 22-member committee that held its first meeting in March, and resumed regular meetings in June in virtual format. Their main task is to develop the Scoping Plan which provides the roadmap for the Act's main objective: Reduce New York greenhouse gas (ghg) emissions 40% by 2030, and no less than 85% by 2050.
Supporting the Council are 3 working groups and 6 advisory panels. The working groups include Just Transition, Climate Justice, and Environmental Justice, and the advisory panels represent stakeholder sectors such as transportation, power generation, and agriculture and forestry. Their meeting materials and recordings are also available at climate.ny.gov .
To help guide where to ply efforts to achieve the Act's objectives NYSERDA created the following graphic: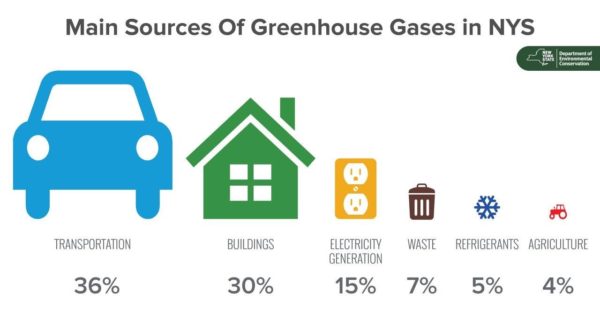 Big steps in renewable electricity generation
Rockland Community Power is here!! The Villages of Haverstraw, Nyack, South Nyack, Upper Nyack, and the Towns of Clarkstown and Orangetown provided their residents and small businesses with another way to get their electricity from renewable resources at affordable rates and with consumer protections. Program participants are no longer contributing to greenhouse gas emissions by using fossil-fuel generated electricity, and their electricity rates are comparable to what they had been paying. Participants are also protected from rate increases, and may join or leave the program anytime without any kind of penalty fees.
By implementing Rockland Community, the participating towns and villages qualify for Community Choice Aggregation, one of 1o High Impact Action (HIA) items in NYSERDA's Clean Energy Communities program. Upon completing any 4 HIAs towns and villages may be eligible for state grants.
At the same time, county agencies also switched to renewable resources for their electricity needs. The Rockland County Government, Rockland County Sewer District #1, Rockland Community College, and the Rockland County Solid Waste Management Authority collaborated to bid for 100% renewable energy and signed an agreement with Engie Power & Gas.
In a press release County Executive Ed Day said "I'm proud of each of these agencies for recognizing the importance of reducing greenhouse gas emissions."
The arrangement is structured on renewable energy certificates (RECs). RECs are accepted legal instruments by which renewable energy generation and use can be substantiated or certified. So while electric grids may be fed by both 'brown' fossil-fuel and 'green' renewable electricity, RECs ensure the electricity used by the county agencies is renewable only.
All 4 agencies will be paying less for their electricity, saving more than $600,000 over the 3-year term of the agreement. Another plus: the agreement is structured so local governments and other agencies may join in. They would not have to incur the time and expense of separate competitive bidding processes.
The county's renewable electricity agreement stemmed from discussions between county officials and the New York Power Authority. Other initiatives under consideration include energy audits for all county facilities and electric vehicles and electric vehicle charging stations.
Climate Smart Communities Continue Work on Certification
In 2010 Rockland County pledged to be a Climate Smart Community, one of the first counties in the state to do so. During late 2019 the County Executive directed the Division of Environmental Resources (DER) to assess how far along the county was to qualify as a bronze CSC, the first of 3 CSC certification levels. The others are silver and gold. The assessment involved collecting and evaluating actions county departments and the Solid Waste Management Authority have taken which correspond to points in the CSC action checklist. So far, the county has confirmed 29 action points. Another 69 points are pending documentation review, which would bring the county's total to 98.  120 points are required for bronze certification.
The Villages of Haverstraw and South Nyack are also working to become certified CSCs.  Agencies that qualify for bronze and silver certification may be eligible for state grants.  (Gold certification is currently being revised to better align with the Climate Leadership and Community Protection Act.)
Ray Mosquea, Chair of the Village of Haverstraw's Climate Smart Task Force, said, "The Task Force began research on developing a composting program (both backyard and drop off) that would help us divert some of the massive amounts of waste hauled to landfills. With the Nyack communities having similar goals, we joined under one group and created what is now Rockland Composters."
In addition to sponsoring several public meetings and forums on Rockland Community Power, the Village of Haverstraw continues to update its Comprehensive Plan. "The Comprehensive Plan is a framework that will guide the Village of Haverstraw towards a green and sustainable future for the next 15-20 years," Mosquea said. "CEC, along with the Climate Smart Community certification, will help solidify our vision of a sustainable Haverstraw and create the momentum we need to tackle even bolder green projects. "
The Town of Clarkstown is also updating its Comprehensive Plan. The town held teleconference workshops for each of its four wards during the summer months, and is currently revising the Plan to include a new chapter on sustainability and resiliency.
Actions to Reduce Transportation's Carbon Footprint
Over the summer, Rockland County collaborated with NYS Department of Transportation and the Town of Ramapo to develop a new Park & Ride Facility in the Village of Monsey. Located at the former Route 59 drive-in the facility has 300 spaces with 3 electric vehicle (EV) charging stations. The facility also has enhanced accommodations for pedestrians, bicyclists, and ride sharing. The new charging stations brings the total number of public EV charging stations in Rockland to 26. Most of these have multiple outlets so more than 80 vehicles can be charged at the same time across the County.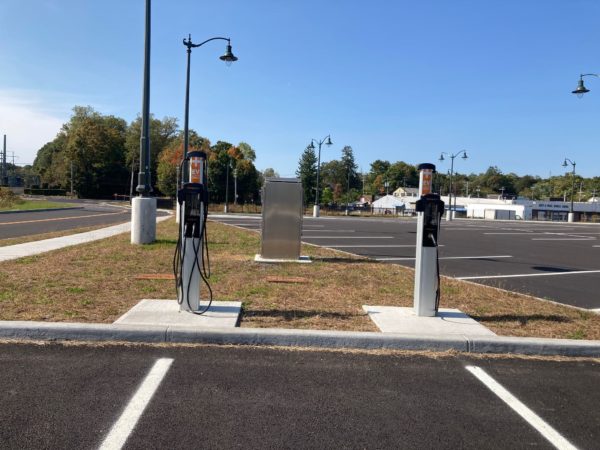 The Monsey Park & Ride facility will help ease transportation issues along a critical portion of Route 59. To help solve these issues the New York Metropolitan Transportation Council conducted the Route 59 Transportation and Land Use Study.  With support from the New York State Department of Transportation, Rockland County, the Town of Ramapo, and the Villages of Airmont and Spring Valley, the Study examined the 4.5-mile stretch of Route 59 that runs from Airmont Road (Thruway exit 14B) in Airmont east through Monsey and Ramapo to South Pascack Road / Route 35 in Spring Valley. Public outreach included 4 community planning workshops in July and "pop-ups" coordinated with local community events.
The study's scope included land use and zoning changes; physical changes to roadways; infrastructure for bicyclist and pedestrian safety; and transit improvements to reduce automotive use and congestion. The final draft report offers more than a dozen recommendations grouped by time period and cost ranges, and is available at route59study.org/.
Open Space Acquisition Relaunch Put on Hold
Also in late 2019, the county re-launched its Open Space Acquisition program and earmarked $30,000,000 for it. The first iteration of the program from 1999 to 2010 resulted in more than 1,200 acres of open space being protected and preserved in the 5 towns.
The county began accepting and reviewing nominations for properties for the relaunched program in January. The review process included confirming that property owners were willing 'sellers'. Of the 15 nominations received, 7 property owners said they are willing sellers.
The county was in the process of scheduling on-site visits when the first surge of the pandemic hit. The state-wide shutdown impacted tax revenue at all levels of government. To compensate for the county's revenue shortfall due to the pandemic, the borrowing of money to fund any open space acquisition was put on hold. "We will continue to look for funding from Land Trusts, grants, and other partnerships to facilitate possible purchases," said Rockland County Spokesperson John Lyon.
Additional resources: