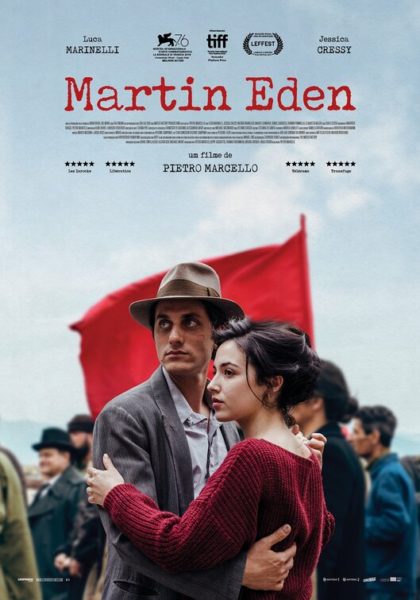 by Juliana Roth
The message of Rivertown Film Society's end of the year programming is clear: artmaking and community are inherently linked. Based on the 1909 Jack London novel and directed by Pietro Marcello, Martin Eden will be available on the film society's website on November 20th. The film sweeps through 20th Century Italy as we follow Martin, a self-taught proletarian with artistic aspirations who hopes that his dreams of becoming a writer will help him rise above his station.
As a member of the generation facing $1.6 trillion of student debt, my experience of Martin's trust in his talent and ambition as the only ingredients necessary for success makes a familiar clash with the barriers of centuries old social structures. Even in Martin's world, it's who you know, and what who you know thinks of you. And, even then…
I felt myself encounter the toxicity of the self-made man myth, who exactly that myth was made for, and the enormity of the institutions artists must face in pursuit of self-actualization. Failure, in this lens, becomes less of an indication of individual merit. The film looks at the additional losses of the working class to society's wealth machine. "You'll never make money from writing. We won't get married. We won't be a family," Elena Orsini says to Martin. Love here is also on the line. What one would hope would be dated ideas about improving social strata being as simple as self-improvement hit hard amidst today's rhetoric of "the lazy millennial." In a scene at a restaurant between Martin and Elena, who is from a wealthy family, a debate ensues between the lovers over if a waitress could find a husband simply by dressing better. Blame is returned to the worker for not having done enough to move up in the world rather than questioning why she started so low to begin with.
Martin Eden itself is a tenderly crafted artistic achievement. Time Out New York's Joshua Rothkopf describes the film as "one of the most epic-feeling Italian movies in years, a throwback to '70s-era big-canvas statements. Lead actor Luca Marinelli, rousing in every scene, comes within hailing distance of the young Robert De Niro." By dealing with themes of working-class toil, bourgeois success, and the moral growth from youth to adulthood, Martin's individual political awakening is a natural follow-up to the film society's screening of City All, Frederick Wiseman's newest film. City Hall explores the inner-workings of his native Boston's government and what it takes to provide services to residents.
"Whether you are an anti-mall activist, proponent of a leaf-blower ordinance, or find yourself deeply moved by larger national concerns, your understanding of how government works and what you can do to improve your community will be deepened by watching this film," says Board Chairperson, Vera Aronow, filmmaker of Megamall, which details the politics over the Palisades Center Mall, the expansion of which won approval on this year's ballot.
Going into its fourth week of streaming, documentary Harry Chapin: When in Doubt, Do Something brought a national audience to Rivertown Film Society's Zoom conversation about the artist-activist with Tom Chapin, Harry's brother, ArtsRocks' Elliot Forrest, and director Rick Korn, which is now available on their YouTube channel. They will close out a year of virtual programming by replaying their fall 2-part Rockland in Motion short film series on their website, which included a panel with local filmmakers hosted by local musician Travis Stever of Coheed & Cambria and local author Nana Kwame Adjei-Brenyah.
"Filmmakers have always played a crucial role in portraying complex portraits of political realities," says Executive Director Matthew Seig. "Showing these films together offers an opportunity for the community to reflect."