This week in the villages: Thanksgiving is near, and on Saturday, the Town of Clarkstown and Town of Orangetown will be distributing turkey dinners to veterans and military families. Please make a reservation if you would like to receive a turkey. Due to an increase in coronavirus cases statewide, Governor Cuomo recently announced new restrictions. If you opted out of the Rockland Community Power program, you may have received a letter in error saying you are being switched to another energy provider.
New COVID Restrictions in Effect
Due to the resurgence of COVID-19 across the country, Governor Cuomo has announced new COVID-19 related restrictions for New York State.
The following provisions took effect on Fri, Nov 13, 2020 at 10p:
Bars & restaurants and any establishments licensed by the State Liquor Authority must close from 10p to 5a daily.
Delivery and curbside pickup (food only) is permissible after 10p
Gyms must close at 10p
Residential gatherings, both indoors and out, cannot exceed 10 people
A copy of the press release may be found on governor.ny.gov. Meanwhile, please stay diligent with masking, social distancing, good hygiene, and vigorous hand washing. Protect yourself, your loved ones, and your community.
Rockland Community Power Update
A number of customers who chose to opt out of the Community Choice Aggregation program with Rockland Community Power (RCP) may have received a letter from O&R notifying them in error that they are being switched to Constellation New Energy (RCP electricity supplier). Please note that if you opted out but then received a letter from O&R, the letter is incorrect. If you opted out of the RCP program, you have NOT been switched. O&R sent some letters in error. Your next O&R electric bill will reflect that O&R is still making your month-to-month electricity supply decision.
The RCP program is launching with the next O&R billing cycle, in November and early December. Participating residents will see the RCP rate on the O&R bill they receive in December. O&R is sending letters to RCP customers letting them know that this change is happening.
Please contact Rockland Communty Power if you have any questions or need assistance. They are committed to helping you resolve any issues quickly. You can call the helpline M to F, 9a to 5p, at 845-859-9099 option 1. Or email info@rocklandcommunitypower.com.
Panel Discussion: Breaking The Bronze Ceiling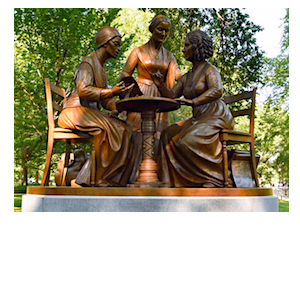 When the Women's Rights Pioneers Monument was unveiled in Central Park last August, it marked history…and it made history, too. The monument commemorated the 100th anniversary of the 19th Amendment giving women the right to vote. It made history by breaking Central Park's bronze gender barrier, being the first sculpture in New York's Central Park that depicted real women not based on fictional characters. On Thurs Nov 19 at 7p, an online panel will discuss the public sculpture which depicts Elizabeth Cady Stanton, Susan B. Anthony and Sojourner Truth. Visit SuffrageForward.org to sign up to receive a Zoom invite to this event.
Village of Nyack
The Wed 11/18 Architectural Review Board will consider requests for signage at 3 locations. Read the full agenda at Nyack-NY.gov before Zoom-ing into the meeting at 7p.
Mayor Don Hammond will hold his weekly Communication Meeting via Zoom on Thurs, Nov 19, 2020 at 9a.
Leaf Collection
The DPW will be picking up leaf piles. Do NOT put leaves in the street; they must be on your property. Please use biodegradable bags for leaves and yard waste. NO PLASTIC BAGS will be collected. Leaf Bags are available at Village Hall during the regular hours of 9a–5p.
Consider mulch-mowing leaves or collecting them for composting. For more information, please visit leleny.org/
Village of South Nyack
The Future of the Village of South Nyack
The Village Board of Trustees and Mayor Bonnie Christian have engaged the services of CGR to provide unbiased consultation services related to a Citizen Dissolution of South Nyack Petition that was filed on Aug 14, 2020.
Before votes are cast, it is critical that voters know the potential impacts that will result if this referendum passes. CGR has set up a The Future of the Village of South Nyack website for the purpose of keeping the residents informed about this process and their findings. Please keep in mind that this is an evolving process and that CGR will post information as it becomes available. Sign up for their alerts to stay informed about this important process.
CGR will present its Dissolution Impact Report at the Tue, Nov 24 Board of Trustees meeting, and CGR will answer questions from the public. The Village of South Nyack dissolution referendum will be held on Thurs, Dec 17, 2020. Voting information will be announced as soon as it is available.
Read some of the considerations that must be taken into account before a dissolution decision is made: High Stakes For South Nyack Dissolution Vote.
Leaf Collection
Curbside leaf collection will begin on Mon, Oct 19 and go through Fri, Dec 18, 2020, weather permitting. Please place loose leaves in the gutter in a wind-row for pick-up by the DPW vacuum. The leaves must be free of sticks, rocks, and trash. It is the homeowner's responsibility to inform their landscape contractor of village requirements. Grass clippings and other yard debris should be put in bio-degradable bags and placed on the grass between the sidewalk and the curb.
Bio-bags are available at Village Hall for South Nyack residents. A copy of South Nyack Department of Public Works guidelines may be found on southnyack.ny.gov.
Village of Upper Nyack
The Zoning Board of Appeals will meet on Tue, Nov 17, 2020 at 8p. More info at uppernyack-ny.us.
The Planning Board will meet on Wed, Nov 18, 2020 at 7:30p. More info at uppernyack-ny.us.
Recording of the November 12 Workshop of the Village Board of Trustees
In case you missed it, a video recording and a transcript are available for the November 12 Workshop of the Village Board of Trustees.
Update of Initial Draft of the Comprehensive Plan Available for Public Review
Over the past few months, the initial draft of the Comprehensive Plan has been revised to address the concerns of residents and the comments returned to the village from Rockland County Planning Department. The revised document is now available for public review at uppernyack-ny.us. Another public hearing will be held in the near future. Residents are encouraged to comment on the document in writing and send comments to Village Hall or comment at the time of the public hearing. Residents will be notified when the hearing date is set.
Public Hearing for Amendments to Local Laws
The Board of Trustees of the Village of Upper Nyack will hold a public hearing on Thurs, Nov 20, 2020 at 7:30p at the Upper Nyack Village Hall to amend the following local laws from the 1965 Code of General Ordinances as follows:
Chapter 2, Regulation of Vehicles, amending Ordinance 2.2 e. Parking of Vehicles, extending no parking on North Broadway, also known as local law #7 of 2020.
Chapter 3, Fires, Burning, Refuse, etc. – Permit Required, amending Ordinance 3.3 sections a. and b., to allow for fire pit or burn barrels, also known as local law #8 of 2020.
Chapter 4, Health and Sanitation, amending Ordinance 4.1 c. Receptacles for Rubbish, etc.: Collection and Charges, amending the time you may put your receptacle curb side, also known as local law #9 of 2020.
The meeting will be held via Zoom videoconferencing, and a transcript will be provided at a later date. The public will have the opportunity to see and hear the meeting live and provide comments. Comments and questions can also be provided via email before the meeting to Carol G. Brotherhood, Village Clerk at village.clerk@uppernyack-ny.us.
Election – Offices to Be Filled
The following offices are vacant at the end of the current official year and are to be filled at the village election to be held on Tue, Mar 16, 2021 for the following terms:
Mayor – 2 Years
Trustee (2) – 2 Years
Nyack Public Schools
The Board of Education will meet on Tue, Nov 17, 2020. Read the full agenda at go.boarddocs.com before Zoom-ing into the meeting at 6:30p.
Town of Orangetown
Free Thanksgiving Food Bags for Military and Veterans' Families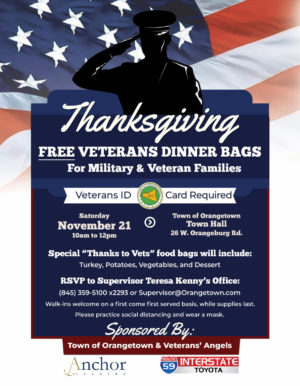 The Town of Orangetown is sponsoring Free Thanksgiving Dinners for Military and Veteran Families with Veterans Angels of Hope, a not-for-profit charity that assists both veterans and current military personnel. It will be on Sat, Nov 21, 2020 from 10a to 12p at the Town of Orangetown Town Hall, 26 W Orangeburg Rd.
If you would like to participate in this Free Thanksgiving Dinner for Military and Veteran Families, please send an email to Supervisor@Orangetown.com or call the office at 845-359-5100 x 2293 and ask for Allison.
Last year, Veterans Angels of Hope was able to provide meals to 800 military and veteran families for Thanksgiving, Christmas/Hanukah, and Easter. In addition to providing food, Veterans Angels of Hope offers Equine Therapy for veterans. Donations to Veterans Angels of Hope are tax-deductible, and payable to:
Richard Jarcho, President
Veterans Angels of Hope
13 Inwood Drive
Spring Valley, NY 10977
Orangetown Recreation Santa Claus 5k Run
The 29th annual Orangetown Santa Claus 5K Run will be held on Sun, Dec 13, 2020 at 10:30a. This will be a safe and socially distant event and will follow all NYS guidelines:
Staggered start based on registrants' times. Faster runners will go out first.
Runners will be grouped in groups of 10-12 to allow for proper spacing.
Two runners will be cross the start line every 10-15 seconds.
There will be pre-registration for this event only at communitypass.net. No race day registration will be available. The fee is $25. Unfortunately, children's races are cancelled for 2020 and there will be no division or overall prizes.
Town of Clarkstown
Free Thanksgiving Dinner Bags for Veterans and Military Families
Special "Thanks to Vets" food bags will be distributed including turkey, potatoes, vegetables, and dessert on Sat, Nov 21, 2020 from 1-3p at Street Community Center, 31 Zukor Road, New City. Please bring your Veterans ID card. RSVP to Supervisor Hoehmann's Office at 845-639-2050.
Congers Lake Playground Closed Temporarily
The playground at Congers Lake Memorial Park will be closed for a few weeks. The town will be installing new playground equipment, safety surface, and adult exercise equipment.
Rockland County
Foster Families Needed
For the ninth year in a row, staff from the Rockland County Department of Social Services' (DSS) Children's Services Unit will join with local Wendy's franchises to celebrate National Adoption Month and to increase awareness of the need for foster families.
The adoption celebration will be held on Nov 18, 2020. Due to the Covid-19 Pandemic, modifications have been made for this event. Rockland County adoptive families will pick up their food from either the Wendy's in Nanuet or West Haverstraw. On that day, the families will also participate in a virtual support group regarding self-care; the session will be facilitated by Trudy Kent, MSW. Mrs. Kent is a Rockland County adoptive parent, as well as a Family Support Worker at the Adoptive and Foster Family Coalition of New York. Informational sessions regarding how to become a foster parent in Rockland County will also be held virtually by the Rockland County DSS Home Finding Unit; the sessions will take place from 2-3p and from 5-6p.
For additional information or if interested in attending the info sessions, contact Linda Ortiz, Adoption Unit Senior Caseworker at 845-364-3521; Beatrice Prophete, Home Finding Unit Senior Caseworker at 845-364-3527; or Demetrius Travis, Home Finding Unit Senior Caseworker at 845-364-2198.