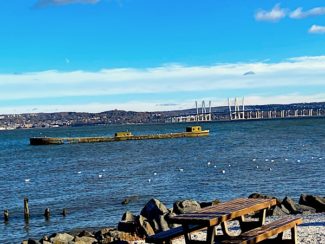 This week in the villages: South Nyack will hold a Dissolution Workshop in preparation for the Dec 17 public vote. There are currently 48 active COVID-19 cases in the Nyack river villages.  The Rockland Community Power collaborative municipal energy program hosts another informational meeting. The Nyack Homeless Project is collecting donations, clothing, and food, while the Rockland Department of Social Services is collecting toys and clothing.
Nyack Area COVID Update for Nov 30
Active cases by community

Nyack: 48
Valley Cottage: 32
West Nyack: 48
Piermont: 6

Rockland County: The seven day positivity rate for the county was 4.1% (update as of 11/29).

Active Cases: 1,478
Currently Hospitalized: 65
There have been 695 COVID-19 Related Deaths in Rockland County
Source: Rockland County Health Department / NYS Health Department, 11/30/2020
The Rockland County Department of Health has partnered with Good Samaritan Hospital to provide one-week of testing for school districts within Rockland's Yellow Zone, beginning Monday, November 30th. Schools within the Yellow Zone are required to test 20% of students, faculty, and staff over the two-week period immediately following the announcement of a Yellow Zone designation in order to stay open for in-person instruction. School districts have until December 9, 2020 to meet this initial requirement. More info at rocklandgov.com
Village of South Nyack Dissolution Vote Set for Dec 17

The Village of South Nyack dissolution referendum will be held on Thurs, Dec 17, 2020. Read the top takeaways from the outside consultant's analysis in CGR's S. Nyack Dissolution Report: 10 Important Takeaways.
The Village Board of Trustees and Mayor Bonnie Christian have engaged the services of CGR to provide consultation services related to a Citizen Dissolution of South Nyack Petition that was filed on Aug 14, 2020. CGR has created The Future of the Village of South Nyack website to inform its residents.
Absentee ballot applications for the Dec 17 dissolution referendum are available on the Village of South Nyack website or at Village Hall (845-358-0287). The original, signed application must be returned to the South Nyack Village Clerk's Office (cannot be emailed or faxed). Voters with COVID-19 concerns may vote by absentee ballot. The referendum ballot will not be available until the first week of December, however, voters can submit absentee ballot immediately. Ballots must be returned to the village clerk's office, 282 S Broadway 9p on Dec 17, 2020.
Village of Nyack
Mayor Don Hammond will hold his weekly Communication Meeting via Zoom on Thurs, Dec 3, 2020 at 9a.
Nyack's ArtWalk, An Online Retrospective
ArtWalk has been a Nyack tradition since 2006, turning local businesses into mini art galleries each Father's Day weekend. Although the 2020 event was canceled, event founder Paulette Ross will present a virtual ArtWalk Retrospective online at 7p on Thurs, Dec 3, 2020. The poster artists of previous ArtWalks will join a live panel discussion reviewing the past 14 years. They'll also share some of their new work and what inspires them during these unusual times. Visit artsrock.org to register for this free Zoom event. Read more about this retrospective in Nyack ArtWalk Retrospective, Online, on Thursday.
Holiday Parking 
There will be NO charge for parking in the village's Main St lots on Saturdays from Nov 28 to Dec 19, 2020. Please note that on-street meters will still be in effect. Parking is always free village-wide on Sundays. This is a great opportunity to support local businesses by shopping small and by enjoying the eclectic restaurant scene. Be safe!
Nyack Homeless Project
The Nyack Homeless Project is collecting donations of money, new clothes, and non-perishable food. Please help feed and clothe your Rockland neighbors in need. Visit nyackhp.org to donate or send a check to Nyack Homeless Project, PO Box 164, Nyack, NY 10960. For a list of drop off locations for non-perishable food, visit nyackhp.org.
Village of South Nyack
There will be a public meeting on Tue, Dec 1, 2020 at 6p via Zoom on recently signed Executive Order 203: New York State Police Reform and Reinvention Collaborative. This executive order directs local governments with police agencies to review and revise policies and create a plan to address race-based issues and foster trust in the community in order to receive state funding in 2021.
The Zoning Board of Appeals will meet on Tue, Dec 1 at 7:30p.
There will be a CGR follow up Village Dissolution Workshop via Zoom on Thurs, Dec 3, 2020 at 7:30p.
Landscaper Registry
Per Local Law #1 of 2020 landscapers are now required to register with the Village of South Nyack before performing work in the village. Please inform your landscaper of this update.
"Landscaper" refers to any individual, company or companies that perform any of the following services within the Village of South Nyack on behalf of a property owner or resident of the Village of South Nyack for compensation, without limitation: private landscaping, snow removal, tree removal and trimming, drainage swale installation, drywell installation, driveway paving and installation, installation of decorative walls and pillars, stone/concrete step construction, and lawn sprinkler system installation and maintenance."
Leaf Collection
Curbside leaf collection will go through Fri, Dec 18, 2020, weather permitting. Please place loose leaves in the gutter in a wind-row for pick-up by the DPW vacuum. The leaves must be free of sticks, rocks, and trash. It is the homeowner's responsibility to inform their landscape contractor of village requirements. Grass clippings and other yard debris should be put in bio-degradable bags and placed on the grass between the sidewalk and the curb.
Bio-bags are available at Village Hall for South Nyack residents. A copy of South Nyack Department of Public Works guidelines may be found on southnyack.ny.gov.
Village of Upper Nyack
Election – Offices to Be Filled
The following offices are vacant at the end of the current official year and are to be filled at the village election to be held on Tue, Mar 16, 2021 for the following terms:
Mayor – 2 Years
Trustee (2) – 2 Years
Clean Energy Program Informational Meetings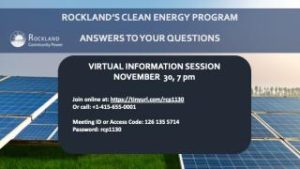 The Nyack Villages, the Town of Clarkstown, the Town of Orangetown, and the Village of Haverstraw are proud to be among the founding members of a collaborative municipal energy program called Rockland Community Power. This program will bring 100% renewable energy to the communities, while also lowering costs and strengthening consumer protection.
If you haven't already signed up and would like to learn more about the program, there will be an online information session tonight, Mon, Nov 30, 2020 at 7p.
Town of Orangetown
Orangetown Highway Department Drop-off Center
The Orangetown Highway Department Drop-off Center will be open on Saturdays (except for Dec 26) for the rest of 2020 from 7:30a to 2:30p. For additional information, please call the Orangetown Highway Department at 845- 359-6500.
Santa's Mailbox
What better way to mail your letters to Santa than in the beautiful mailboxes set up at the Orangeburg Fire House? The mailboxes will be set up on Monday nights from 6:30 – 8p and during the toy drive. If your name and address is on your letter, you will receive a response from the North Pole. Santa was sighted at the mailboxes removing the letters that were already dropped off. If you have any questions, please call the elf hotline at 845-721-4267.
Orangetown Recreation Santa Claus 5k Run
The 29th annual Orangetown Santa Claus 5K Run will be held on Sun, Dec 13, 2020 at 10:30a. This will be a safe and socially distant event and will follow all NYS guidelines:
Staggered start based on registrants' times. Faster runners will go out first.
Runners will be placed in groups of 10-12 to allow for proper spacing.
2 runners will cross the start line every 10-15 seconds.
There will be pre-registration for this event only at communitypass.net. No race day registration will be available. The fee is $25. Unfortunately, children's races are cancelled for 2020 and there will be no division or overall prizes.
Town of Clarkstown
Rockland County
HEAP (Home Energy Assistance Programs) Applications Available to Rockland Residents
Rockland County families with low incomes can apply for grants to help pay for their heating bills under New York State's Home Energy Assistance Program (HEAP). The amount of the benefit depends on income and family size and payments are made directly to the utility company. To be eligible, single persons living alone must have a monthly gross income no higher than $2,610. Monthly income limits for larger households may be found at rocklandgov.com. Anyone who is living in federally subsidized housing or who is enrolled in the Section 8 Voucher/Certificate Program where heat is included in the rent may be eligible for a $21 benefit if they have an electric bill in their name.
New and returning HEAP applicants can apply online at www.mybenefits.ny.gov or by mail. New HEAP applicants will be called for a phone interview. In person interviews are not required; there are no in person appointments at this time. Please call the HEAP Department at 364-3480 or 364-3212, Mon through Fri between 8a and 5p if you want a paper application or if you have any questions.
4th Annual Department of Social Services (DSS) Toy and Clothing Drive
The DSS announced that the county will be accepting new, unwrapped toys, gifts, and clothing during its 4th Annual Toy and Clothing Drive. The drive takes place each year to ensure that every child in Rockland County has a gift to open for the holidays. Toys and gifts are requested for children 18 or younger. The drive will run through Fri, Dec 18.
This year for the first time you can drop off toys, gift cards, or clothing on Sat, Dec 12, 2020 from 10a to 2p at the DSS Office, 50 Sanatorium Rd, Bldg C, Pomona. You don't even have to get out of your car. Someone will come to your car and take the items for your convenience. A list of drop off locations may be found at www.rocklandgov.com.
Rockland County Online Holiday Shopping Expo
The Rockland Business Women's Network will host the first ever Rockland County Online Holiday Shopping Expo from Dec 5 until Dec 9, 2020. This virtual event on rocklandshopping.com will offer every business in Rockland County the opportunity to showcase their products and services online in time for holiday shopping.