This week in the villages: If you haven't taken advantage of early voting, Tuesday is your last chance to cast your vote in the 2020 general election. The Rockland County Warming Center is now open through April. November is National Adoption Month and foster families are needed in Rockland County.
Tuesday is election day: You will vote at your regular poling place. The polls will be open from 6a to 9p. To find your poling place, visit Rockland County Board of Elections.
Need to know more about the candidates? Here are closing arguments from Elijah Reichlin-Melnick for NY State Senate, Mike Lawler for NY State Assembly, and Mondaire Jones for Congress in NY-17.
Rockland Community Power Update

Clarkstown, Orangetown, and the Nyack river villages are proud to be participating communities in this innovative program, which lowers energy costs for residents and small businesses and provides stronger consumer protection. If you are not subscribed to an alternative provider and did not opt out, you will be switched over to the collaborative municipal program in November. You will also receive a letter from Orange & Rockland confirming the switch.  The 'switch letter' notifies you that Rockland Community Power will become your energy provider for clean electric power in November. Anyone can leave the program at any time with no exit fee, but it will now take one billing cycle to move back to Orange & Rockland.
If you have questions and concerns, you may "drop by" online or call.  Rockland Community Power will help you understand your electric bill and your new options through your village program on Monday mornings from 11a to 12p and on Wednesday evenings from 7 to 8p. Join online at jouleassetsinc.my.webex.com or join by phone at 415-655-0001 with access code 126 801 1932.
The Rockland Community Power program helpline is also available to answer your questions and to help you better understand your options. You can reach helpline staff at 845-859-9099, M-F 9a to 5p, or at  info@RocklandCommunityPower.com. The helpline will remain active for the life of the program. We hope that you will take advantage of this program.  To learn more, please visit RocklandCommunityPower.com or call 845- 859-9099.
Village of Nyack
Today (Nov 2), the Planning Board will consider applications for a circular driveway, a site plan application for alterations to the interior onsite traffic flow, an application for the construction of a mausoleum at Oak Hill Cemetery, and a continuation of the site plan application for the construction of a parking garage at Nyack Hospital. Read the full agenda at Nyack-NY.gov before Zoom-ing into the meeting at 7p.
And Mayor Don Hammond will hold his weekly Communication Meeting via Zoom on Thurs, Nov 5, 2020 at 9a.
Leaf Collection
The DPW will be picking up leaf piles. Do NOT put leaves in the street; they must be on your property. Please use biodegradable bags for leaves and yard waste. NO PLASTIC BAGS will be collected. Leaf Bags are available at Village Hall during the regular hours of 9a–5p.
Consider mulch-mowing leaves or collecting them for composting. For more information, please visit leleny.org/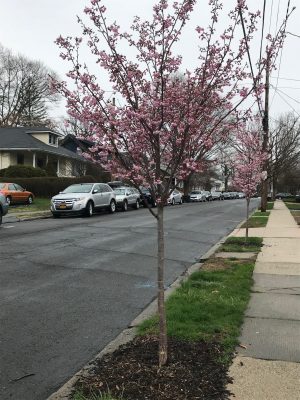 The Nyack Tree Project Needs You
Volunteers with the Nyack Tree Project will be planting 30 trees along Nyack streets on Sat, Nov 7 from 8:30-11:30a (rain date: Nov 8). You dig? If so, please join the effort! Email NyackTreeProject@gmail.com for more info.
Village of South Nyack
The Future of the Village of South Nyack
The Village Board of Trustees and Mayor Bonnie Christian have engaged the services of CGR to provide unbiased consultation services related to a Citizen Dissolution of South Nyack Petition that was filed on Aug 14, 2020.
Before votes are cast, it is critical that voters know the potential impacts that will result if this referendum passes. CGR has set up a The Future of the Village of South Nyack website for the purpose of keeping the residents informed about this process and their findings. Please keep in mind that this is an evolving process and that CGR will post information as it becomes available. You are encouraged to sign up for their alerts so that you stay informed about this important process.
CGR will present their Dissolution Impact Report at a Board of Trustees meeting that will be held on Tue, Nov 24, 2020, and CGR will answer questions from the public. The Village of South Nyack dissolution referendum will be held on Thurs, Dec 17, 2020. Voting information will be announced as soon as it is available.
Leaf Collection
Curbside leaf collection will begin on Mon, Oct 19 and go through Fri, Dec 18, 2020, weather permitting. Please place loose leaves in the gutter in a wind-row for pick-up by the DPW vacuum. The leaves must be free of sticks, rocks, and trash. It is the homeowner's responsibility to inform their landscape contractor of village requirements. Grass clippings and other yard debris should be put in bio-degradable bags and placed on the grass between the sidewalk and the curb.
Bio-bags are available at Village Hall for South Nyack residents. A copy of South Nyack Department of Public Works guidelines may be found on southnyack.ny.gov.
Village of Upper Nyack
Public Hearing for Amendments to Local Laws
The Board of Trustees of the Village of Upper Nyack will hold a public hearing on Thurs, Nov 20, 2020 at 7:30p at the Upper Nyack Village Hall to amend the following local laws from the 1965 Code of General Ordinances as follows:
Chapter 2, Regulation of Vehicles, amending Ordinance 2.2 e. Parking of Vehicles, extending no parking on North Broadway, also known as local law #7 of 2020.
Chapter 3, Fires, Burning, Refuse, etc. – Permit Required, amending Ordinance 3.3 sections a. and b., to allow for fire pit or burn barrels, also known as local law #8 of 2020.
Chapter 4, Health and Sanitation, amending Ordinance 4.1 c. Receptacles for Rubbish, etc.: Collection and Charges, amending the time you may put your receptacle curb side, also known as local law #9 of 2020.
The meeting will be held via Zoom videoconferencing, and a transcript will be provided at a later date. The public will have the opportunity to see and hear the meeting live and provide comments. Comments and questions can also be provided via email before the meeting to Carol G. Brotherhood, Village Clerk at village.clerk@uppernyack-ny.us.
Election – Offices to Be Filled
The following offices are vacant at the end of the current official year and are to be filled at the village election to be held on Tue, Mar 16, 2021 for the following terms:
Mayor – 2 Years
Trustee (2) – 2 Years
Job Opening – Clerk/Typist Part-time
The Village of Upper Nyack is seeking a part-time clerk/typist. Details of the position and an application may be found on uppernyack-ny.us.
Town of Clarkstown
Palisades Mall Referendum
On Tuesday, Clarkstown voters will decide whether or not to allow the Palisades Center Mall to use and develop additional gross leasable area. To learn more, visit town.clarkstown.ny.us. And remember to VOTE and turn over your ballots on Nov 3, 2020.
Rockland County
The Rockland County Warming Center is Now Open
The Rockland County Warming Center will operate from Nov 1, 2020 through April 30, 2021. The center will open each night regardless of the temperature and remain open during the day when the temperature, including wind chill, is 32 degrees or below.
"The opening and operation of the Warming Center is particularly challenging this year. We have modified the facility and established practices and protocols to ensure adherence to NYSDOH COVID-19 safety guidelines. All staff and guests will be appropriately screened (including temperature checks), wear masks, and practice social distancing. Appropriate PPE has been secured and will be made available to staff and guests." — Commissioner Silvestri
The center offers showers and laundry facilities. Dinner and breakfast are provided for overnight guests and lunch is served during the day when the center is open. There is security on-site when the warming center is operational. In Nyack, there will be pickups at 4:25p and 8p in front of the First Reformed Church of Nyack at S Broadway and Burd St.
Foster Families Needed
For the ninth year in a row, staff from the Rockland County Department of Social Services' (DSS) Children's Services Unit will join with local Wendy's franchisees to celebrate National Adoption Month and to increase awareness of the need for foster families.
The adoption celebration will be held on Nov 18, 2020. Due to the Covid-19 Pandemic, modifications have been made for this event. Rockland County Adoptive families will pick up their food from either the Wendy's in Nanuet or West Haverstraw. On that day, the families will also participate in a virtual support group regarding self-care; the session will be facilitated by Trudy Kent, MSW. Mrs. Kent is a Rockland County adoptive parent, as well as a Family Support Worker at the Adoptive and Foster Family Coalition of New York. Informational sessions regarding how to become a foster parent in Rockland County will also be held virtually by the Rockland County DSS Home Finding Unit; the sessions will take place from 2 to 3p and from 5 to 6p.
Individuals interested in additional information or in attending the info sessions should contact Linda Ortiz, Adoption Unit Senior Caseworker at 845-364-3521; Beatrice Prophete, Home Finding Unit Senior Caseworker at 845-364-3527; or Demetrius Travis, Home Finding Unit Senior Caseworker at 845-364-2198.