by Amy Alinkofsky
November is a busy month at Rockland Center for the Arts (RoCA) with exhibits by 2 artists who are influenced by their African-American and Afroboricua Latin backgrounds, workshops in jewelry making, family mural making, and glass bead making. There are also special events including RoCA's version of Antiques Roadshow.
Fire and Indigo by Gerardo Castro tells stories through burnings on paper. Castro's art is infused with powerful narratives–supernatural forces influenced by Afro-Cuban religions and spirituality with work that enables a connection to history and a courageous confrontation of meaning and myth, ethnicity and gender. His series connects the spiritual practices of using fire as the element that initiates the mark on paper with the social, political, and cultural implications; and indigo harvesting, which manifested during the slave trade, American Revolution, and colonization.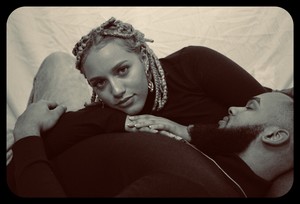 Love and Intimacy by Jimmy Marseille shines the light on the love and intimacy Black people have for each other. The artist feels that socially Black people are often not seen as beautiful and are portrayed as being angry or violent, especially Black men. Much like artists/activists Gordon Parks or Charles White, Marseille focuses his work on the beauty in the soul of a race, Black as beautiful. By showcasing the beauty and tenderness of Black love, he hopes to open new perceptions that move past the grotesque stereotypes that persist in books, movies, newspapers, and on social media.
Both exhibits are on view through Nov 21, 2020. Visitors will need to schedule an appointment to view the exhibits as there will be a limit on visitors in the space at all times in order to follow social distancing protocols. Visitors are also required to wear masks upon entering RoCA and while in the gallery.
Weekend Workshops
Join Rachel Bertoni for this exciting 2-day workshop on Sat, Nov 14 and Sun, Nov 15, 2020. It will introduce you to the basic tools and techniques to create your own professional jewelry. Students will learn to use wire, chain, beads, and sheet metal to create a jewelry collection that will include earrings, bracelets, and necklaces. Several jewelry making techniques including tempering, bending, cutting, piercing, filing, finishing, drilling, polishing, and forging will be covered during this workshop. Anyone can do it. No experience is necessary. The workshop will take place from 10a-4p.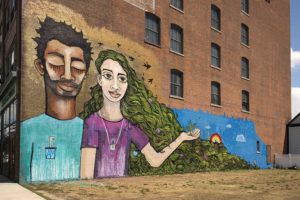 This 2-day weekend workshop on Sat, Nov 14 and Sun, Nov 15, 2020 taught by muralist Alice Mizrachi will take place on ROCA's outdoor grounds to create your own family canvas mural. Bring your kids, friends, or parents to this family friendly event! The workshop will take place from 1-3p both days.
Join Stephanie Maddalena and learn the Venetian art of glass bead making on Sun, Nov 22, 2020 from 10a-5p. Make unique beads by melting glass rods with an oxygen/propane torch. Learn to shape the glass and decorate it to customize your beads. Warning: It's highly addictive.
Special Events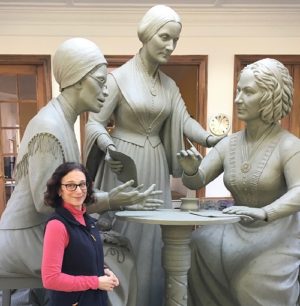 When Meredith Bergmann's Women's Rights Pioneers Monument was unveiled on August 26, 2020, it essentially broke Central Park's bronze gender barrier. This panel discussion on Thurs, Nov 19, 2020 at 7p, via ZOOM Webinar, will explore the process of conceiving, advocating, and fundraising for the creation of this groundbreaking public sculpture. The panel will feature artist Meredith Bergmann, Pam Elam, and Coline Jenkins, along with moderator Clare Bowes Sheridan.  A live ZOOM chat will follow the webinar with invited guests. A link will be provided with a confirmed registration.
Rockland Center for the Arts is excited to announce a Virtual Appraisal Day on Sun, Nov 22, 2020 from 12-4p. Present your fine and decorative arts, books, and collectibles. Register and get a 15-minute meeting with an expert appraiser. You don't have to go to the city or wait for a road show to come to town. Appraisals will be done by Kenneth Jay Linsner, ASA, President of Art Services Int'l Group (ASG) and past President of the American Society of Appraisers, New York, and a team of experts.
Winter Classes
Registration for winter classes begins Thurs, Nov 19, 2020. Virtual classes begin Mon, Jan 4, 2021 and in-person classes begin Tue, Jan 19, 2021. Visit rocklandartcenter.org to register. New classes are being added weekly.
Rockland Center for the Arts is the oldest arts organization in Rockland County, presenting outstanding programming in the arts for over 70 years. RoCA is located at 27 South Greenbush Rd, West Nyack, NY 10994. RoCA's programs are made possible, in part, with funds from the New York State Council on the Arts, with the support of Governor Andrew Cuomo and the New York State Legislature. Funding is also made possible by the County of Rockland.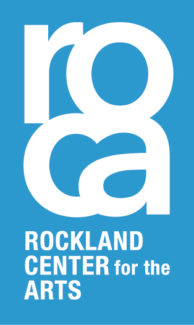 The weekly Weekender Recommendations is brought to you by Rockland Center for the Arts.
To get the Weekender Recommendations delivered to your mailbox auto-magically every Friday morning, add your name to our mail list. Visit our online sign-up sheet to subscribe.