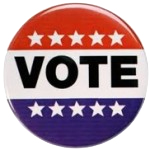 This week in the villages: Early voting in New York has begun. You may vote through Sun, Nov 1, 2020 at one of 4 early voting centers no matter where you live. The Town of Orangetown has a busy week hosting a blood drive, a drive-by trick or treating event, and their annual highway department open house (although this year it is a drive thru). There is a South Nyack Village Board of Trustees meeting. And the Town of Clarkstown is sponsoring a virtual Halloween costume contest and pet photo contest.
Village of Nyack
The Mon 10/26 Zoning Board Meeting will consider an area variance required to re-establish non-conforming use as a single family residence in the CC Zoning District. Read the full agenda at Nyack-NY.gov before Zoom-ing into the meeting at 7p.
Mayor Don Hammond will hold his weekly Communication Meeting via Zoom on Thurs, Oct 29, 2020 at 9a.
Water Main Flushing
The Village of Nyack Water Department will continue to flush water mains in Nyack and the remainder of South Nyack from Mon, Oct 26 through Thurs, Oct 29, 2020. As a result of the flushing, your water may be temporarily discolored and you might experience a temporary reduction in water pressure. If you have any questions, email nyackwater@nyack-ny.gov.
Leaf Collection
The DPW will be picking up leaf piles. Do NOT put leaves in the street; they must be on your property. Please use biodegradable bags for leaves and yard waste. NO PLASTIC BAGS will be collected. Leaf Bags are available at the Village Hall during the regular hours of 9a–5p.
Consider mulch-mowing leaves or collecting them for composting. For more information, please visit leleny.org/
Village of South Nyack
The Police Board will meet on Tue, Oct 27 at 6:30p.
The Board of Trustees will meet on Tue, Oct 27, 2020. Read the full agenda at Southnyack.ny.gov before Zoom-ing into the meeting at 7:30p.
The Future of the Village of South Nyack
The Village Board of Trustees and Mayor Bonnie Christian have engaged the services of CGR to provide unbiased consultation services related to a Citizen Dissolution of South Nyack Petition that was filed on Aug 14, 2020.
Before votes are cast, it is critical that voters know the potential impacts that will result if this referendum passes. CGR has set up a The Future of the Village of South Nyack website for the purpose of keeping the residents informed about this process and their findings. Please keep in mind that this is an evolving process and that CGR will post information as it becomes available. You are encouraged to sign up for their alerts so that you stay informed about this important process.
CGR will present their Dissolution Impact Report at a Board of Trustees meeting that will be held on Tue, Nov 24, 2020, and CGR will answer questions from the public. The Village of South Nyack dissolution referendum will be held on Thurs, Dec 17, 2020. Voting information will be announced as soon as it is available.
Leaf Collection
Curbside leaf collection will begin on Mon, Oct 19 and go through Fri, Dec 18, 2020, weather permitting. Please place loose leaves in the gutter in a wind-row for pick-up by the DPW vacuum. The leaves must be free of sticks, rocks, and trash. It is the homeowner's responsibility to inform their landscape contractor of village requirements. Grass clippings and other yard debris should be put in bio-degradable bags and placed on the grass between the sidewalk and the curb.
Bio-bags are available at Village Hall for South Nyack residents. A copy of South Nyack Department of Public Works guidelines may be found on southnyack.ny.gov.
Village of Upper Nyack
Village of Upper Nyack Halloween Guidance
The Village of Upper Nyack will NOT be closing any streets near Village Hall or Empire Hook & Ladder Co #1 on Halloween, Sat Oct 31, 2020. And Empire Hook & Ladder Co. #1 will NOT be holding their annual Halloween event this year due to Covid-19. The Village of Upper Nyack does NOT host any event for Halloween. Trick or Treating is not encouraged this year, and any trick or treating that takes place is up to individual families.
Recording of October 22 Meeting of the Village Board of Trustees
In case you missed it, a video recording and a transcript are available for the October 22 Meeting of the Village Board of Trustees.
Town of Orangetown
Blood Drive
The Town of Orangetown is holding a Blood Drive on Thurs, Oct 29, 2020 from 9a-8p at the Orangetown Town Hall, Court Room, 26 W Orangeburg Rd, Orangeburg. Appointments are strongly recommended. Walk-ins welcome as capacity permits. Please remember to eat, drink, and bring your donor ID or other ID with a name and photo.
Halloween Drive-By Trick or Treating
On Fri, Oct 30, 2020 from 3-5p, drive by Veteran's Memorial Park, 81 Hunt Rd, Orangeburg in costume to receive a spooky bag of candy donated by Orangetown businesses. It is open to all Orangetown residents age 12 and younger who come in costume.
Town of Orangetown Highway Department Drive-Thru Open House
On Sat, Oct 31, 2020 from 10a-12p, residents and their families are invited to drive-thru the Orangetown Highway Department's 24th Annual Open House. There will be equipment demonstrations and more. Free "Highway Helper" t-shirts will be given to the first 50 children in attendance.
Town of Clarkstown
Virtual Halloween Costume Contest and Halloween Pet Photo Contest
The Town of Clarkstown Parks and Recreation is holding a Virtual Halloween Costume Contest and a Halloween Pet Photo Contest. Submit pictures of your child or family dressed up for Halloween or of your pet dressed up for Halloween to c.tosto@clarkstown.org between Mon, Oct 26 and Sun, Nov 1, 2020. Winners will be notified on Mon, Nov 2, 2020. For categories and more information, visit town.clarkstown.ny.us.
Palisades Mall Referendum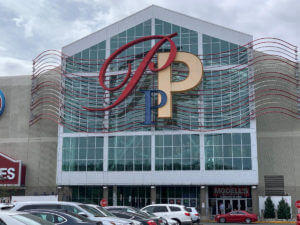 This November, Clarkstown voters will decide whether or not to allow the Palisades Center Mall to use and develop additional gross leasable area. To learn more, visit town.clarkstown.ny.us. And remember to VOTE and turn over your ballots on Nov 3, 2020.
Clarkstown's Storywalk
Enjoy picture books to be displayed by local libraries in Town of Clarkstown parks. A great opportunity to bring the little ones outdoors and have fun reading large book displays through Oct 28, 2020.
Rockland County
Children and Youth with Special Healthcare Needs Program
The Children and Youth with Special Healthcare Needs Program (CYSHCN), now available to eligible Rockland County residents, aims to connect families to support networks that understand the challenges of caring for children and youth with special healthcare needs.
CYSHCN assists families with children from birth to 21 years of age that have a chronic physical, developmental, behavioral, or emotional condition and require health and related services beyond that generally required by children.
A few examples of conditions include intellectual disability, substance abuse disorder, autism, or ASD, cerebral palsy or muscular dystrophy, arthritis, allergies, asthma, sickle cell anemia, diabetes, heart conditions, diabetes, depression, conduct disorder, and attention deficit hyperactivity disorder, anxiety, cystic fibrosis, head injury, Tourette syndrome, blood disorders, epilepsy, and vision or hearing problems. For more information about qualifying conditions, contact a CYSHCN specialist to complete an assessment.
The program provides information, timely and appropriate referrals, and community resources that are child and family-specific to enhance a child's quality of life. To speak to a CYSHCN Specialist, contact Nancy Haggerty at (845) 364-3394 or haggerN@corockland.ny.us. More information may be found on rocklandgov.com.
2020 General Election
The 2020 General Election is Tue, Nov 3. This year, you may vote 3 ways: (1) vote early now through Sun, Nov 1 at any of the 4 early voting centers in Rockland; (2) vote by mail (apply by mail by Oct 27, vote by Nov 3); or, (3) vote on election day. You may request an absentee ballot in person until Nov 2.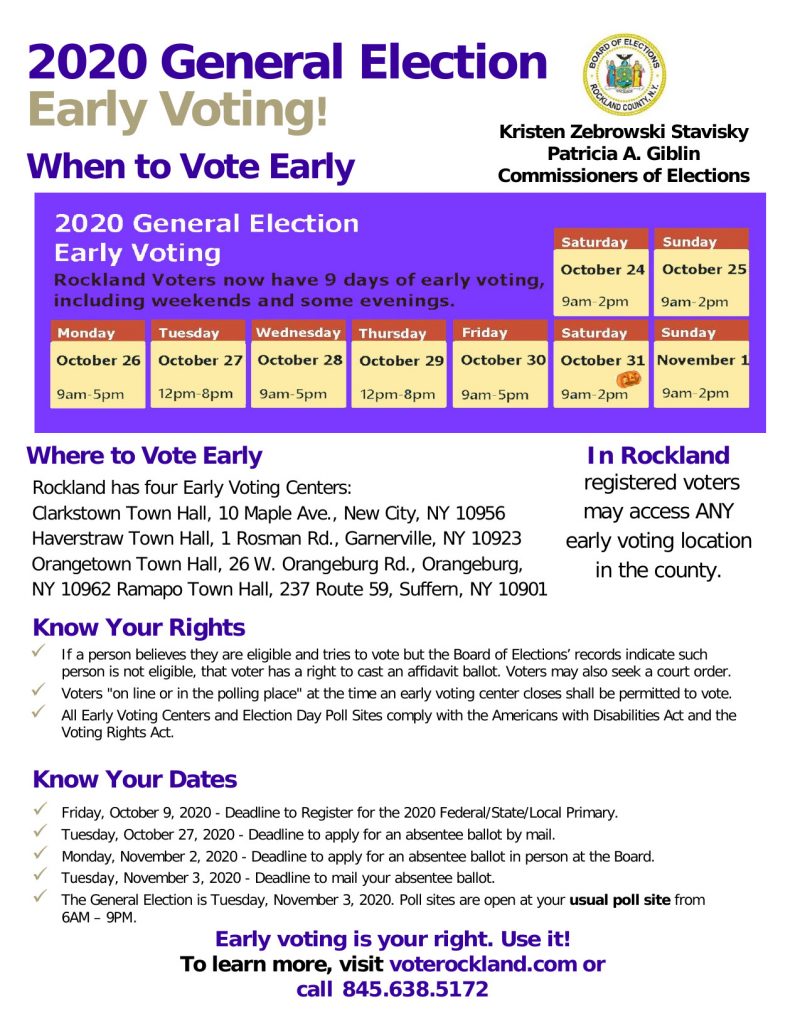 Need to know more about the candidates? Here are closing arguments from Elijah Reichlin-Melnick for NY State Senate and Mike Lawler for NY State Assembly.