This week in the villages: On Sunday, the Town of Orangetown will host its second Bike Road Family Day to encourage families to get outside and ride bikes together and enjoy the crisp fall air. It is also holding a paper shredding and food collection event. Nyack has begun a Water Infrastructure Project.  Upper Nyack is holding a public hearing to change the name of its Architectural Review Board. The Town of Clarkstown is holding virtual and in-person meetings to inform voters about a referendum to allow the Palisades Mall to develop additional leasable area. And Rockland County is offering a free flu vaccination clinic on Friday.
Columbus Day Transit Schedules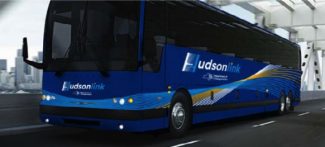 On Mon, Oct 12, 2020, there will be no Clarkstown Mini Trans service, and TRIPS paratransit buses will operate ADA-service only. All other public transit providers will run regular weekday schedules with the exception of Coach USA Rockland Coaches and Coach USA Shortline which will offer limited service. Further information for Oct 12 transportation schedules may be found on rocklandgov.com.
Village of Nyack
Mayor Don Hammond will hold his weekly Communication Meeting via Zoom on Thurs, Oct 15, 2020 at 9a.
Water Infrastructure Project
Last week, Ground Control Excavating in conjunction with the Village of Nyack Water Department began Phase A of the Water Distribution System Improvements. As work progresses throughout the system, customers in the construction zones will be notified prior to commencement of work in their area. Although this project may cause some inconveniences, minimal to no interruption of service is anticipated. If you have questions, email Nyackwater@nyack-ny.gov or call Superintendent Kelvin Smith at (845) 358-3734.
Leaf Season
The DPW will be picking up leaf piles. Do NOT put leaves in the street; they must be on your property. Please use biodegradable bags for leaves and yard waste. NO PLASTIC BAGS will be collected. Leaf Bags are available at the Village Hall during the regular hours of 9a – 5p.
Village of South Nyack
The Board of Trustees will meet on Tue, Oct 13, 2020. Read the full agenda at Southnyack.ny.gov before Zoom-ing into the meeting at 7:30p.
The Planning Board will meet on Thurs, Oct 15, 2020. Read the full agenda at Southnyack.ny.gov before Zoom-ing into the meeting at 7:30p.
Village of Upper Nyack
The Architectural Review Board will meet on Mon, Oct 12, 2020 at 6p. More info at uppernyack-ny.us.
Public Hearing to Rename the Board of Architectural Review 
The Board of Trustees of the Village of Upper Nyack will hold a public hearing on Thurs, Oct 15, 2020 at 7:30p at the Upper Nyack Village Hall to consider the adoption of a proposed local law repealing Local Law # 2 of 2005, continuing the Board of Architectural Review and renaming the board as the Architectural Review Board of the Village of Upper Nyack. It would also empower the board to take certain actions. This law will also be known as Local Law # 6 of 2020.
The meeting will be held via Zoom videoconferencing, and a transcript will be provided at a later date. The public will have the opportunity to see and hear the meeting live and provide comments. Comments and questions can also be provided via email before the meeting to Carol G. Brotherhood, Village Clerk at village.clerk@uppernyack-ny.us. The full text of the proposed Local Law is available on uppernyack-ny.us.
Recording of September 24 Annual Organizational Meeting
In case you missed it, a video recording and a transcript are available for the September 24, 2020 Annual Organizational Meeting.
October 2020 Green Committee Newsletter
The October 2020 Upper Nyack Green Committee Newsletter shares some tips for starting your composting journey. To get more earth friendly news, sign up to receive Nyack News and Views' Earth Matters newsletter delivered to your mailbox every Thursday.
Nyack Public Schools
Nyack Young Writers Scholarship
The Nyack Young Writers Scholarship recognizes 2 Nyack High School seniors, judged to have written and submitted the most outstanding prose or poetry. The scholarship awards $3,500 to the first-place recipient, and $2,000 to the second-place recipient, to assist in offsetting costs in pursuing a college degree at the school of his or her choice.
To be considered for the scholarship, applicants must be students entering their senior year at Nyack High School. The Nyack Young Writers Scholarship award is an outright grant, to be used in offsetting expenses, including tuition, room and board, or books/other materials. The application deadline is Oct 20, 2020. Incomplete or late applications will not be considered. Visit rocklandgives.org for the application and application requirements.
Town of Orangetown
Paper Shredding and Non-Perishable Food Collection Event
Orangetown Town Clerk, Rosanna Sfraga along with Rockland County Solid Waste Authority and People to People will host a Paper Shredding and Non-Perishable Food Collection Event on Sat, Oct 17, 2020 from 8a to 12p in the Orangetown Town Hall Parking Lot, 26 Orangeburg Rd, Orangeburg.
The shredding service is free and secure:
Drive up to the shredding truck and someone will unload your documents from your vehicle. Maximum 3 boxes.
Paper clips and staples are acceptable.
No plastic bags, binders or large binder clips.
Please bring non-perishable food items for donation to People to People, a local food pantry.
Second Orangetown "Bike" Road Family Day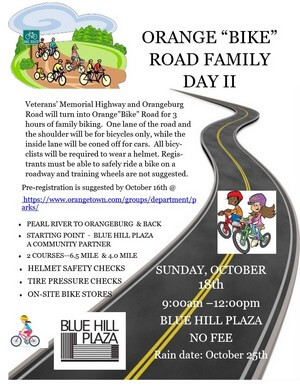 On Sun, Oct 18, 2020, Veterans' Memorial Hwy and Orangeburg Rd will turn into Orange "Bike" Road for 3 hours of family biking from 9a to 12p. The start and finish point will be Blue Hill Plaza and there will be two courses. One course is 6.5 miles long and will take you from the Blue Hill Plaza to Lester Drive in Orangeburg, through the Betsy Ross area of Orangeburg and Pearl River while the second course will take you down to Blaisdell Road around Veteran's Memorial Park and back.
A single lane of the road will be for bicycles only along with the shoulder, while the inside lane will be coned off for cars.  Pre-registration by October 16, 2020 at orangetown.com is suggested. On-site registration will only occur if space allows. All bicyclists will be required to wear a helmet. Registrants must be able to safely ride a bike on a roadway and training wheels are not suggested. A route map and more information may be found on orangetown.com.
Town of Clarkstown
Palisades Mall Referendum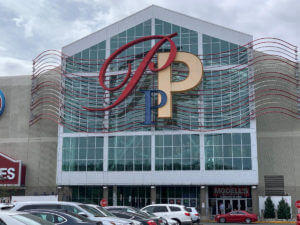 This November, Clarkstown voters will decide whether or not to allow the Palisades Center Mall to use and develop additional gross leasable area.
To Learn More:
Visit town.clarkstown.ny.us
Join Supervisor George Hoehmann for a tele town hall on the mall referendum on Wed, Oct 14, 2020 at 6p. Residents can call 845-203-6304 to join or watch online at webinar.clarkstown.org.
In person Q&A with Town Officials on Thurs, Oct 15, 2020 at 7p at Clarkstown Town Hall, 10 Maple Ave, New City. Attendees are asked to practice social distancing and wear a mask.
Remember to VOTE and turn over your ballots on Nov 3, 2020.
Clarkstown's Storywalk
Enjoy picture books to be displayed by local libraries in Town of Clarkstown parks. A great opportunity to bring the little ones outdoors and have fun reading large book displays, now through Oct 28, 2020.
Rockland County
Flu Vaccine Clinic
The Rockland County Health Department has scheduled a second flu vaccine clinic for the 2020-2021 flu season. This clinic is for everyone 6 months and older, and will be held on Fri, Oct 16, from 10a – 2p at the Robert Yeager Health Center, in the parking lot in front of Building F, 50 Sanatorium Road, Pomona. The clinic is a drive-up for those arriving in vehicles or a walk-up for those arriving by public bus. In order to receive a flu vaccine, everyone must wear a mask.
No appointments are needed. There is a $20 fee for those 6 months through 64 years old: cash or check accepted. For those with private health insurance, we will provide you with a receipt to submit to your health insurance for possible reimbursement. To make the process quicker, please fill out the top 2 fillable portions of the 2020-2021 FLU VACCINE FORM and print and bring the completed form with you.
The vaccine is free of charge if you:
are 65 years and older (please bring identification with proof of age)
have Medicare or Medicaid (please bring your card)
are uninsured or underinsured
The Health Department is giving the quadrivalent flu vaccine, which does not contain preservatives, including thimerosal. For more information about the flu and the flu vaccine clinics visit rocklandgov.com or call 845-364-2534.
2020 General Election
The 2020 General Election is Tue, Nov 3. This year, you may vote 3 ways: (1) vote early from Sat, Oct 24 through Sun, Nov 1 at any of the 4 early voting centers in Rockland; (2) vote by mail (apply by mail by Oct 27, vote by Nov 3); or, (3) vote on election day. You may request an absentee ballot in person until Nov 2.