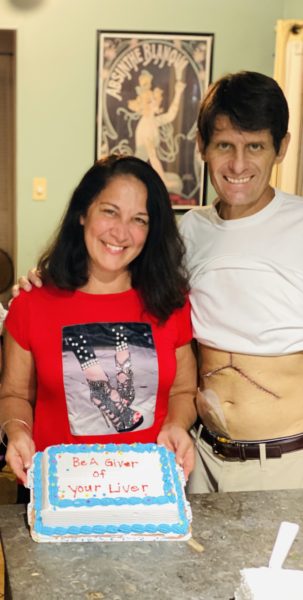 by Lezlee Peterzell-Bella
If you knew that your chance of receiving a liver transplant before reaching near death was greater in Florida than New York, would you figure out a way to temporarily relocate and leave your home, family, friends, and business to save your life? Well, after much research, that is what my husband, Capt Rob Bellanich, did.  
Last October, 2019, Rob left his family in Nyack with a friend and rented a condo in St. Augustine, FL near the renowned Mayo Clinic in Jacksonville, FL. After coming down on school holidays with our 2 children, we remained together as a family since March when COVID closed schools. On September 10th, 2020, Rob finally received his gift of life and 1 year later, we are returning home!
Organ Transplantation has saved more than 700,000 people in the United States since the first kidney transplant in 1954. Today there are 115,000 people waiting for a transplant and about 20 patients die everyday waiting for an organ. There is simply more demand than supply, and New York especially has a shortage. 
Since our country has an "opt-in" system, people have to be aware and make the decision that if for some reason, by signing up on their driver's license or national registry, IF they become legally brain dead in a hospital setting with no chance of recovery, they would donate their organs which could potentially save 8 lives, restore sight to 2 people and enhance the lives of more than 50 others.

After living 18 years with an incurable progressive autoimmune disorder called Primary Sclerosing Cholangitis (PSC) leading to cirrhosis of the liver, 2 years on the liver transplant list in New York, and 11 months in Florida, we finally got the call we had been waiting for. 
"We have a good liver for you," said Inga, the Mayo Clinic Procurement Transplant Coordinator. "There is a short turnaround time. How quickly can you be at the hospital?"
"In 45 minutes," said my husband.
"Great. Go directly to the ER and they will direct you to the transplant floor. Good luck!"
Could this be it? We had already experienced 2 "dry runs" after Rob had been fully prepped for surgery but then suddenly called off after the deceased donor liver did not meet the surgeon's qualifications.

We quickly stuffed clothes in a bag, kissed our pre-teen daughter goodbye, and carefully drove 45 minutes in the pouring rain to the hospital.
As we were driving, all I could think of was the donor. Who was this person? What happened? We are not allowed to know details about the donor, but we do know that something unexpected must have happened causing brain death. The donor was sent to a hospital, declared legally brain dead by two independent doctors while machines were pumping blood and oxygen throughout his or her body. A coordinator from the local organ procurement organization uploaded medical information into the computer system regulated by the United Network of Organ Sharing (UNOS) and the donor's blood type and body mass miraculously matched with Rob, whose score was finally high enough to get the offer, and then he was chosen by the on call transplant surgeon. 
My god. What a gift and opportunity to turn a tragedy into a blessing. This has been an incredible life-changing journey, turning us into grateful advocates of organ donation and transplantation.

To Sign up to be an Organ Donor, go to www.donatelife.net. Lezlee is writing a book entitled Second Chance Stories.