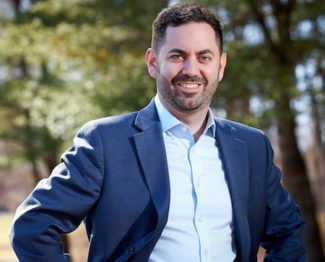 by Mike Lawler
As a lifelong resident of Rockland County and the current Deputy Town Supervisor of Orangetown, I decided to run for State Assembly this year because we need a new voice for Rockland County and someone who will fight for change in Albany.
Unfortunately, Rockland County and New York State have become unaffordable for working families, seniors, and young people just starting out. It's why 1.1 million New Yorkers have left our state over the last decade.
As Rockland County residents, we pay the second highest property taxes in America. It's unacceptable.
We need to make Rockland more affordable by cutting taxes and business regulations, which will help our state become economically competitive, grow our economy, and create good paying jobs.
We need to reduce our property tax burden by making the state fully fund and run our broken Medicaid system. New York is the only state left that forces the counties to pick up 25% of the costs. It's outrageous and needs to change.
We must fix the broken state school aid formula, which shortchanges our children and increases our property taxes. Our labor costs are treated like Poughkeepsie and upstate NY, as opposed to Long Island and New York City–costing us millions in state aid. It needs to stop.
In addition, I will oppose any cuts in state school aid to Rockland County schools. Sadly, in this year's budget, my opponent voted to cut school aid to the Suffern, Pearl River, and South Orangetown school districts.
As a graduate of Suffern High School and the Valedictorian of my graduating class at Manhattan College, I understand first-hand the importance of a quality, affordable education, and I will fight to ensure that all of our children have access to a fully funded public education–especially in the East Ramapo and Nyack school districts.
We deserve our fair share of state aid for infrastructure, energy, and transportation projects. Sadly, we've seen reductions in rail service and the passage of congestion pricing, hurting Rockland County commuters. We should not be paying $40 million more in taxes to the MTA than the value of the services we receive.
Finally, with respect to public safety, it is the number 1 role and responsibility of government. We need to repeal the disastrous cashless bail law, that my opponent co-sponsored, to restore public safety in communities all across NY.
We need to work with law enforcement to keep our communities safe and make sure they have the resources they need to ensure equality and justice for all New Yorkers.
As our Assemblyman, I will work with elected officials from both parties, community leaders, and our residents to ensure that Rockland County has the representation we deserve in Albany, and to make sure that our community's needs and interests are put first. In addition, I will attend at least one board meeting a year, provide updates on what is going on in Albany and engage in a constructive dialogue on important issues and how we can work together to address them.
I'm honored to be endorsed by the Laborer's Local 754, IBEW Local 363, the Rockland County Building and Construction Trades, Operating Engineers Local 825, Rockland County PBA, NYC PBA, NYC SBA, NYS FOP, MTA PBA, State Association of PBAs, Hudson Valley 10-13 Association and a host of other unions that represent local members here in Rockland County.
I will always stand up for the hard-working men and women of our community who deserve a voice in the State Assembly that will work for them, not the radical voices in New York City.
If you're interested in learning more about my campaign, please head over to lawler4ny.com and join us. On November 3rd, I hope to earn your vote.
Together, we will restore balance and common sense to state government.
Mike Lawler is a candidate for New York's 97th Assembly District which includes Orangetown and parts of the Town of Ramapo.