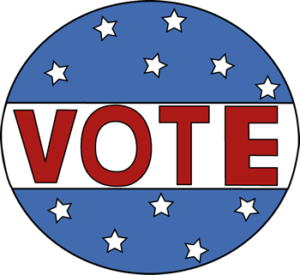 by Jocelyn Jane Cox
I've been getting out the vote and doing so with a great deal of what you might call… enthusiasm.
It could also be called "obsession." Or even, "extreme civic engagement fueled by higher than average concern for our country."
You may have heard that reaching out to people about the election requires very thick skin. Nope, that's just not enough: for this volunteer job, I suggest a suit of armor made of diamonds, ideally paired with an iron-clad sense of humor.
To that latter end, I just wanted to clear a few things up, for anyone who may have been contacted by me recently. So:
Yes, that was me who:
Called you.
Texted you.
Then texted you again.
Or mailed you that postcard decorated with 4 different colors of ink and a selection of motivational stickers.
I'm sorry I bothered you while you were:
Eating dinner.
At work.
Gazing at your calendar and willing the year to magically change over to 2021.
Snacking on popcorn while watching Netflix and pretending that our democracy is juuuust fine, totally stable.
I wanted to reach out about this candidate I'm supporting and:
Encourage you to vote on November 3rd, or ideally earlier.
See if you'd be up for "tripling" your vote by talking about voting plans with 3 friends.
Ask what issues are keeping you awake at night in a feverish state of dread-scrolling.
See what kind of creative epithets you might hurl my way.
What you were saying:
Inspired me.
Confused me.
Made me question my intelligence, my handle on reality, and the reason I was even born.
Convinced me that I need to reach out to even more people tomorrow night, then donate what's left of my salary to the candidate and encourage all my billionaire friends to do the same.    
I assure you that this kind of reach-out is well outside my comfort zone and I'd much rather be:
Running the last 2 miles of a marathon in flip-flops made of sandpaper.
Eating radishes.
Trying to get a splinter out of my writhing child's finger.
Juggling porcupines.
But I am:
Pretty much willing to do whatever it takes to get people out to the polls at this point.
Motivated by my friends who are also getting out the vote these days (and who you might also hear from before this election is over!)
Interested in staying in this country where I expected to be able to live with just a modicum of safety for my whole life.
Terrified.
I appreciate your time and hope:
You have a great night.
All our shared dreams and visions for this country come true.
All the ballots get counted in a fair and efficient fashion.
Your family does not die in a fiery crash, but I can definitely definitely understand why you wished that on mine, makes total sense. 
Finally, I promise to:
Take you off the list since we had such a productive, civil, educational, and even enjoyable discussion.
Take you off the list because you asked so nicely despite our differing views.
Take you off this list because I respond well to direct threats.
Keep getting out the vote until the polls close, no matter what you have wished upon me.
****
Oh and, seriously, don't forget that:
Early Voting in Rockland County will be happening at these 4 locations:
– Clarkstown Town Hall, 10 Maple Avenue, New City, New York 10956
– Haverstraw Town Hall, 1 Rosman Road, Garnerville, New York 10923
– Orangetown Town Hall, 26 West Orangeburg Road, Orangeburg, New York 10962
– Ramapo Town Hall, 237 Route 59, Suffern, New York 10901
And at these times:
-Saturday, October 24, 2020 from 9a until 2p
-Sunday, October 25, 2020 from 9a until 2p
-Monday, October 26, 2020 from 9a until 5p
-Tuesday, October 27, 2020 from 12n until 8p
-Wednesday, October 28, 2020 from 9a until 5p
-Thursday, October 29, 2020 from 12n until 8p
-Friday, October 30, 2020 from 9a until 5p
-Saturday, October 31, 2020 from 9a until 2p
-Sunday, November 1, 2020 from 9a until 2p