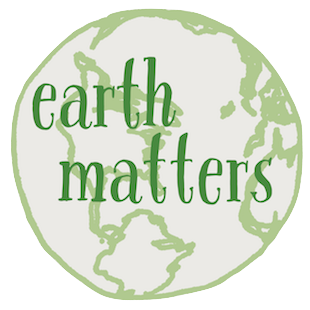 Earth Matters focuses on conservation, sustainability, recycling and healthy living.
If Earth Matters to you, sign up for our mailing list and get the next installment delivered bright to your inbox.
The Latest on Leaf Blowers in the Village
by Glenn Sungela
As leaves make their autumnal fall, you are likely hearing them more and more. And I'm not talking about the crunching sound they make under feet. I'm talking about the loud whirring of leaf blowers. As we stay home for school and work because of the COVID-19 pandemic, we are collectively more aware of how noisy and irritating leaf blowers are.
And these machines aren't just inconvenient, they're unhealthy. Continuous and repeated exposure to loud noise can cause permanent hearing damage, as the National Institutes of Health and many other organizations have measured.
But it does not have to be this way.
Local Response
In 2018, before the pandemic made the situation more acute, the Village of Upper Nyack Green Committee began researching and discussing how communities have dealt with leaf blowers to preserve quality of life and to protect health in pragmatic ways. The Committee's extensive findings are on its website. They include how gas-powered leaf blowers are harmful to human health and our environment, alternative products, and actions taken by other communities in our region to mitigate leaf blowers' negative impacts.
Earlier this year, Upper Nyack held a panel discussion on leaf blower restrictions.  Panel members include elected officials from Westchester County communities who have enacted leaf blower laws and local landscaping companies. No 2 laws are exactly the same, as their structures are tailored to the unique needs of each community. Variations include maximum permitted noise levels, seasonal bans, day of week and time of day restrictions, and exemptions.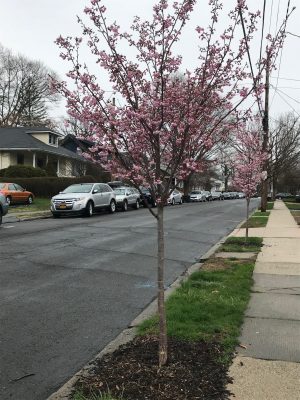 The Nyack Tree Project Needs You
Volunteers with the Nyack Tree Project will be planting 30 trees along Nyack streets on Sat, Nov 7 from 8:30-11:30a (raindate: Nov 8). You dig? If so, please join the effort! Email NyackTreeProject@gmail.com for more info.
In May, the Village of Nyack enacted a moratorium on gas-powered leaf blowers through June 30, 2020.  One of main drivers was to provide school children with less disruption to complete their school year.  The moratorium included a letter to local landscapers informing them of the situation and stressing that it is not a seasonal ban. (As part of its commitment to sustainability, Nyack's Public Works Department switched from gas- to battery-powered leaf blowers several years ago.)
In August, the Village of South Nyack Board of Trustees held an (online) public workshop on leaf blowers. About 18 participants including elected and appointed village officials shared their views on how leaf blowers impact quality of life. They discussed actions the village could take to prohibit or limit how leaf blowers are used.
There was near universal recognition that because of stay at home practices the noise from gas leaf blowers is more bothersome in residents' daily lives. 2 participants expressed concerns about regulations on leaf blowers becoming a "slippery slope." And yet, to date, none of the leaf blower ordinances passed by more than 15 towns and villages in Westchester County since 2008 have expanded to include other tools. Likewise, leaf blower control laws passed in Washington D.C. (population 705,000+) and Ann Arbor, Michigan (population) 121,000+ have not changed.
Environmental Impact & Alternatives
Composting and mulching are still 2 of the best ways to manage fallen leaves. Most lawnmowers can mulch leaves where they lay into small pieces which provide healthy ground cover during the winter, and nutrients to underlying grasses.
If composting and mulching are not practical then switch to an electric leaf blower. The noise level of electric leaf blowers from companies such as Oregon, Ryobi, Greenworks, Toro, and DeWalt is in the 63-68 dB range, far lower than 100+ dB gas blowers. Electric leaf blowers also have no carbon emissions.  And as residents and small businesses switch to renewable energy with programs such as Rockland Community Power, using electric leaf blowers doesn't come with carbon emissions.  Switching from gas to electric leaf blowers could be a triple win: no loud noise, less pollution, and no carbon emissions.
Alternatives' Effectiveness
We have seen battery life continue to improve in other electronic devices, from smart phones to automobiles. The same is true for landscaping tools. While operational run-times vary and depend on the intensity of use (e.g. low to high air flow) most can accommodate residential needs. And most landscaping tool suppliers offer a 2 year battery warranty.
Most suppliers' batteries are interchangeable with their other landscaping tools such as hedge trimmers, pole saws, chainsaws, and even lawnmowers. Some public agencies have started to acquire green landscaping kits comprised entirely of battery-powered tools.
And speaking of air flow, hand-held battery powered leaf blowers have maximum air flows of 500-605 cubic feet per minute (cfm), approaching commercial grade performance.
What You Can Do
To further reduce your carbon footprint,  cut down noise and air pollution, and help preserve the health and quality of life of you and your neighbors, do the following:
Take a fresh look at composting and/or mulching fallen leaves. Depending on the number of leaves, just a couple passes of your lawnmower during late fall and early spring is sufficient for mulching.
If a leaf blower is absolutely needed, switch to electric. Selling your existing gas-powered leaf blower will offset the cost of a quieter and cleaner replacement.
Start requiring your landscapers to use electric instead of gas tools and equipment to care for your property. As more property owners adopt this practice, there will be greater economies of scale and incentives for landscaping companies to make the switch.
Read More:
Earth Matters is a weekly feature that focuses on conservation, sustainability, recycling and healthy living. Read Earth Matters every Wednesday on Nyack News And Views, or sign up for the Earth Matters mailing list.