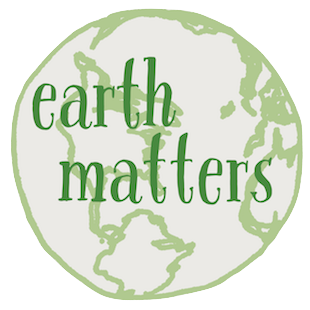 Earth Matters focuses on conservation, sustainability, recycling and healthy living.
If Earth Matters to you, sign up for our mailing list and get the next installment delivered bright to your inbox.
by Judy Ryan
This fall, due to the coronavirus pandemic, some schools, including in New York City, have been moving classes outdoors. There's a precedent for this: the first outdoor classrooms in New York were set up on rooftops and ferry barges in the early 20th century, back when TB was ravaging poor neighborhoods. Children kept warm in hats, gloves, and heavy coats, sitting at desks outdoors even in snowy weather. The first "forest school[s] for sickly students" had been established in Germany in 1904. Children lived and were taught in simple wooden structures built in the forest. And most of them not only remained free from TB, but their overall health and vigor showed improvement.
The outdoor classroom movement in the United States began in 1908, thanks to 2 doctors in Providence: Mary Packard and Ellen Stone. They were among the first female graduates of Johns Hopkins School of Medicine. In Providence, children studied in a classroom remodeled with floor-to-ceiling hinged windows that opened wide so air could flow in freely. Children climbed into "Eskimo sitting bags" (akin to sleeping bags), warming their feet with heated soapstone to combat the chill. Their doctors too found that by the end of the first year, no student had become ill, and all were in better health than when the school year began.  Unfortunately, as the epidemic waned, the outdoor education movement dwindled.
The founders of outdoor schools and classrooms in the early 20th century were pioneers. Now we know a great deal more about what learning outdoors can offer. There has been an evolution in understanding both the concept and the benefits of learning outdoors. As school administrators in 2020 have scrambled to reconfigure teaching and learning, they have found resources like The National COVID-19 Outdoor Learning Initiative to help them. The Initiative's website provides free downloadable resources, including strategies and plans for setting up outdoor classrooms, play areas, and meals.
David Sobel, an American educator and academic states, "You can't bounce off the walls if there are no walls: outdoor schools make kids happier and smarter." A man who is passionate about environmental learning, Sobel has also said, "If we want children to flourish… let us allow them to love the earth before we ask them to save it." Videos and television presentations of the natural world cannot match the experience of finding small critters in the woods, planting and harvesting vegetables or flowers, digging in mud, or splashing in puddles.
The limits of setting up classrooms outdoors are well understood by Laurie Seeman, founding Director of Strawtown Studio in Nyack. "Just moving school outdoors doesn't bring [children] an authentic experience of nature," she told me. Laurie's passion is bringing together art and the natural world. She and her staff do just that at their day camp on the grounds of Marydell, in Nyack. This past summer, during the pandemic, Strawtown offered a unique summer program for families. Laurie and her Program Director, Joanna Dickey, have re-configured it for the fall. In addition, they are currently offering an online Facilitator Training Program for teachers, parents, and others, beginning this month.  
At one Rockland County School, emphasis on outdoor learning is familiar to teachers, students, and their families. The Green Meadow Waldorf School in Chestnut Ridge has integrated classes with experience in the natural world for 70 years, expressing a core value of Waldorf Education. According to Vicki Larson, Director of Communications at the school, students spend some part of every day outdoors in normal times. To accommodate COVID-19 precautions, this fall every student will be learning outside in all but the most inclement weather. Vicki says that Green Meadow's experience is that students learning outdoors achieve improved behavior, healthier immune systems, and increased physical skills. She also notes that kids achieve improved depth perception, particularly important in a world of screen time.
Blue Rock School in West Nyack was founded in 1982 in the Blue Ridge Mountains of North Carolina, where it faced Blue Rock Mountain. It re-located to Rockland County in 1987. Its teachers have always understood that learning outdoors can offer children unique experiences. Their curriculum includes a gardening program, which began with flowers, but now includes vegetables, berries, and herbs. On Blue Rock's website, one teacher is quoted as follows: "Having the freedom to teach outdoors in all seasons, and use … our woods and gardens for instruction, provides a vibrancy to the lessons."
Suzanne Buchauer, a Nyack resident who teaches children and adults with dyslexia in her home, says she moved her summer program outside this past summer to accommodate state requirements. She had worried that those working on attention mastery would be distracted outdoors. But to the contrary, being in her tree-filled yard calmed them and helped them to focus. The natural balance beam of a fallen tree offered a more engaging challenge than her indoor balance beam. She notes that the outdoors "activates all senses," one of her goals for all her students (ranging in age this summer from 5 to 53). One hot humid day, she and a 9-year-old boy played in the sprinkler. He had fun, cooled down, and was better able to concentrate on his next task. Suzanne added that parents and children alike love her outdoor program, as they can feel safe from COVID risk.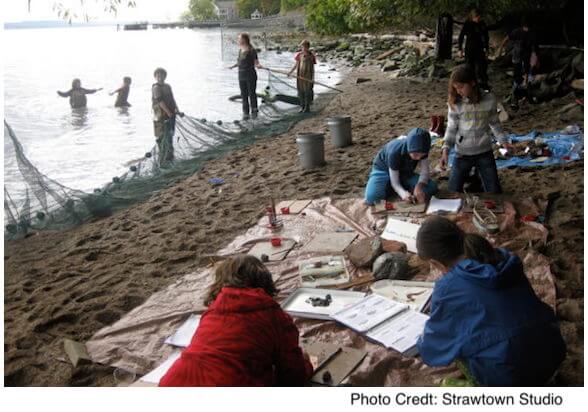 I find myself thinking of my early years as the mother of three young children. I always felt better if I could take them outside. I remember that they were inevitably calmer, fought less, and found new ways to use their imaginations. I carried my baby grandchildren outdoors when they were fussy, and was relieved when they quieted down, looking at leaves, feeling a breeze on their skin, watching squirrels. One family of grandchildren lived in New Zealand, where we picked them up from school when we visited; they would tumble out of classrooms where doors and windows were flung open to a wide schoolyard. Their feet were always bare and their clothes dirty. They loved that school. And I remember reprimanding their mother for running indoors when she was a toddler. "But my feet want to run!" she exclaimed.
At a time when teachers are asked to focus on tests and parents worry about a kindergartner's chances for college, children are asked to be quiet, to listen to teachers, to write or do computations in workbooks for so much of their day. Their bodies need to run; their hands need to dig, search, and discover. And their imaginations need to stretch beyond the traditional classroom walls. Today's children, sheltering at home when not in school, need more than ever the rich learning opportunities outside the walls of classrooms.
Earth Matters is a weekly feature that focuses on conservation, sustainability, recycling and healthy living. Read Earth Matters every Wednesday on Nyack News And Views, or sign up for the Earth Matters mailing list.