by Melanie Rock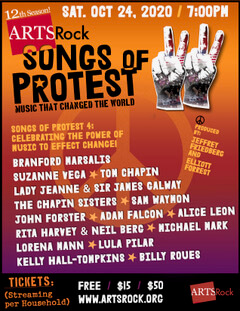 On Sat, Oct 24, 2020, ArtsRock invites the local–and global–community to join a virtual production of their annual celebration, Songs Of Protest. Originally scheduled for April, this COVID-era production is a testament to the tenacity of the event's producers as well as the local community's commitment to support and sustain live music in Rockland County. As arts organizations everywhere face radical recalibration, producers Jeffrey Friedberg and Elliott Forrest explain the evolution of this very timely show.
Where and when did you 2 meet?
Elliott Forrest: We met on stage at RCC, at a Tom Chapin concert, performing for a Hudson Valley Children's Museum benefit. It must have been 20 years ago.
Fast-forward 20 years and you've created this benefit concert series.
Jeffrey Friedberg: I never imagined that Songs Of Protest would continue year after year. After the 2016 election, we were a house divided. There was a lot of pain in the community, and also, I imagine, some celebration. It was the most contentious election that I've experienced, and there was a lot of fear and uncertainty about the next 4 years.
This was February, right after the inauguration. For my birthday I wanted to invite a bunch of musician friends to come together–as a music therapist, my go-to is music, and I thought experiencing these songs, being with them, performing them, might help us connect with some of our feelings around the division in the country. The goal wasn't to push a political agenda; it was a way to manage the feelings. I shared the idea with Elliott, and in his role as Artistic Director he brought it to ArtsRock. Then we teamed up with Janey Tannenbaum, who was then Executive Director of the Arts Council of Rockland, and the 3 of us put this show together in 5 or 6 weeks. Interest grew so fast we had to change venue twice to accommodate ticket demand.
This year, we had planned to do it in April again. It would have been on the anniversary of MLK's assassination. We had the songs and performers picked out, and then in March everything shut down. Elliott was able to revive the ArtsRock season, and he said, "Let's do Songs of Protest!" I thought 20 songs for 2020.
EF: People automatically look to the '60s for material, and we'd scratched that itch in the first 3 years. This time, we agreed it made sense to try to do all original material. Suzanne Vega is doing "Luca," which she wrote in the '80s. Branford Marsalis's piece was written after the Rodney King incident.
A handful of brief interview clips give context to the songs. In the case of Rodney King, that was really the first viral video. It's hard to believe that was 27 years ago.
The artist roster is an exciting mix of local acts plus special guests like Branford Marsalis and Suzanne Vega. Can you talk about what Kelly Hall-Tompkins brings?
EF: Kelly Hall-Tompkins is a world-class violinist. She's played all over the country as a soloist, in trios, and she was the fiddler in the recent Broadway production of Fiddler on the Roof. She was recently asked to perform a world premier of a new piece by Ellen Taaffe Zwilich, inspired by the death of Elijah McClain, a young African American musician who was killed by police last year. Kelly plays that piece, accompanying a clip of his videotaped arrest. It's quite evocative.
I hear you have a Nyack High School Senior on the bill too. (Full disclosure: she's my daughter.)
JF: When Elliott shared Lula Pilar's video with me, I thought, what a powerful young voice. It's important to hear young people speaking up, and she artfully expresses herself. It's very moving.
EF: I was blown away by the voice and the writing. Her song "Skin" sticks in my head long after I hear it. Some of us will look back and say, "Yeah, we had her on the show when she was 17!"
Another story is Neil Berg and Rita Harvey, who are very popular locals. They're doing an original song Neil wrote for us called "I Choose the Light," amid all this darkness. The video was shot with a group of young musical theater students singing backup. I suspect it will be part of their repertoire for a long time.
We had 5 filmmakers who stepped up to capture these artists in performance. I've been shooting and editing as well. Really, we're in the TV business now. I didn't want to have everyone shoot on cell phones.
And you've figured out a way to create a virtual collaboration. I understand the Chapin Sisters lead a group sing-along that includes all of the vocalists on the bill.
JF: I always look at how music is functioning. There's a reason every culture has music. This is such an emotionally intense time. Players have expressed how they'll miss connecting with each other backstage this year. The sing-along represents that togetherness.
The show is a benefit for ArtsRock, to cushion future operating costs.
EF: I like to make not just concerts, but events. The ArtsRock board approved 4 shows as a bit of an experiment into virtual programming during the pandemic. The alternative was to do nothing, for perhaps a year. No live performances. The board felt that the programming I put together was worth the effort and the chance. It was a guess on my part, to charge for some events and have others be free. Songs of Protest has a free ticket option this year. But it is a fundraiser. We'll be paying our artists, like always. We think we should, and we do. We'll be asking for donations during the show.
JF: To folks who've recently moved to Rockland County: This is a great chance to get involved. Check out what your new community has to offer. See what your neighbors can do. Even this year, when we can't all gather, we hope this will provide some sense of community through the arts. We all need as much community as we can get right now.
EF: It's extraordinary that we've been around for 12 seasons, supported by our own community, supporting the arts.
And without a home-base venue, would you say that ArtsRock has been a successful experiment?
EF: The fact that we don't have a building is both a blessing and a curse. We don't have rent or a mortgage. If we had a venue right now, we'd be out of business.
SONGS OF PROTEST #4 streams live on Oct 24, 2020 at 7p, accessible at ArtsRock.org, and will be available on-demand thereafter.
Visit ArtsRock.org for tickets and further information on this and upcoming events: a film screening of "Harry Chapin/ When in Doubt, Do Something" co-presented with Rivertown Films (10/27); Shirley Crabbe's "Ella's Basket," a jazz concert for kids (Sat. 11/07); and classical pianist Simone Dinnerstein (Sun. 11/15).
Melanie Rock is a Nyack-based freelance writer and musician, and a board member of ArtsRock.