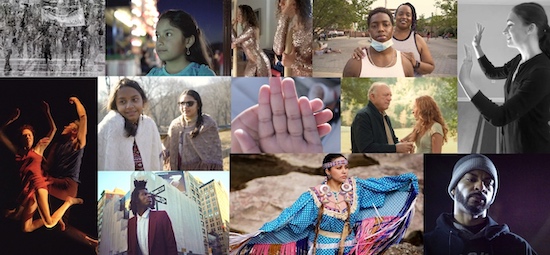 by Juliana Roth
In February, weeks before New York State shut down, Rivertown Film Society hosted their annual Inspired! fundraiser. That night, 16 artists ranging from dancers to painters to animators gathered, sharing what inspired them as artists with neighbors. The event spoke not just to the rich community of artists in Rockland County, but also the power of gathering as a form of exchange and collaboration. This is something filmmaking as a medium has unique power to do.
When the film society moved online in March, it wasn't clear for many local filmmakers how–if at all–they might continue their work safely. Being able to come together as an audience to watch and discuss films, which is at the core of what Rivertown Film Society offers, felt impossible. They had been scheduled to screen Sundance 2019 Grand Prize winner Clemency and iconic documentary Agnes by Varda. Gathering around art and filmmaking seemed fraught.
But Rivertown Film screened 12 films online, including filmmaker talkbacks. It has also co-hosted the Wild & Scenic Film Festival over the past several months. The new virtual format has led to new viewers from across the country joining Rivertown's conversations–and it's enabled a surprise visit from Heather Lenz, the director of Kusama – Infinity, who heard about their virtual showing of her film.
During this time, Rivertown also dug into decades of archives, re-sharing videos of filmmaking conversations hosted by the film group at the Nyack Center, conversations that are now available on Rivertown's YouTube Channel as "Artists From the Archive" (it features talks with Jennifer Lee, Nancy Savoca, Kristi Zea, Jonathan Demme, John Sayles, Sam Waymon, among many others). This reflection on Rivertown's past made Executive Director Matthew Seig and Board Chairperson Vera Aronow curious: How could they amplify local filmmakers at this moment?
ROCKLAND IN MOTION is their answer. 20+ short films made by film artists with roots in Rockland will gather from September 16th to October 7th. The film program is divided into 2 1-hour-long parts, the first of which goes live on September 16th with a public Zoom Q&A on September 23rd at 7:30p. Part 2 of the program follows on September 30th with a public Zoom Q&A on October 7th at 7:30p. All tickets are free, but donations are encouraged.
Travis Stever, who is best known for playing guitar and singing background vocals for the rock group Coheed and Cambria, will host the September 23rd Zoom session. Throughout the years, Stever has also been a part of numerous other music projects. He grew up locally and is raising his family in Rockland County. Nana Kwame Adjei-Brenyah, who is the New York Times-bestselling author of Friday Black, will host the October 7th Zoom session. Originally from Spring Valley, New York, he graduated from SUNY Albany and went on to receive his MFA from Syracuse University. He was selected by Colson Whitehead as one of the National Book Foundation's "5 Under 35" honorees.
"There is a deep history of independent filmmaking in Rockland inspiring generations of filmmakers. We hope that by hosting this series we will speak to and highlight the film artists living and working in our region. Filmmaking is a collaborative art form and we hope that filmmakers from our county will meet through this series, that we can continue to serve as a resource for the next generation of Rockland filmmakers," Seig said.
The line-up includes veteran artists alongside first time filmmakers and early career artists, ranging in genre from music video to comedy to documentary.
"Surprisingly, we were sent many dance films, two of which were produced virtually during the pandemic. We found that symbolic of what we'd hoped this series would be about, the idea that as artists we can continue to create and move within and despite the confines of our world," Aronow said. "That's also something I believe independent filmmakers happen to be best at."