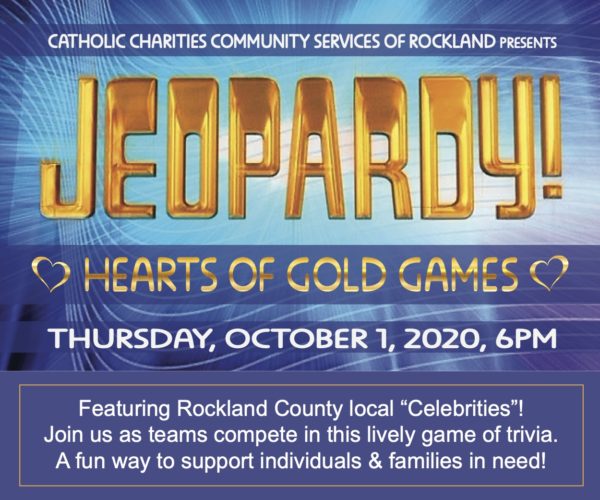 by Risa Hoag
Catholic Charities Community Services of Rockland will host a unique online fundraiser–a live Jeopardy-like competition with local 'celebrities' on Thursday, October 1, at 6p live on Facebook.
The game will be played using a Jeopardy-themed template. Catholic Charities Community Services of Rockland Executive Director Dan Eudene will be the host. The game will consist of 4 teams and 2 rounds of 5 categories each.
 The local celebrity team captains include Dr. Mary Leahy, CEO Of Good Samaritan Hospital (sponsored by Good Samaritan Hospital), George Hoehmann, Clarkstown Town Supervisor (sponsored by Curti's Landscaping), Ken Daly, President of St. Thomas Aquinas College (sponsored by SUEZ), and Joe Rand, VP of Innovation for Rand Realty (sponsored by Rand Realty). Executive Director Dan Eudene is sponsored by PDI Nice-Pak.
Anyone can join in on the fun by supporting a team with a $20 donation or support all 4 teams for a $100 donation which comes with a total of 5 raffle tickets, 1 for each team plus a bonus. There will be a total of 12 raffle winners, plus a bonus prize for those who make a $100 donation before the September 29th deadline, and a second chance drawing for those who donate during event.
Catholic Charities Community Services of Rockland provides life's necessities, including food, shelter, and other emergency assistance to those in need across Rockland and also operates the county's warming center which opens November 1st. More information can be found at www.ccsrockland.org or by calling (845) 942-5791.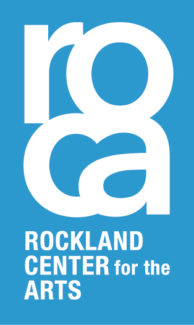 The weekly Weekender Recommendations is brought to you by Rockland Center for the Arts.
To get the Weekender Recommendations delivered to your mailbox auto-magically every Friday morning, add your name to our mail list. Visit our online sign-up sheet to subscribe.